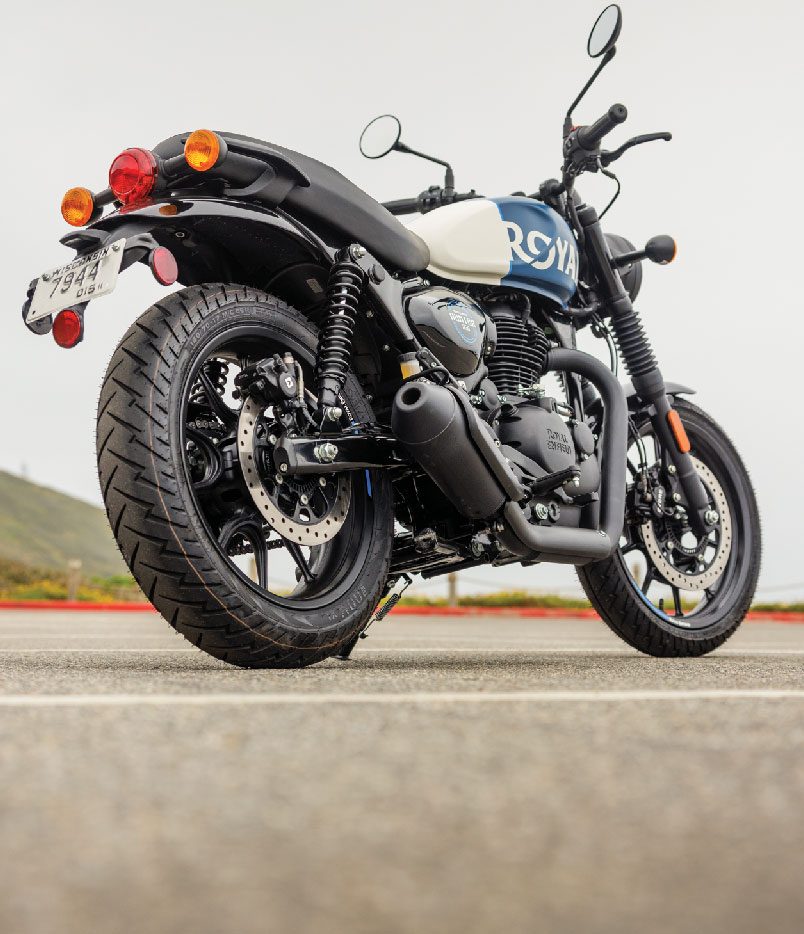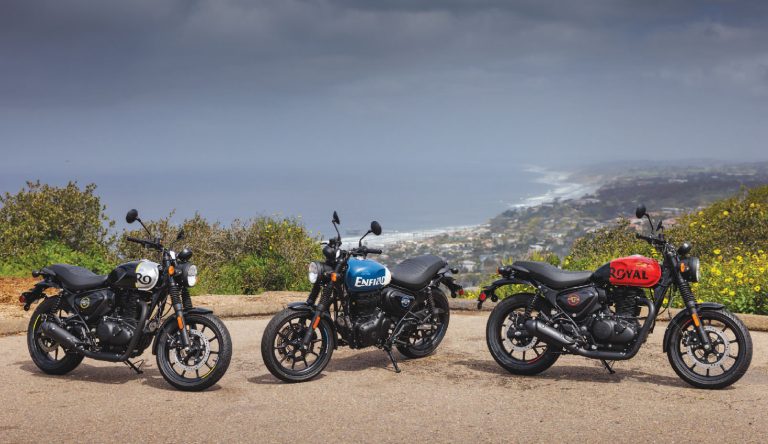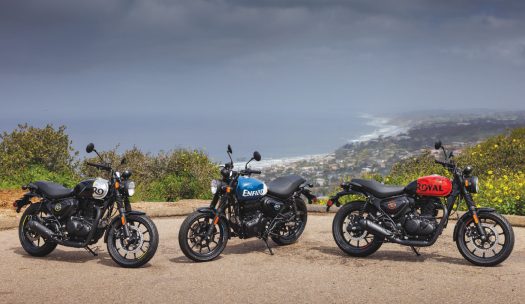 Like any moto journalist, I jump at the chance to test ride new motorcycles. This generally involves free travel, meals and accommodation in some faraway, sunny locale, and plentiful time aboard a factory-fresh machine. However, when said invite entails riding a small-displacement commuter bike, one's expectations are somewhat diminished. Single-cylinder 350s are not expected to be particularly fast, exotic or all that enthralling on the road. These were among my preconceptions before the first few miles aboard Royal Enfield's Hunter 350. Styled with elements from classic British singles and imbued with plenty of modernity, the low-slung Hunter – like the Triumph trident tested on page 20 – is proof that streetbikes can still be fun without copious cubic centimeters.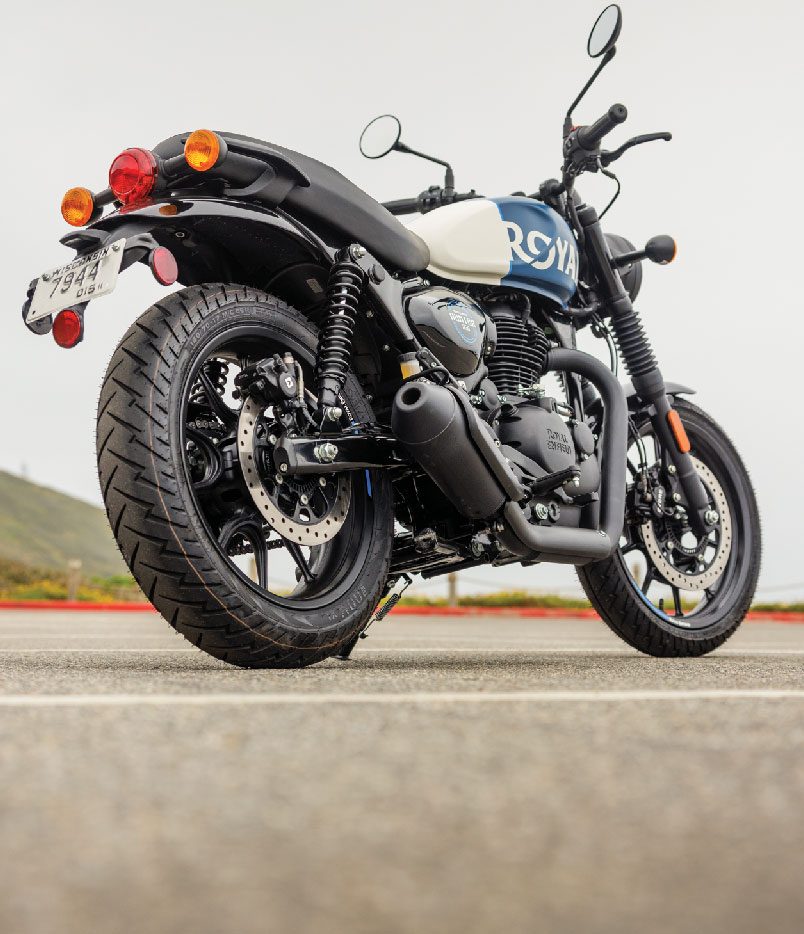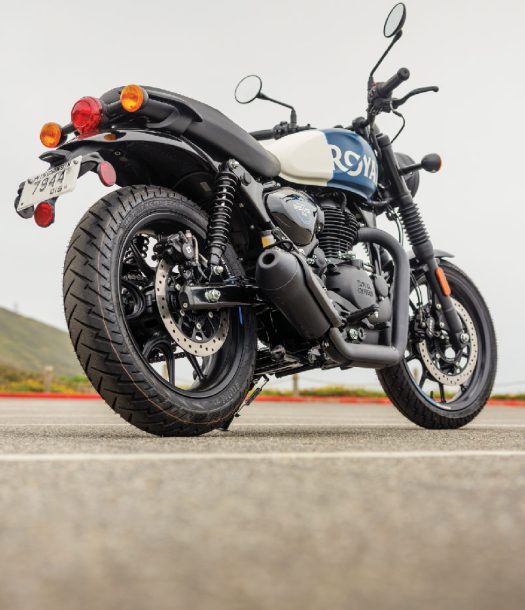 The Hunter's thumping single overhead cam 350 is derived from the motor powering the Classic 350, which outpaces its 500cc pre deces sor with a host of modern tech – no log ical upgrades. Gone is the rattling, kit-bike feel affecting Enfields of yore, replaced by a steadily thrumming powerplant that neither shakes nor rattles as it rolls along. A primary balancer shaft smooths out rough edges and a five-speed constant-mesh gearbox helps stretch the attendant 20 horsepower a long way, making the engine feel much bigger than it seems. Attribute that to a flat torque curve that allows the Hunter to spread its 19 foot-pounds out evenly through the first four gears with the fifth cog acting as an overdrive.
The stiff new chassis was designed in RE's British R&D center, run by legendary frame makers Harris Design, and it shows. In dense San Diego city traffic it flicks easily around trolley tracks and poorly parked Amazon vans while on backroads it's surpris ingly agile, even when pushed (far too) hard. My fears of a 350 test ride being boring were proven unfound ed by the first long, curvy stretch of back roads we encountered. Our group of eight journalists included a few amateur roadracers, all of whom were determined to prove their speediness at every opportunity. That turned an otherwise relaxing 120- mile jaunt into a virtual Journalist's GP with every bend, hillcrest and stoplight a battle for first place. Much to my surprise, the Hunter's twin-shock chassis never felt overwhelmed by these ego-driven antics, the single Bybre 300mm front brake and matching 270mm rear always up to the task of slowing all 400 pounds of motorcycle in a hurry.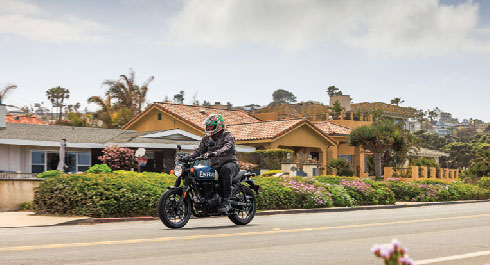 Stopping for lunch, we could appreciate the Hunter's details more fully. A broad range of bold, two-tone and solid color schemes are designed to appease most tastes and the 17" mag wheels and very BSA A10 gas tank were particularly nice touches. The single gauge is digital but analog-looking while the bi-level seat is designed to make pillions happy. Though at 6'4" and 250 pounds and with several clicks of extra preload dialed into the twin shocks, I can't imagine riders my size carrying a passenger. Still, the low 31" seat height never felt like the Hunter's engineers had it in for my knees – well, at least until the last 30 miles or so.
Among the advantages for buyers seeking an all-around ride are incredible 88 MPH fuel economy, an accessible USB charging port and plentiful accessories capable of making the Hunter into a touring mount, cruiser, you name it. With a chrome pipe, rearsets and new bodywork, this baby could make such a convincing BSA Rocket Gold Star replica, I can nearly taste it. But that's another story.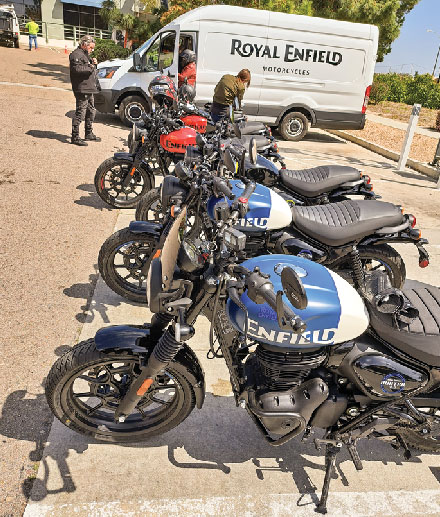 The launch ride included some of the engineers who designed the Hunter, among them the jovial Mark Wells, Royal Enfield's chief design engineer. Wells said the Hunter came about because "we knew we wanted to do a bike that would change direction real quick and be the perfect bike for an urban environment. We wanted to take a bike that combined the tractable engine from the Classic and the Meteor and make it a true roadster." This meant sharpening up the steering head angle for the sort of quicker turning needed to navigate urban environments. This the Wells admitted the 350s retro styling – from the rubber fork gaiters to the oil tank-shaped sidecovers – was indeed meant to be evoca tive of 1950s British bikes. "The looks should appeal to a global audience that appreciates a bike that looks great, is good for short-of-stature riders and is easy and fun to ride be cause of its low center of gravity while still feeling substantial like a full-sized, four-stroke motorcycle."
True to form, the Hunter punches well above its weight as it combined small bike conve niences (featherweight handling, light throt tle feel and feet-down comfort) with the big bike advantages of accessible torque that helps the Hunter keep pace with rapid So Cal traffic (up to a point). It's worth noting that my top speed fell somewhere in the high 70s even when pressed flat on the fuel tank like Reggie from "The Leatherboys." Some of the smaller testers were pacing me by a good half mile, their lesser heft affording them an additional five or ten MPH at flat-out speed.
But that sort of riding isn't what the Hunter is designed for. Daily commuters facing relentless urban obstacles, weekend joy-riders searching for backroads serenity and cornering thrills at legal speeds are the Hunter's prime audience. There are millions of them just waiting for a bike like this. Hunter does with the ease of a Razor scooter.
2024 Royal Enfield Hunter 350
MSRP: $3,999 ($4,199 two-tone colors)
Engine: SOHC air-cooled two-valve single
Transmission: Five-speed, constant mesh
Brakes: Single 300mm Bybre front with two-piston caliper; 270mm single disc with two-piston caliper.
Wheels: 17"x140 rear; 17"x110 front
Suspension: 41: RWU forks with 5.1" travel; twin emulsion shocks with six-way preload adjustment 4.8" travel
Power: 20 BHP at 6,100 RPM: 19 foot-pounds of torque at 4,400RPM
Fuel Capacity/Economy: 3.43 Gallons, 88MPG
Electronics: Dual channel ABS
Service Intervals: Every 12 months
We Dig: The torque and low center of gravity
We'd Ditch: Pillion seat for a flat or cafe saddle. And some low-bars, please.