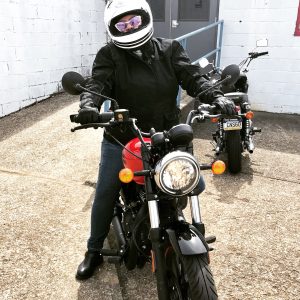 This being International Women's Month it's high time to give some long-overdue props to one of our own. Kim Love, this publication's managing editor has been a motorcycle rider since the 1990s and has managed to keep two-wheeling a central part of her life throughout. Kim works as a development director at a global medical equipment charity during the day and the high-pressure gig leaves little time for grabbing the handlebars and heading out on her favorite bike, her blue and silver Kawasaki W650. Still, she somehow manages to squeeze in time to edit the oftentimes sloppy (yes, that's a self-incrimination!) copy that falls across her desk on weekends. When it comes time for planning our annual Reader's ride-In Bike Show, Kim is the first to volunteer her scarce time to organize the demanding event, coordinating with our small legion of staffers to make sure the day runs smoothly.
Kim previously spent two decades managing three different multi-0brand motorcycle dealerships where her background in finances helped keep the showrooms full of customers- and new motorcycles – while also running their respective public relations departments, weekend events schedules and playing what she liked to call "Den Mother to the crew." Not surprisingly, Kim's Mom, Lee Patterson, also spent time in the motorcycle world as her parents owned a Pennsylvania Harley-Davidson dealership back in the middle 20th century. Being familiar with bikes and developing a passion for riding at an early age has helped propel Kim throughout a 30-year career that's seen her working as a motorcycle photographer, published writer in several national magazines, events coordinator, test rider and just about every biking task in between.
Where she finds the energy for all of this is a mystery but Cafe Racer magazine would simply not exist without her efforts.
Look around the motorcycle industry long enough and you'll find that many successful biking businesses are fronted by capable men, but a closer view behind the scenes typically reveals strong women who really keep the ball rolling. From the grey-haired grannies who keep the racers in line and the kettle on the boil in Isle of Man TT paddocks to the mothers financing their kid's riding careers by working second (or third) jobs to the dedicated female motorcycle industry workers everywhere, you all deserve our respect. Happy Women's Month!