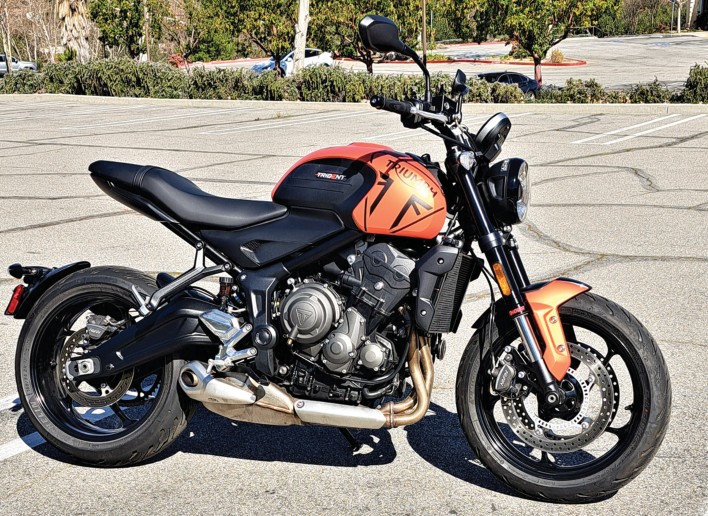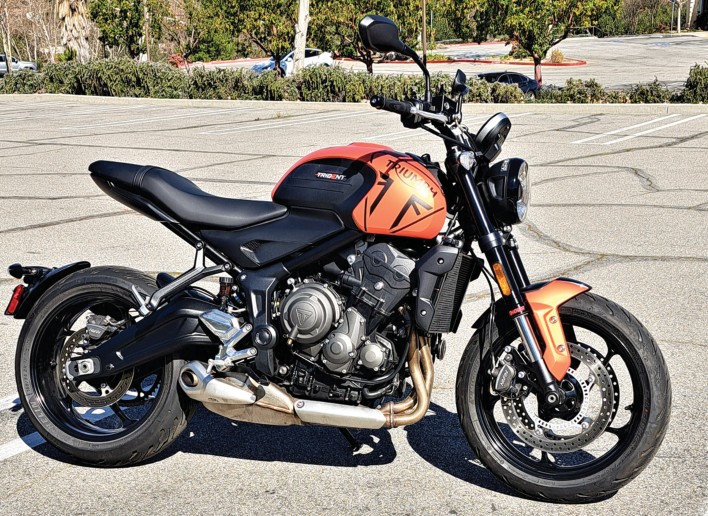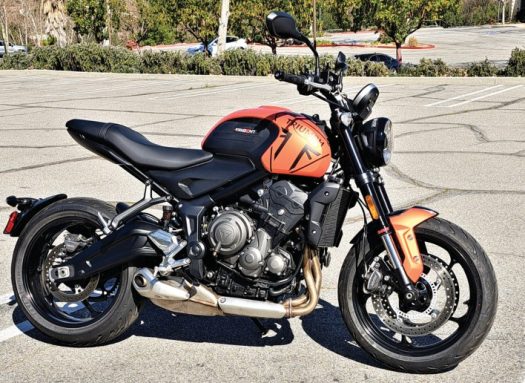 Jay has just stepped off the 660cc Triumph Trident after a spirited 45-mile ride through the foothills of Southern California's Santa Monica Mountains. It's nearing dusk and even though the temperature is unusually cool for this time of year, he encountered several other quick motorcycle riders with intimate knowledge of these twisty, high desert roads. The Trident isn't bristling with the race-derived tech or horsepower figures that would impress a Moto america racer, but there's a broad grin stretching from ear-to-ear when Jay unstraps his helmet.
"Did you see me keeping pace with all those sportbikes back there?" he asks eagerly. The Trident has that effect on people as it fulfills its understated role as Triumph's true sleeper in a vast lineup. There are far faster Triumphs and yes, there are models that wax the Trident's unassuming style in the look-at-me department. But for a budget-priced middleweight, the Trident has the ability to make riding a genuine joy. "It's very comfortable with a good seat that's padded well, and the clutch is nice and buttery and it handles good and stops good," were among Jay's praises. "It's a six speed, but for some weird reason it feels like it needs another gear at high speed. I'd use a bike like this for commuting, mostly, and you're not really going to do much riding above say, 80 miles an hour, but it gets a little out of breath at the top end."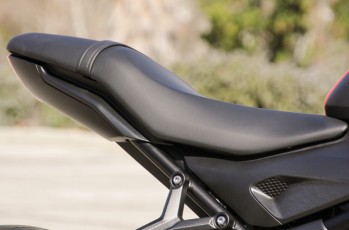 "I think it's great for just an all-around bike," he continued after another 30 miles up and down some of the region's steeper canyons. "It's got plenty of power and it's so smooth my hands aren't stinging at all like they usually do on smaller bikes. I'm so spoiled with quickshifters so it would be nice to have that, but it's a very nice everyday riding bike even without it."
Jay found the Trident's non-adjustable 41mm Showa forks capable and smooth, even after encountering a few pavement bumps. We didn't dial in much extra preload for the rear shock, but Jay's on the lighter side of our test crew, weighing less than 200 pounds even with a belly full of burritos and beer. "In the twisties, when I was throwing it around a bit, the bike never felt like you were taxing the suspension or tires more than they can handle," he observed. "Comfort-wise it's an A+. I like the riding position because I'm through with bikes with clip-ons that make you hunch over to ride them. This is the way to go unless you're 23 years old or a yoga master," he said.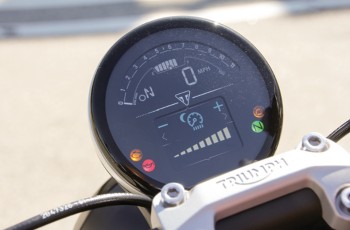 Jay found the Trident's looks strike a good balance between retro and modern, though he was less enthusiastic about the matte orange paint. "I'm not an orange paint person, but I think it looks good in a sort of retro kind of way. The sculpted tank has knee indentations and it has a good shape and it's not just a boring blob like you see on some budget bikes. One thing I don't like is the extended rear fender that works awesome, but looks-wise I don't dig 'em. The mirrors work really well and you can see cars behind you pretty well, unlike on the Indian FTR I just rode that only shows off your shoulders."
As a club racer who campaigns an MV Agusta, Jay found the Trident's everyman's approach to motorcycling a real pleasure. "There's so much hype about these big, crazy 180-horsepower race replicas these days that everybody forgets – at least some of the guys I know that ride – that you can have just as much fun on a bike like the Trident that has average power and average speed. You always ride better when your In the unprecedented arms race to make motorcycles ever-more technologically complex for the generation raised with Play Station controllers permanently glued to their palms, it's easy to forget how less can sometimes be more. Not that the Trident is a basic motorcycle. Not by any microprocessor it isn't. The triple is equipped with a stiff, steel perimeter frame, 41mm Showa inverted forks, cast aluminum wheels, two separate riding modes, switchable traction control and anti-lock brakes (which are required by law these days). The 12-valve water-cooled motor is connected to the right twistgrip via ride-by-wire throttle and smoothly pulses out 81 crank horses at 10,250 revs. There's 47 foot-pounds of torque on tap at a very accessible 6,500 RPM which means the Trident happily sails along in third or fourth gear like nobody's business.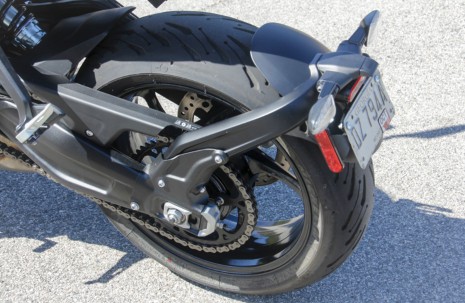 There's no need for radial brakes up front – the pair of two-pot Nissin calipers do a fine job of slowing the Trident's 417 pounds in all conditions. Worth noting is that this has to be the slickest-shifting new Triumph we've yet tested. Most times, there's a slight clunky feel to their gearboxes that takes a few thousand miles to work its way free. There's even a slipper clutch aboard to assist newbies downshifting too many gears at once. Reassuring. A true petrol miser, we got around 50 MPG from the triple even when revving it harder than traffic laws allow. That means the bulbous 3.7 gallon tank will provide you with 150 miles of entertainment before the need to look at your phone for a gas station.
Practical yes, but how does it measure up among its peers? When parked up among the rows of tall-barred Harleys at Neptune's Net, the popular rider's roost on the Pacific Coast Highway, even the Sons of Anarchy wannabees in identical flannels and Vans smiled at the Trident's curvaceous, compact lines. Riders old enough to remember kickstarters also had nice comments, with one in particular acknowledging how far better-looking this version is than the early 1990s Trident. They dug the stubby canister muffler that emits a mild-mannered whirr that was barely audible among the un muffled masses, but adding an aftermarket pipe with some three-cylinder growl would really help the Triumph make its mark.
So where, in between Triumph's retro Modern Classics and sporty supernakeds does the Trident fit in? Quite nicely, we'd say. The bike has some sporting capabilities in its DNA and it's nimble and maneuverable (not to mention light) enough to make a great first big bike for someone graduating from, say, a 300cc machine. The riding position is comfortable enough that all you'd need is a backpack for a 500-mile weekend jaunt and for those whose aching joints (that would be half our staff) preclude hopping aboard racier mounts, the Trident is that rare modern bike that's kind to aging knees and backs. Not that we'd know. body is comfortable and you aren't riding some crazy, track-based beast of a motorcycle that makes you feel like you wasted your money if you're not riding at 100+ all the time. This is a full-on modern Triumph, but it really does take things back to the basics a little bit where you just have enough engine, good handling and good brakes so you can focus on fun," he said.
2023 Triumph Trident 660cc
MSRP: $8,595
Engine: 12-valve, water-cooled in-line triple
Transmission: Six-speed
Brakes: Twin two-piston Nissin front calipers with 310mm rotors; single Nissin caliper rear with 255mm rotor
Wheels: Cast aluminum five-spoke 17×3.5" front; 17×5.5" rear
Tires: Michelin Road radials
Suspension: 41mm inverted Showa forks, non-adjustable with 4.7" travel: Showa monoshock preload adjustable
Power: 81 horsepower @10,250 RPM; 47 foot-pounds torque at 6,500 RPM
Fuel Capacity/Economy: 3.7 US gallons/50 MPG average
Electronics: Two riding modes (rain and road) ABS
Service Intervals: 10,000 miles
We Dig: The ease of use, smooth power, smooth shifting and featherweight handling
We'd Ditch: Besides the too-quiet muffler, the Trident 660 is spot-on