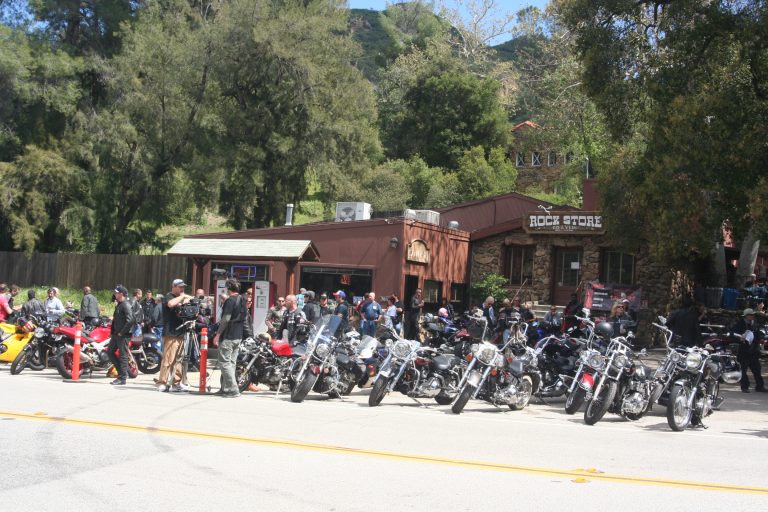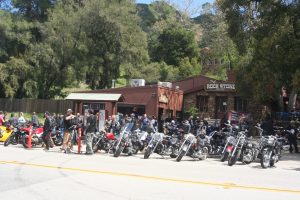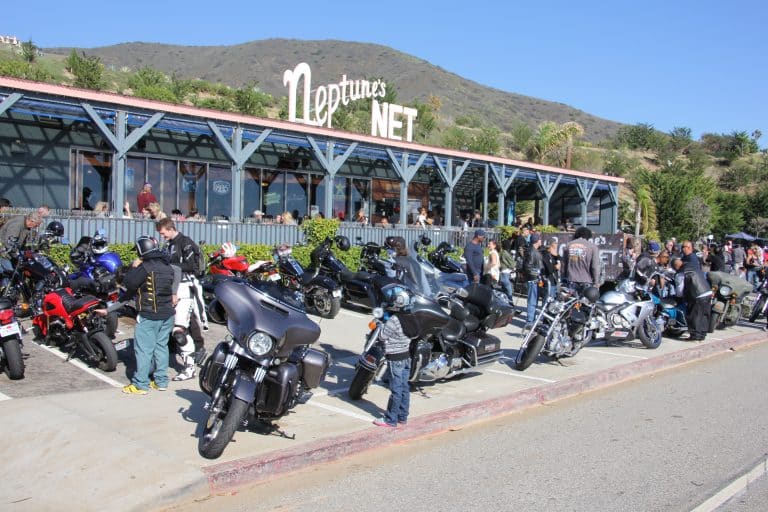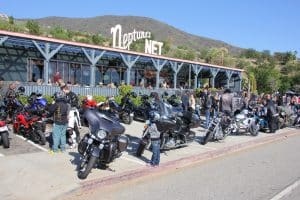 We finished up our recent West Coast journey with visits to a pair of So Cal's brightest motorcycle meeting places, namely, The Rock Store nestled in the canyons about 40 miles east of Loas Angeles and Neptune's Net, the airy, well-visited seafood restaurant on the Pacific Coast Highway in Malibu. On weekends, both eateries are filled to capacity with motorcycles, a tradition dating back many years. The Rock Store started off an actual stagecoach stop in the late 1800s before Ed and Vern Savko, a couple from where else but our hometown of Pittsburgh, PA. took over the place in the early 1960s. Over the years it's stone-carved walls have seen some of everything LA has to offer from movie stars and professional racers to countless riders seeking camaraderie and a cold drink or two.
The 'Net, as locals call it, is a more recent addition to the local riding scene, though it's open most weekdays (unlike the weekends-only Rock Store) and draws in everything from long-distance touring bikes, local off-road enthusiasts, sportbikes and Harleys by the thousands. It's a lively, friendly place to visit for tourists and bikers alike and on the sunny Sunday we visited, an impromptu stunt riding exhibition was roaring by on the PCH out front, with youthful Hog riders showing off their wheelie skills to the applause of the crowd. At one point, as I was headed back to our digs in Agoura Hills, a pack of 200-to-300 sportbike riders buzzed by on their way to the 'Net, their jackets bearing patches from throughout the Golden State. It was quite a sight to take in and felt reassuring that motorcycling is still thriving here in So Cal.
And while visiting places like these is always a blast, it amazes and disappoints me that my hometown doesn't have a motorbike meeting place of its own, which is quite a shame. It's vital for motorcyclists to meet and network with fellow riders, as it helps create a sense of community that's vital to the sport. Sure, there are countless ways to keep in contact over the web, but somehow, opining on a mesaage board or web forum isn't quite the same as sharing space and reveling in the joys of riding with like-minded folks. I overheard riders exchanging vital information on what roads were closed due to recent rainstorms, where speed traps could be avoided and mechanical information that was satisfying to hear. We've never had a permanent location in Pittsburgh where riders of all stripes could congregate, and the realization made me wonder what things are like for riders in your particular hometown. If there's a good motorcycle meeting spot in your neck of the woods, please be sure to share it with us via rockersrule@caferacermag.com. We'd love  to hear about it and share the word.