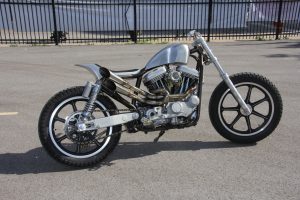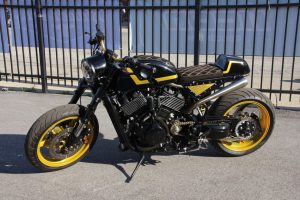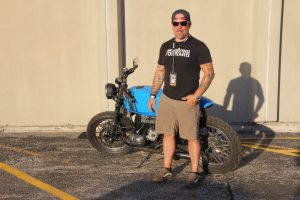 Spending the weekend at Chicago's annual Motoblot custom culture festival and yesterday's launch party was one for the books. A capacity crowd surged into the Cobra Lounge starting at 4pm, attracted by the most excellent (excuse Wayne's World reference) craft beer, good bar grub and waaaay too much loud heavy metal music. I was fortunate enough to duck out of the party for a preview of this weekend's main custom bike event, the first Valhalla Custom Builder's Showcase. named after the legendary paradise from Norse mythology, the concept involved inviting 25 up-and-coming motorcycle designers to create one-off machines in a judged competition. The grand prize is no less than $10,000 in cash supplied by main sponsor J&P Cycles and unlike many current custom shows where the motorcycles are displayed indoors, the Valhalla entries all had to be ridden as part of the judging.
Early on Friday afternoon as the motorcycles began rolling in, it was apparent these weren't your typical cafe customs. Instead, the entries reflected what organizer Kevin Dunworth described as "think outside-the-box, new school builders." Even with a team of shooters, we couldn't quite focus our cameras fast enough to capture all the amazing mechanical creativity on display here in one brief session.
We don't want to give too much away as many of the two dozen bikes competing at Valhalla will be featured in upcoming issues of Cafe Racer magazine, but the above image reveal just how impressive this field was. Dig on the -speedway repli-racer built from the remains of a Suzuki Savage 650 single and the far-out Harley-Davidson Street 750 from Milwaukee Motors that featured a complete Ducati 748 swingarm and rear wheel.
Their was  a friendly, helpful crowd who congratulated each other on their mechanical creativity and clever use of sheetmetal skills. We overheard much talk of builders sharing advice on utilizing tools like English wheels and CNC machine services- all in the name of camaraderie. The BMW Airhead with a superbike front end and custom bodywork painted up in the same cool blue tone as used on the Bavarian manufacturer's logo was impressive as was the Kawasaki two-stroke dirt bike transformed into an imitation 1970s endurance racer, replete with full carbon fiber bodywork and Kawasaki ZX636 suspension. The judging happens tomorrow after each machine is ridden in a shakedown run, which will prove that these unique cycles not only look the business, they can handle serious road use as well. Good move, Motoblot!