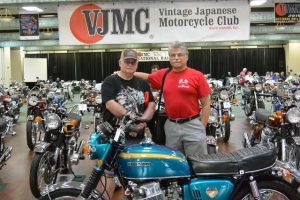 If you're like most of the CRM staff, you can fondly remember the days when shiny new air-cooled Hondas, Yamahas, Kawasakis and Suzukis graced your local motorcycle dealership's showroom. During my own less-then-distinguished high school years, I routinely took several city busses to visit local motorcycle dealerships where the assorted wares were more enticing than a Christmas tree full of presents had bene just a few years earlier. Each week the two-wheeled object of my desires changed, mostly dependent on which habitually cranky shop owner hadn't chased me away for loitering too long. Though very reasonably priced by today's standards, the various Japanese motorcycles seemed far out of a 16 year-old burger-flipper's financial reach.
A decade or so later when I was fully absorbed in riding (and repairing) a series of rickety, American-made bikes, it was a shock to see many of the Japanese bikes I'd wanted to own selling for mere pennies on the dollar. Most Americans didn't value Japanese bikes in them unenlightened days, preferring to ride the snot out of them before discarding the like so many used pieces of sporting goods. And like musty old baseball mitts or punctured footballs, the bikes could often be found at curbside on trash pick-up night, as many had been abused and poorly maintained before their owner's simply gave up the ship.
Ah, but how things change. We recently spoke with Tom Kolenko, president of the Vintage Japanese Motorcycle Club, a nationwide collective for enthusiasts who dig the same bikes I used to obsess over as  a teenager. Their organization is thousands strong and each year the members meet at a new location where they basically eat, sleep and ride their 1960s and "70s machines as they were made to be ridden. This year's gathering takes place in Eureka Springs, Arkansas which is well-known for its lush scenery, smooth, motorcycle-friendly roads and great resorts. The HQ will be set up at the Best Western Inn of the Ozarks in Eureka Springs where nightly dinners and bike shows will be filled with the unique camaraderie of folks who truly believe you can meet the nicest people on an old Japanese bike (apologies to Honda.)
Best of all, Tom reminds us that with the constant clicking of the clock, the entry date for member's bikes now includes machines manufactured up until 1992, which means technological marvels like Honda's V-4 RC30, Suzuki's GSX-R, Kawasaki GPZs and Yamaha's V-Max street dragger are now eligible for inclusion. "Most of us have only seen an RC30 at a museum , so seeing one running is pretty special," Tom says.  
The market for classic Japanese bikes has grown so much in recent years that VJMC members often find themselves short of some OEM parts when restoring neglected CBs and XS's, while the value of bikes like Honda's early four-cylinder models has priced them into collectible status. It about time these technologically advanced motorcycles received their due and to see and hear then being ridden today proves how well-engineered they were back in the day. Roll on.