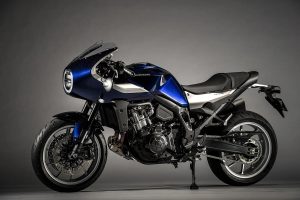 While nearly all the major motorcycle manufacturers have embraced the modern cafe racer movement with a new streetbike design (or two) Honda, the world's largest, has not. It could be argued that the retro-styled CB100 is a nod in that particular direction and the sexy, CB1000R is definitely a high-performance naked bike with a few design touches from the past. However, Honda haven't released a true, retro cafe racer since the poor-selling and now collectible GB500 single back in the late 1980s. But even as some detractors have attempted to dismiss modern ton-up bikes as a mere fad – albeit a 70 year-old fad if there is such a thing- Honda seem to have finally dipped their toes into the cafe waters with a new concept bike recently revealed to the global press. The 2023 (we hope) the Honda Hawk 11 was on display at the recant Tokyo Motor Show where it piqued interest in journalists eager to see Big red develop a bike that acknowledges their place in the history of the cafe scene.
Powered by the same 1100cc water-cooled parallel twin engine used in the Africa Twin adventure bike and the Rebel 1100 (reviewed in Cafe Racer magazine's current issue) the Hawk 11 has all the ingredients of a true showroom and street winner. The steel semi-double cradle frame is also the same as found on those two brisk-selling, versatile machines, meaning the Hawk's design team are clearly looking at producing the bike from stocks of existing parts. Unlike many far-out concept motorcycles seen at the TMS, this baby could be ushered into production quite easily.
We dig the sexy half-fairing and metallic blue paint scheme which makes the Hawk 11 bear some resemblance to Triumph's range-topping Speed Triple RS. However, being a Honda, the Hawk will offer none of the Triumph's bonkers performance and we should expect a more moderate top speed of somewhere south of 130MPH unlike the Triumph's wallet-shredding 170MPH range.
Keep your fingers crossed and the Hawk could become a reality early next year.