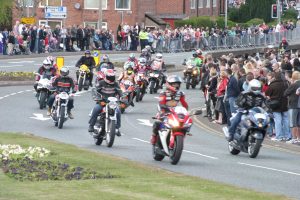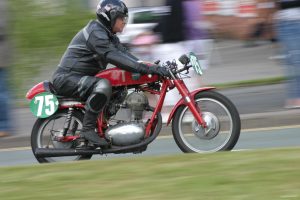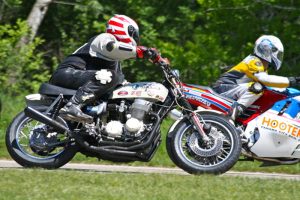 We've all ridden with them. The sort of rider who never misses an opportunity to prove just how fast they and their machines are. On every ride, they're the type who's willing to risk all for the chance to reveal that when it comes to covering twisty roads, they're literally miles ahead of the pack and to challenge their dominance is just asking for trouble. If you either are this sort of two-wheeled speed freak or know someone who fits the description, we strongly suggest they read Cafe Racer magazine's latest issue. The April/May mag contains plentiful copy dedicated to steering too-fast street riders towards the racetrack. Though the very essence of cafe racing is about riding hard and rapidly on public roads, it's no secret that many ton-up boys and girls have found salvation- and an added layer of safety- by switching their two-wheeled aggression to closed circuits.
Through contributions generously provided by CRM's many writers, most of whom have copious track experience, we've compiled a comprehensive list of everything you'll need to try your hand at track riding. "When did I decide to head to the track?" asked contributing editor Blake Kelly. "When I got tired of collecting traffic tickets for speeding past state troopers." The former outlaw stunt rider-turned AMA Supersport pro knows from experience: racing may cost a pretty penny, but traffic tickets are far more expensive.
Even if you happen to be the sort who gets down in jeans and sneakers, we've created a list of track day organizations where you can dip your wheels into the off-street experience with minimal costs in equipment and bike mods. Want to seriously challenge yourself and anybody you encounter on two wheels? Our expert racers Blake Kelly, Paul Rudolf and Glen Pison have all chipped in with plenty of practical advice on everything from expenses (which are no joke) the best machines for pursuing checkered flags (you'll be surprised) and what hardware you'll need to compete. You may be surprised to learn that your everyday ride is perfectly suited to track days, requiring only a little duct tape, fresh tires and an overall safety check to be trackworthy. Whether classic or contemporary, a few track sessions will leave a rider feeling more confident, controlled and in synch with their machine. 
Why do it? The answers our staff provided were as varied as their individual lap times, but nearly all agreed that the experience of riding without worrying about traffic, flashing lights in one's rear-view mirrors, gravel, stoplights and other dangers proved just too exhilarating to resist.
Plus, the new issue contains plenty of the usual eye-popping photography, expert technical information and cutting-edge customized speedbikes readers have come to seriously dig. Check it out and feel free to hit us with any questions about street or track riding by dropping an email to us via rockersrule@caferacermag.com See you in the paddock!