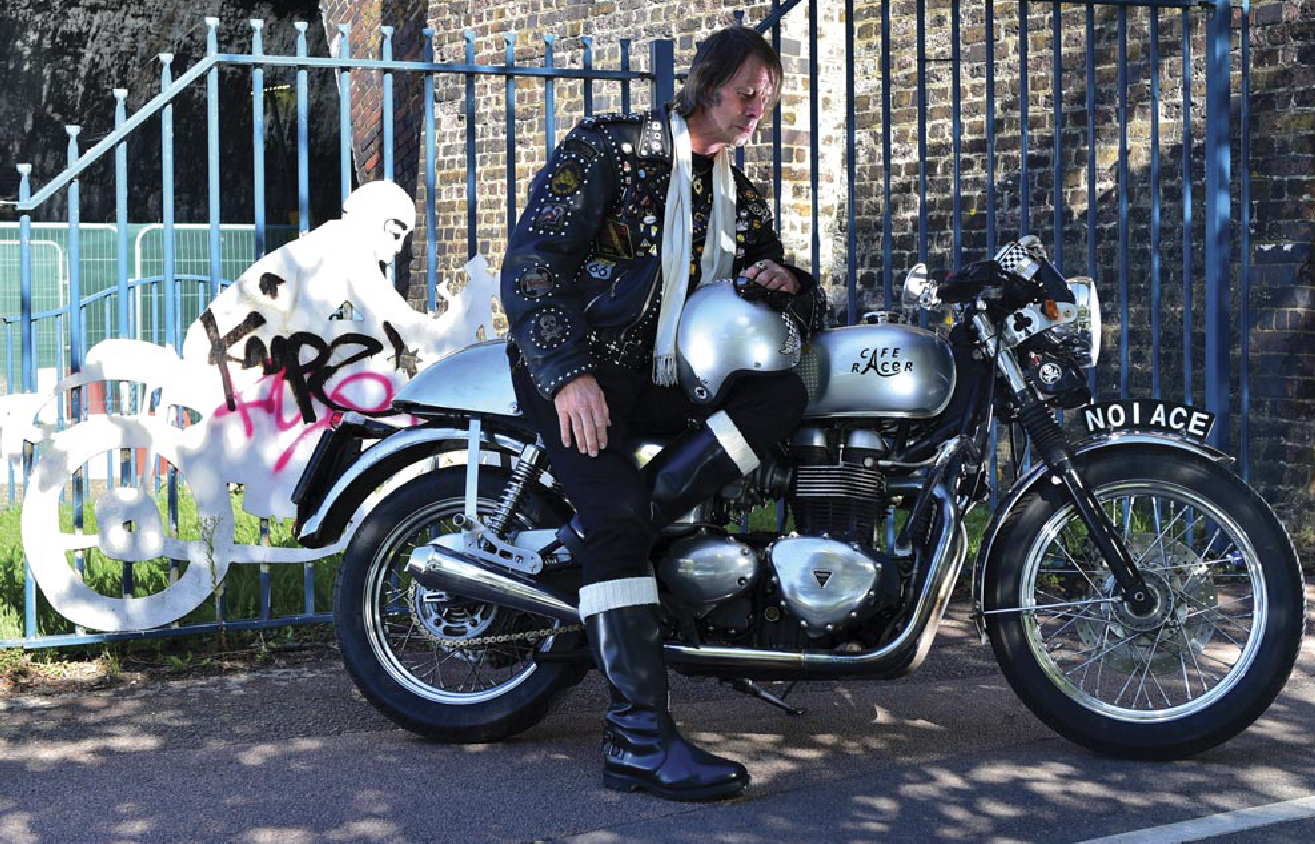 Story: Linda Wilsmore
Photos: Simon Everett
Over the past fifty years, Tony Francis aka 'Ace Rocker', from Leeds, UK, has owned
around thirty motorcycles, including Triumph, BSA, Panther, Matchless, Norton, Honda, Suzuki, Yamaha, and currently also has a 1955 Triton. Well known on the biking and rock n' roll scene, he runs the Northern Rockers group that congregate at a popular destination in their neck of the woods, Squires Café. He's also instrumental in organising regular ride-outs, as well as the annual Northern Rockers Rumble weekend in May, which raises funds for local charities.
Having been immersed in the Rocker lifestyle since his teens in the mid-sixties, in 2008, he decided that he wanted to replicate how they built the bikes back in the day, with basic tools, and a lot of bravado. Much of the work undertaken on his machine was carried out with drills, saws, files and a hammer, fabricating one-off parts, and no over-the-counter replica kit.
The donor bike, a 2008 standard EFI Triumph Bonneville that he saw for sale on eBay was only a few months old. Keeping his eye on the bidding and noting that it didn't sell, Tony cheekily offered the starting price, and to his surprise, it was accepted.
"The woman had bought it for her boyfriend, but they split up. She wanted to get rid of it and get some of her money back. However, the bike was in Northern Ireland, somewhere I had never been, so I arranged to fly over at the weekend and get the ferry back with the bike. The day before I flew, she phoned to say that she couldn't be there herself, and that I was to meet a guy at the airport who would take me to see the bike. I'm in a dream world thinking about the new bike that will soon be mine. But halfway across to Belfast, my brain kicks in saying "so you are going to Northern Ireland, with almost four grand in cash, to meet a guy you don't know and only have a mobile number for contact, you bloody IDIOT!"
"I land in Belfast and get quickly ushered to a car, then driven in silence for miles through the countryside and numerous villages. We eventually pulled up, and I get led down an alleyway into a house. I don't mind admitting that at this point my buttocks were clenched! I was shown the bike, and asked what time my ferry left. I told them in an hour's time, and the reply came that I wouldn't get there by myself, I was to follow the guy in his car as he knew the back lanes. Off we go, with me riding the bike through deserted country lanes. Again, my brain kicks in, they have the cash, I don't know where the hell I am, but as the saying goes, all's well that ends well." Says Tony with one of those in hindsight laughs.
Safely back home, the scene was set to build the cafe racer he wanted, and to ride it to his heart's content. The bike, burgundy in colour, was stripped of its big screen, high bars, king and queen seat, sissy bar, mudguards, taillight assembly, indicators, headlight brackets, side panels, footrests, fuel tank and silencers, plus all the plastic parts that it came with.
Tony recounted "I wanted a large alloy tank, but due to the bike being the first fuel injection model, no one was making them. After a lot of searching, a welder in Sheffield was located who could doctor the original tank, John, who sliced off the bulbous top of the tank. He also removed the sides and the back. Extending the back of the tank, he made new sides and a flat top. The end result retained the fuel pump assembly inside as original. He was a wizard, and I was very pleased with the outcome."
"The side panels were specially made in aluminium to allow for storage behind them. I used the standard dual seat but cut it back to allow for the longer fuel tank, then made a special alloy bum stop hump to fit. Again, this is hollow for storage use and removable for when I take a pillion. The Ace logo on the seat is made of black and white leather, cut and stitched together. I bought a rev counter clock to match the speedo and removed the plastic lower covers from both. Taking these to the local shops, I tried fitting them into various tea and coffee canisters. I got quite a few quizzical looks, culminating in being followed and questioned by the store manager! Luckily for me, he laughed when I told him what I was doing. Being an old biker himself he fully understood. Anyhow, the end result was that for the princely sum of £4, I purchased two stainless steel coffee canisters, which I fabricated to make a great set of clock covers – my Coffee Bar Cowboy credentials were sealed!"
Tony made cardboard templates to work out how to adapt some rearsets to fit, then he fabricated alloy adaptor plates, together with brackets for the headlights, silencers and the pillion pegs which, when laying across the fuel tank, he uses when at speed.
The old style rear light and number plate assembly was cut from a sheet of aluminium and shaped by hand, then painted with black Hammerite and fitted with a Lucas rear lens unit. Stainless mudguards were added front and rear and, for the exhausts, a decent set of reverse cone mega's were installed, giving the bike its voice back.
For the performance that he was seeking, the final drive gearing was changed to a larger cog up front and smaller one at the back, the suspension adjusted, progressive springs placed in the front forks, all making for a quicker and more responsive ride. Not satisfied with the Triumph factory horn, and to compete with the deep throaty roar of the exhaust, Tony fitted loud twin horns. He also reprogrammed the bike after the rebuild to take into account the gearing and exhaust alterations which also helped its performance.
"Due to my age, and with arthritis in my hands and wrists, I am unable to use clip- ons, so I reversed a pair of old T120 bars and used them instead. The Rocker sign above the headlight is also made from aluminium sheet and bracketed to the headlight bolts. Speed-wise it has done 115mph with a pillion passenger, and I have taken it up to 125mph solo (fast enough for my late 60s) without redlining it." said Tony.
Having covered the length and breadth of England, plus parts of Wales, Tony thinks nothing of riding the 200 miles to the Ace Cafe in London and back again the same day. He loves the fact that the bike is "built not bought and ridden not hidden." He's content that it's rough around the edges, and that despite the fact that it's not a show bike, has won a few trophies over the years.
"Indirectly, the bike won me a free trip to Finland. A few years ago, I rode to Manchester to attend a bike show. As I parked up outside, I was asked to bring my bike inside for people to see. In the end, I came away with a trophy. I was so pleased at this unexpected award that I put the photo of me with bike and trophy on Facebook. Two days later a guy, Riku, in Finland sees it and recognises me from the Ace. Riku is the proprietor of Ace Cafe in Lahti and was in the throes of organising a Mods and Rockers weekend. He loved the idea of having an original Rocker attending and invited me over, so I had a fantastic all-expenses paid trip!"