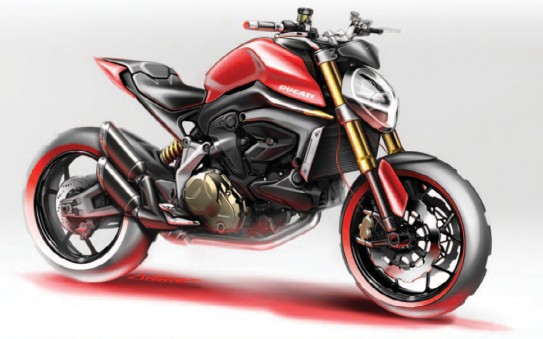 Story by Mike Seate, with Chris Abel and Nick Coumos
Photos by Mike Seate/Ducati North America
Change is controversial, especially in the high-stakes realm of performance streetbikes. In few 2021 models is this more apparent than with Ducati's radically revamped Monster 950. The machine has boldly done away with much of what made the Monster a global top-seller for 28 years, from the steel trellis chassis to the bulbous fuel tank to the raw, surging power delivery. The redesigned bike, introduced earlier this year to much online bickering, is so different from previous Monsters that Ducati's PR team declined to invite Cafe Racer to the May press launch in fear that our readers would dismiss the new bike outright.
They were quite mistaken as is anyone un- willing to appreciate the all-new Ducati because this is one of the best motorcycles we've ever ridden. Yes, that's quite a statement, but peep this: seldom do motorcycle manufacturers choose to directly address the myriad quirks and niggles of popular machines, but Ducati have created a Monster that's magically tossed away everything that made the bikes a lesson in tough love – the snatchy, low-speed manners, the rock- hard seats and the cramped ergonomics – and created a bike that suffers not a single one of these maladies.
After picking up the bright, red (as it should be) 950 in Carlisle, PA, a good 220 miles from the Cafe Racer offices, I was blown-away by how sexy and well-proportioned the bike was up close and in the metal. The new, low-profile bodywork was engineered with a seamless flow that turns out to be an improvement on the tried- and-true Monster aesthetic. Much has been said about the manta ray-shaped fuel tank, but the arched profile with black middle section is clearly inspired by Monsters past, but not beholden to anyone's ideas of what a naked Ducati should be.
The real test lurking in my mind was whether the compact machine could comfortably and safely transport my 6'4" frame all the way back to Sewickley. Boots placed on the pegs, and the answer registers in my head: now lower and farther forward than before, the riding triangle between bars, seat and pegs is nearly sport-tourer comfy. Ducati even offer shorter or taller seats, accepting that riders come in all shapes and sizes and require different ergos to suit. Even the gear shifting, which made neutral a suggestion rather than a reality on earlier Monsters, is Honda-slick and made even simpler with the flawless two-way quickshifter.
Rolling onto the fast, busy PA Turnpike, the 40-pounds less weight was instantly noticeable, as the Monster shifts lanes with even less muscle effort than the 821 version we adored in 2018. The switchgear was easy to decipher even for an admitted technophobe who wisely selected the Touring riding mode for the 200-plus miles that lay ahead. The Monster, much like Harley-Davidson's 2021 Sportster S, is so smooth at highway speeds, I found myself wondering how modern motorcycles can make so little mechanical noise and vibration. Sure, at 55 MPH on suburban boulevards, the Monster thrums along with an unmistakable V-twin hum. But pressed on into the rev range above 5,000RPM where things get exciting in a real big hurry, the 90-degree eight-valve twin actually becomes smoother.
There are 111 horses on call at 9,250 revs and the torque's 69 foot-pounds lurks way up at 6,500 RPM, which makes for a flexible power that lurks above 5,000 RPM to the nearly 10,000 RPM redline. This makes the Monster 950 a true all-rounder, capable of Fast Group track day action or picking-up-a-loaf-of-bread functionality. Anyone whose ridden early M900s can attest to what a difficult balance this is to strike. Even most of today's supernakeds excel in one area at the expense of another.