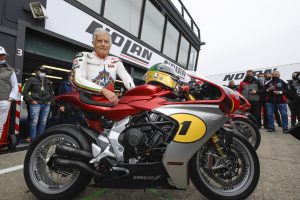 With the current Moto GP season quickly (and some would say very, very quickly) drawing to a conclusion, many pundits are lamenting the pending retirement of Italy's Valentino Rossi. The onetime wunderkind of professional motorcycle racing is now in his 40s, and the insatiable drive that led Rossi to an amazing nine world championships has clearly waned. No wonder- it's tough to imagine any athlete worth an estimated $300 million to take the same risks that he did as a carefree youth, and the lure of spending middle-age resting aboard a yacht parked in some sunny Italian seaport easily outweighs the potential benefit of claiming yet another podium spot. Many believe Rossi to be the greatest roadracer of all time, and, judging by the level of charisma, style and passion he brought to Moto GP- not to mention his global legion of dedicated, yellow-clad fans- that assessment isn't far off the mark. However, a half century ago, another Italian motorcycle racer with an infectious personality and a broad, handsome smile was considered, for a time, history's greatest. Giacomo Agostini wowed the world's motorcycle competition fans during the 1960s and '70s with movie-star looks, a cool demeanor under pressure and a flawlessly smooth riding style that seemed decades ahead of the competition.  Ago, as he was belovedly named by his fans, led a charmed life, zipping across the European continent in the company of fashion models, winning championships on MV 's bikes both large and small, adding glamor to an otherwise gritty, dangerous sport. And though we're likely years or even decades from seeing Valentino Rossi tribute bikes for sale at your local Yamaha dealership, Italy's own MV Agusta have honored Agostini with a tribute bike that's easily as handsome and enviable as the man himself. The all-new for 2022 MV Agusta Superveloce  Ago Edition is bathed in the fiery silver and red livery for which both the racer and the brand are well-known. Tucked inside the gorgeous, retro-styled bodywork is a tuned version of the firm's howling, 80cc, 147 horsepower, twelve valve triple, an engine configuration that honors the 500cc triples that Ago took to world championships back in the day. There's a special racing accessory kit  available that includes a sleek Arrow three-into-one exhaust system, Ohlins suspension, special spoked wheels, an ECU with more power-hungry mapping software and the sort of intricate detailing that makes MV's the most desirable streetbikes on the planet. Bikes like these represent a whole different echelon of the modern motorcycle ownership experience,  offering the sort of performance previously reserved only for talented individuals like Rossi and Ago and the sort of lust-inducing design and premium exclusivity formerly offered by the likes of Bimota or Mondial.
We picked up our own MV Agusta Super Veloce earlier this month and though ours is the so-called standard edition, it's drawn the sort of attention and admiration from the public that only the best customized cafe racers used to see. It's the sort of motorbike that's proven fun just to stand back and admire, glass of red wine in hand, admiring the groundbreaking lines, bodywork curves and cutting-edge technology.
How does it go? Well, we're yet to register our MV for street use, but on the deserted access road to our shop's industrial park, it's opened a few experienced journalists' eyes to a whole new level of velocity. The handling is so precise that one's first thought is to get this baby onto a racetrack, ASAP. The full-color TFT dash is going to take some serious studying of the massive owner's manual to master and the raspy, three-cylinder exhaust note definitely needs freed up to make more noise.  I'm sure the option of owning a machine like this, especially one that's linked aesthetically and historically to one of Italy's greatest biking champions, will appear to riders not just in Ago's home country, but everywhere.
That the legendary racing champ is still riding fast and furiously today only adds to the mystique surrounding Ago and the brand. In Cafe Racer's next issue, we'll provide some rare insight into what it's actually like to ride beside the man with the first installment of a new feature titled "Hair-Raising Rides." The series will bring readers the inside stories of their most crazed, dangerous and unforgettable two-wheeled experiences and with extended coverage of the new Ago Edition MV Super Veloce, it's only fitting that we kick things off with a Lap of The Gods with Ago in our December/January issue. You won't want to miss it.