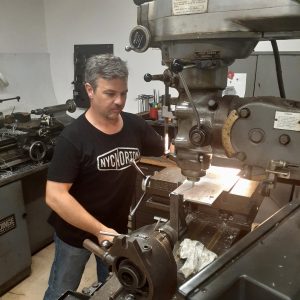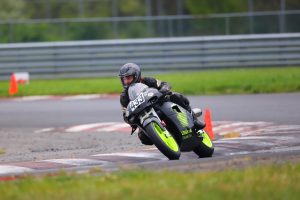 Meeting gifted movers and shakers in the motorcycle industry is a large part of what keeps our wheels turning here at Cafe Racer magazine. We've interviewed some awe-inspiring talents during the past 14 years, delving into their skills, motivations and unique insights into the sport that we all dig so much. In our latest August/September issue, we feature an all-too-brief interview with Jersey City racer, engineer, machinist and all-around swell guy Chris Cosentino. The visionary bike designer has created a slew of one-off parts for his racebikes over the years and has invented a solution that miraculously transforms the spindly forks of classic British bikes into sure-footed, sharp-handling modern suspension dampers. We're currently installing a set of Cosentino Engineering fork internals on our 1973 Norton Commando 750 and during the process, we sat down with Chris where he opened up about his views on motorcycles both classic and contemporary. here's the interview in its entirety.
Cafe Racer Magazine: What provided the impetus for creating a cartridge kit for Norton Roadholder forks?
Chris Cosentino: Kenny from NYC Norton is my neighbor and he came by one day after having some chatter issues on the track and asked if I could fit a set of Showa dampers to his Roadholder forks based on an old pencil sketch from Kenny Dreer.  I took a quick look and decided it would be easier to use the idea of swapping the cartridges out, but otherwise start from scratch on the details.  I'm an engineer and have a CNC machine shop, so drawing up and turning a few sets was not a big problem.  They worked great, I sold a few sets, and since then there's been a small but consistent demand for them over the past 15 years so I keep making parts and sometimes doing some improvements.  It's nice to sell a product that makes such a marked improvement to ride quality as all the customers love it.
CRM: And the bushings- what improvements over stock components do they offer?
C.C.: The bushing idea came about after helping Jamie Waters in the pits at Barber with his G50 that has Roadholder forks.  He had a light rider on it and the fork stiction was overwhelming the soft springs and producing a horrible ride quality.  The bushing product is more a real new product as the bushings were made custom for the unusual 34.5mm fork tube diameter and it is not a retrofit of parts from other bikes.  Replacing the steel and bronze OEM bushings with Teflon both greatly reduces the sliding friction, and it also reduces the generation of metal particles, letting the oil remain cleaner and more effective at damping for far longer than the stock setup.  The new modern seal is a low-friction style, and its retaining clip holder eliminates the possibility of it being over tightened and causing excessive drag.  The bushings themselves help the stock forks a lot, but combined with the dampers, really provide modern suspension quality while using the OEM sliders and tubes.
CRM: What are some of the inherent design shortcomings of classic British motorcycle forks (and suspension systems from this era in general?)
C.C.: You can't really think of a lot of these 'issues' as shortcomings, because at the time this was the best that was known or built.  It's easy to look back and criticize, but today we have the benefit of some pretty advanced knowledge with makes it suspect to look back and judge the past.  In the decades since, motorcycles have benefitted slightly from advances in understandings of dynamic behavior of what is a decently complex mechanical system, but have benefitted greatly from advances in materials science and manufacturing processes.  In many ways, the philosophy of bike design and engineering has not changed in many decades and the main improvements can be summarized as 'we can make things better these days.'  I'll talk about this a little more later, but the main difference between a modern Panigale V4S and a Vincent Black shadow is merely better manufacturing processes and surface finishes, and sometimes more of a material choice, eg. plastic or carbon fiber.  From a suspension perspective, they both have forks and a shock, it's just the V4S' forks and shock have all sorts of high tech coatings to reduce friction and also a good damper design.
CRM: On the go, what are the main differences that riders will notice after installing one of your fork kits?
C.C.: The first noticeable thing is that the bike is more compliant and the suspension actually absorbs small bumps and motions.  As you get to speed, the improved wheel control over bumps and potholes becomes apparent.  Also, there is less of a compromise between ride comfort (not a jarring ride) and high speed stability (not a wallowing ride), which is one of the main benefits of the shim stack damping cartridge.  The improved damping actually results in less physical suspension movement, which means less overall bike motion, which is a good thing.
CRM: Tell Cafe Racer's readers a bit about your engineering background and your involvement in roadracing?
C.C: I grew up in a small gas station my parents owned a block from their house.  I loved wrenching on things with wheels and a motor, so pretty naturally gravitated towards STEM stuff, though it was not called that back then!  I rebuilt a fast hot rod (1968 Camaro in a roadrace style), then got accepted and went to The Cooper Union in NYC for engineering school.  I got a Bachelor's and Master's degree in Mechanical Engineering there, and in the process of moving from a suburb to the city, downsized from cars to motorcycles.  And realized that you can rebuild a motorcycle in a NYC apartment.  After doing a hotrod/Frankenstein 1980 Z1000LTD, I got a new R1 and discovered a new level of refinement/soullessness.  I started riding way too fast on public roads for safety, then got smart and got a used Honda RS125 GP bike and went to the track and was hooked for evermore.  The small race bike was an eye-opener that a small bike could be so much fun.  From racing a lightweight bike, I went on to build a lightweight bike and then was even more hooked.
CRM: What were some of the parts and concepts that you've developed for your racebikes?
C.C.: What started me into building was that from an engineering perspective, the mechanical architecture of the generic motorcycle was frozen in time, and in my opinion, frozen in a pretty inefficient form.  For me, the problem starts with the telescopic forks, which make their impact felt through the rest of the bike.  Any engineer would rather have rotational motion instead of sliding motion.  Rotational motion is everywhere, it is the wheel or a ball bearing.  It is efficient and easy to make strong structures with.  Sliding motion is far down the list of an engineer's choices.  It is inefficient from a frictional perspective and limits structural design options.  Everyone uses round forks because it is hard to make anything else, even though forks want to be less stiff laterally than in the braking direction.  Looking at this, I decided to work on a linkage style suspension that uses pivoting bearings instead of sliding tubes for the front suspension.  This choice meant that to really show the benefits, I had to do the entire bike.  As Kevin Cameron said, ' It is hard to prove the advantages of wings by attaching them to a toad.'  This makes things a little difficult for me, as there are no rearsets or mirror sales that can help fund my projects.
CRM: Tell us about your workshop and business- how many products do you currently offer and what sort of services?
C.C: My workshop is pretty capable for flexible fabrication, it has a big 4 axis CNC milling machine and a multi axis CNC lathe with subspindle and milling capabilities, in addition to manual machines, welding, hand tools, etc.  My business is primarily engineering consulting for a variety of consumer product industries, from electronics, to medical devices, to exercise machines to industrial automation.  In general, I provide technical design and prototyping services that focus on comprehensive 3D modeling and design for manufacturing.  The shop end of the business helps me produce proof of concept prototypes to verify the 3D model I just created.  My forays into motorcycle design are currently a smaller part of my business, but I am trying to switch over to motorcycle production full time.
CRM: How long have you been in this specific business?
C.C.: I've been in this industry since 1993 and have been in business for myself since 1999.  I've been building and racing since the mid-1990s.
CRM: What do you enjoy the most about your chosen line of work?
C.C.:I have a constant flow of work that is usually always new, with few long term or tedious projects.  Coming up with solutions to problems across a wide swath of industries keeps my brain active and life interesting.
CRM: And what's most problematic?
C.C.: Being a small business owner, my first job is being a businessperson where I would rather be engineering all the time!  And racing!
CRM: Do you design and create bespoke motorcycle frames and if so, how are they manufactured?
C.C.: Yes, I design and fabricate everything in-house.  Most are a combination of CNC parts welded to bent and mitered tubing, and sometimes I cast and machine parts instead of making from billet.  Steel is my preferred material of choice for frames.  It is stiff with a high surface hardness which makes it durable, and is easy to weld with minimal distortion.  Aluminum is a great material too, it's just my setup and preferences tend towards steel.
CRM: Historically, what are some classic bikes that you admire from an engineering standpoint?
C.C.: My favorites usually coincide with some engineering elegance or breakthrough.  BMW R32 just looks like it is correct, which could not be said for all bikes of that time.  The Manx and various big singles of that era were the epitome of KISS and their effectiveness was proven on the racetrack for years against larger and more powerful and complicated machines.  The Vincent twins are high on my list.  Conceptually, how different are they from the carbon-frameless Ducati GP bike that Stoner rode?  Really just some better materials and manufacturing.  I think we've gone downhill from those bikes.  The Norton monocoque and to a lesser extent the JPM spaceframe dared to be different and achieved race success while vastly underpowered by concentrating on better chassis dynamics instead of outright power.  Peter Williams had many impressive engineering accomplishments in motorcycle design in addition to his racetrack speed.  The Norton Challenge was a good, but mostly unsuccessful, attempt to bring F1 car engineering to bikes.  1969 Honda CB750 was in some ways a watershed bike, but in some ways just more power shoved in the same old frame and suspension ideas.  As a kid and even now, I was always inspired by the ELF endurance racers with their visibly unique designs that really bucked the status quo.  Even today, they still seem more futuristic than the most blinged-out Ducati V4R.  The Britten is another mold-breaker and almost can be considered vintage!  The Ducati Supermono is also almost a vintage and always an inspiration, though more for looks and embracing a single cylinder configuration than for technical wizardry.
CRM: And among contemporary machines, which do you admire?
C.C.: That's a tough question.  I don't want to say there are no good bikes, but there is just so much of the same.  Minus the bodywork, can you really tell any of them apart?  Yes, stupendous engine performance, brakes, etc, etc, etc, but these days that's only what we expect, so once you get past the shiny stuff it is somehow a letdown.  Electric bikes are coming, but nothing has impressed me yet.  Whatever bike I am working on to me is the most important!