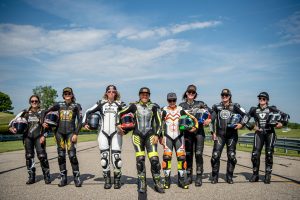 We had the pleasure of attending a meet and greet this week with the team of female roadracers currently campaigning Royal Enfield's Continental GT 650s in the Motoamerica championships. The ladies were selected through RE's ongoing Build, Train, race program where ordinary motorcycle enthusiasts are chosen to design, engineer and then race the torquey 650s in a one-make competition. The crew was in Pittsburgh ahead of this weekend's Motoamerica round at Pitt raceway and a nicer, more professional group of riders you'll never meet. We couldn't help but be greatly impressed by the display of Continental GT's on display at Pitt Cycles in nearby Warrendale: stripped-down and streamlined for high-speed competition, the bikes shared a purposefulness that got our adrenaline surging even at a standstill. While the chassis and bodywork of each bike remained basically in stock form, the individual riders were able to modify the air-cooled twins to their liking. All were equipped with custom rearset footpegs while many wore thick, 43mm adjustable forks from Ohlins while one bike was adorned with a set of Showa legs culled from an early-model Yamaha YZF-R6 sportbike. The forks were clamped within custom machined billet aluminum triple clamps and the wheels were shod with racing slicks for ultimate traction on the cueball-smooth racetracks. Adjustable racing shocks shored up the rear suspension while up front, low clip-on bars hid beneath mini-fairings, each painted to the rider's liking. The overall effect made us wonder "why doesn't Royal Enfield offer a streetbike version of these awesome machines?" Looking back at my many years spent learning the ins and outs (and occasional painful dismounts) of track riding, I'd wager that many riders would fare far better adapting to closed circuit riding aboard a motorcycle with the GT's modest 48 stock horsepower. The fastest lap i ever recorded at Pit Raceway (back when it was a much smaller circuit still named Beaver Run) was aboard a grunty little Honda CBR250, believe it or not. Riding my Ducati 999 track bike, I was always either zooming towards an apex at a speed I wasn't entirely comfortable with, or panic braking into turns, limiting my lap times dramatically. On the smaller, less powerful bike, I was able to keep the throttle pinned for most of the lap, making up for all that time I'd usually spend braking and trying not to carry too much straightaway speed.
One of the Build, Train, Race competitors, CJ Luckas said she'd laid down a 1:52 lap of Minnesota's Brainerd circuit recently which is admirable in anyone's book. On afar faster bike, the lap times might have slowed as the racers struggled to harness too much power.
Who knows- maybe we'll see such a nimble, rideable track bike made for the masses from Royal Enfield before to long. I'd be first in line to buy one.