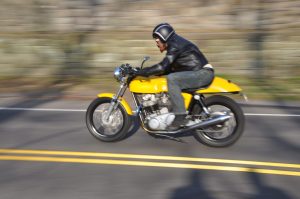 Regular readers of Cafe Racer know we've a serious soft spot for classic Norton motorcycles. We've built a trio of the vaunted British parallel twin in the pages over the years, learning a tremendous amount along the way. Last season, we managed to pile a good 1,000 miles on our 1973 Commando 750, and after one such ride, CRM's resident Norton guru, Nick Coumos noted how the bike's front end still left a bit to be desired. "You may have noticed a definite clanking sound when you roll over a bump in the road," Nick observed. "That's just a problem with Norton Roadholder forks that you can't do anything about- it's just they way they were built," explained the man who has built and repaired more British bikes than anyone can rightly recall. There's nothing inherently scary or dangerous about riding a bike equipped with what were and still are considered the best classic bike forks around. But Nick's brutally honest statement got me wondering- can anything be done to make the front end on the Commando ride with the plushness and shock-absorbing capabilities of modern telescopic suspension?
That brainstorm and copious Internet searches led us to the Jersey City, NJ workshop of Chris Cosentino, a brilliant and gifted engineer who has invented something of a solution for Norton owners. Chris, a classic motorcycle roadracer and sought-after expert on all things fast and two-wheeled, has come up with a kit involving modern cartridge0style fork internals and revised bushings for classic British bikes that he says will transform our Commando's occasionally wayward handling and habit of diving excessively under braking.
Designed to suit the demanding needs of AHRMA racers, the kit is precisely what our Norton calls for, and in the next few issues, we'll be covering an expert install and road test to see just how much better the ride will be. Back in 2018, we picked up a second Commando, this one an 850 model that had sat rusting away in a friend's damp basement for several years. We've been kicking around the idea of mounting a set of modern, inverted sportbike forks on this bike with help from our friends at Virginia's Cognito Moto. We're considering a set of beefy, 50mm forks from a late-model Honda CBR1000RR superbike that would allow the Commando to run dual floating brake rotors with radial Tokico calipers which would really set the bike on the proper curse. Stay tuned and ride along as we wrench our way to faster, sleeker cafe racers.