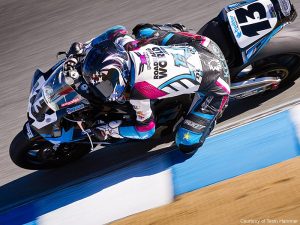 Royal Roadracers
Following the success of their flatrack training and racing program, Royal Enfield North America has launched phase two of their Build, Train, Race program for 2021. This time, a select few, very lucky female riders will be chosen to race tricked-out, slick-shod Continental GT 650 motorcycles on roadrace circuits. To apply, would-be participants need apply with a video and questionnaire response at www.bit.ly/30aSOXT to be considered. "Building upon the success of the flat track BTR program, we decided to carry the momentum into the road racing segment, " said Breeann Poland, Gloabal Brand Manager of RE's Continental GT platform. Professional roadracer and BTR flat track participant Melissa Paris will handle schooling the quartet of enrolees who will help design and build the twin-cylinder speedsters to full competition trim. Interested? You'd better sign up as the program closes to entries on December 1.
Paris, who has competed in AMA Suprbike and Moto America, will consult each participant on the development of a Continental GT 650 road race motorcycle, including design and parts selection, provide insight into sponsorship aspect of racing, and provide training on and off track for the four participants.
"When I watch the video submissions I'll be looking for entries that display the same passion and desire to get into road racing that I had when I first started out," said road racer and BTR mentor, Melissa Paris. "This program will be such an amazing opportunity and I'm looking forward to working with these female racers who have always dreamed of lining up on a road race grid".
The participants will be selected by Poland, Paris and accomplished racer and journalist Anne Roberts. In their videos, interested participants will need to display a passion for road racing and answer a series of questions about their background and motorcycling experience. The selected participants will then have several months and a budget to convert a 2020 Continental GT 650 Twin into road racing trim. The ladies will then race in conjunction with a national event once they've completed the build and training aspects of the program. Look for further coverage in the pages of Cafe Racer come what looks like a very exciting, full-throttle 2021.