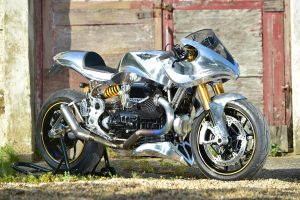 A sudden rainstorm in recent days left our 1973 Norton Commando looking, as our British friends tend to say, a little second-hand. It's a source of endless amusement here at the CRM HQ that England, a country with perpetually rainy weather, can also be credited with popularizing cafe racers sporting shiny, polished alloy bodywork. Back in the original ton-up heyday, running polished aluminum bodywork on your two-wheeled speedster was not only fashionable, it was timely as everything from then-modern jet aircraft to racing cars were covered in the lightweight, malleable metal. Though fiberglass – or glassfibre as the Brits call it- offered a cheaper alternative to specials builders wishing t shed unwanted pounds from their bikes, aluminum remains king in the cafe racer scene.
However beautiful it can be in top form, our Norton's gas tank and fenders, after a thorough dousing by Ma. nature, needs several painstaking hours of cleaning and polishing. We're published several how-to articles in recent years addressing the quickest and most economical ways of achieving a top-gloss finish on alloy bits, but in the end, it's plain old elbow grease and a good metals polish that does the job. We've also found that soft cotton buffing pads, applied to a power drill offer a speedy means of cutting though ugly oxidation and petrol stains; working back and forth across bodywork surfaces in a steady motion will eventually do the trick.
Our current issue's main feature bike is an example of serious commitment when it comes to shiny metal bits as the Moto Guzzi 1100 Sport is wrapped in some of the most lovely alloy bodywork known to man. While many seriously reflective machines of this caliber are show-only bikes, owner Paul Milbourne actually runs the V-twin in hillclimb racing competitions where its anything but pampered. A combination of high-tech titanium and featherweight aluminum parts, Paul's Guzzi is an inspiration to anyone who's ever spent a sunny, summer day inside the garage, polishing cloth in hand, when they'd rather be riding.