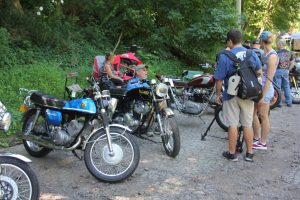 It's been a very busy month, but it's due time we acknowledged you, our readers for making the 12th Annual Reader's Ride-In Custom Show a success. With clear skies, warm temperatures and open roads, folks started spilling into Sewickley as early as Saturday afternoon for Sunday's show. We all enjoyed a laugh at Saturday evening's pre-party at the Slippery mermaid sushi bar on his 2019 was the first year we weren't enjoying cocktails that were deluged with rainwater, and the immaculate summer weather continued again on Sunday morning.
That pop and rumble of motorcycle engines could be heard echoing through the Quaker valley bright and early, as a record number of attendees rolled in through the War Memorial Park gates.
As with previous events, it was a blast to see many fresh-from-the-workshop builds being ridden in and Royal Enfield's demo man Larry Fletcher was ready with rides through the surrounding area on the new Interceptor and Continental GT 650 twins. Throughout the day, Larry and lead rider Sergio from the Steel City Rockers led some 40 demos, while the sign-up list was filled all day. This year's prize packages were the best ever with all of our sponsors: Shoei Helmets, Avus Moto, Joe Rocket, Roland Sands Design, S100, Workshop Hero, Lewis Leathers and Red Torpedo pitching in with goodies for the class winners' gift bags.
There's a walloping amount of coverage coming up in Cafe racer magazine's October/November issue which goes on sale the first week of October. Look for details on each of the seven class winners, a complete photo essay and more.