Te're currently working hard to bring you our first-ever special issue of Cafe Racer dedicated to style. Whether it be the unmistakably cool look of ton-up riding gear or the svelte, purposeful lines of a classic cafe bike,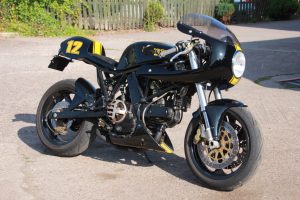 Brawny, Ducati street missile from England's Made In Metal is certainly a contender for Most Stylish Cafe Racer.
The upcoming April/May issue will focus almost exclusively on the aesthetics of custom speedbikes. One of the feature stories we're having a collective blast preparing details the Top Ten Most Stylish Cafe Racers, Ever. With an eye out for both factory customs from the major motorcycle manufacturers and some of the more enduring specials built over the years, we're tasked with the unenviable job of determining just what bikes mean the most to us. Naturally, iconic machines like Ducati's 750 and 900 Supersport twins of the 1970s come to mind, as do vintage Tritons and Egli Vincents. Scrolling through the dense digital archive of photos we're collected over the years, there are so many visually captivating machines, it was easy to get lost in though just digging on their various lines and shapes. Taste in motorcycles being nearly as subjective and personal as a person's choice of favorite music, it's amazing how many people agree on what streetbikes are true, timeless stand-outs.
And this special Cafe Racer issue would prove diminished without some feedback from you, our readers, whom we're sure have ideas about what constitutes Stylish two-wheelers. Drop us a line with your thoughts and reasons why certain bikes are worthy of the title and we'll be sure to include a few choice insights once the magazine hits the newsstands come April 3.