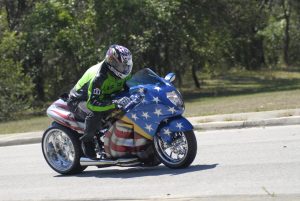 s
Ah, it all seems so quaint just 15 years on, but I recently found a batch of photos from the early Aughts of myself test-riding a collection of fat-tire extreme sportbikes. The wild, over-the-top machines were quite the rage in the early years of the 21st Century, back before the global recession of 2008 brought an end to the reckless spending and easy-cash hustles that made investing $50,000 in a Hayabusa or GSX-R 1000 seem rational. Back then, working as a correspondent for the now-defunct magazine Super Streetbike, I spent many weekend traveling the country to attending custom motorcycle shows where outrageous two-wheelers had become a burgeoning subculture where the more chrome, oversized accessories and speed equipment one could bolt onto their rides the better.
Though the sheer outlandishness of these bikes was a fun sight to behold- a friend and fellow writer once described them accurately as "life-sized ghetto-fabulous Hot Wheels toys" the extra weight that extraneous bolt-ons created often caused the to lose, rather than increase, their terminal speeds. Stretched swingarms, shortened shocks, chromed, widened wheels, nitrous injection kits, and rear tires so fat they simply refused to go around corners may have looked boss at bike night, but on the sort of twisty roads where sportbikes were designed to do their thing, these modifications proved useless for the most part.
It's enough to make us realize that today's low-buck, minimalists cafe racers are a direct reaction to yesterday's copious bling.