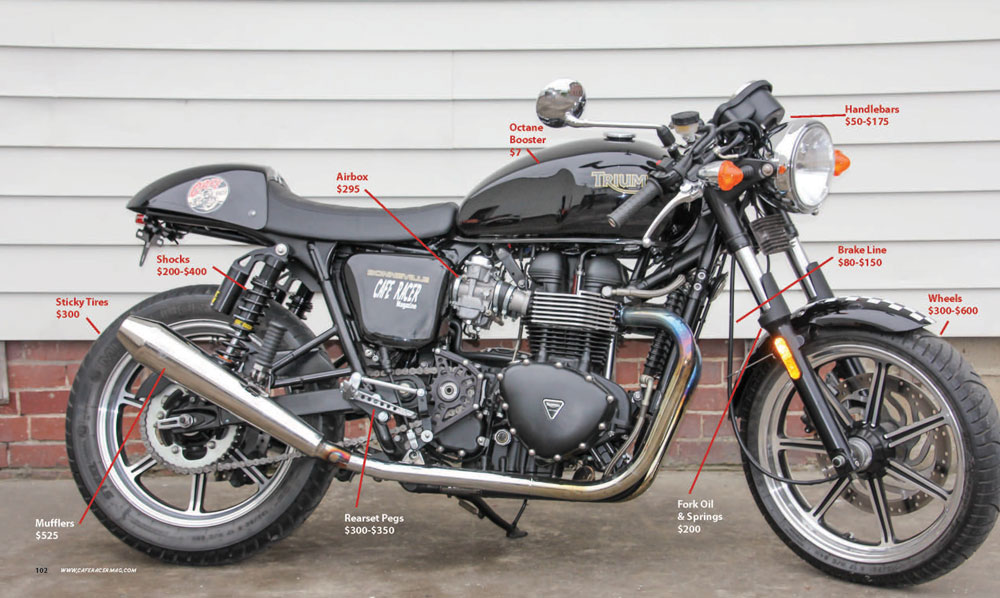 Compiled and Photographed By The Staff
It seems that everyone's got a new Triumph Bonneville or Thruxton these days and just as many punters harbor opinions about what makes their particular ride special. Lucky for Bonnie owners and tuners, the 2000 re-launch of Britain's most famous motorcycle has spawned one of the deepest aftermarket support industries in all of motorsports. Today's Triumph enthusiast can choose
from literally thousands of parts and services to improve the 865cc parallel twin, and, as a result, there are more ways to add spice to a Hinckley Triumph than you can shake a set of high-lift cams at. To keep things simple and the debates civil, we've experimented with dozens of aftermarket parts in the CRM garage in recent months, and came up with this list of Ten Steps To a Better Bonneville. Grab your wrenches (and credit cards) and may the best tuner win!
Pipe Down
Exhaust options for the Hinckley twins range from lightweight, titanium full race systems from Italy's Arrow Special Parts, to funky, high-rise two-into-one pipes from Zard which will offer competition levels of sound and performance. However, full exhaust systems can trade high cost for substantial weight loss. Furthermore, fuel injected Bonnevilles will require extensive fuel injection re-mapping when upgrading to a new full system. A simple, effective solution lies in a set of bolt-on Predator slip-on mufflers from California's British Customs. These chromed steel reverse megaphone beauties cut around 12 pounds from the weight of a set of factory Triumph mufflers while adding around 5 horsepower to any Triumph twin. To be without a pair of these is to be a beatnik without a pack of hand-rolled cigarettes and an unraveling, tatty turtleneck sweater (though beatniks, mercifully disappeared long before we were old enough to discern them from members of the band Fun, so we digress). The sound is a throaty purr at tick-over, accentuated by a ballsy bark when the rev juice is really tapped. Includes a fuel injection map for your tuner or a set of carburetor jets for regularly aspirated bikes.
Available in polished stainless steel, chrome or ceramic black, $525 from www.british.customs.com.
Hit The Bars
Control, as baseball pitchers like to say, is everything. To make your café racers turn quickly and dive into corners like Valentino Rossi facing contract negotiations, a set of lightweight, adjustable handlebars is a must for your Triumph. Clubman bars can improve steering while not bending your spine up like a cruller, but quality, especially for e-bay finds, is questionable. We recommend Lossa clubmans, which are nicely made from chromoly tubing and offer a comfy, 27" width. Whether you're looking for clip-ons that will allow for a full-on race tuck riding position or simply a set of sticks that will reduce your exposure to windblast at highway speeds, Spiegler USA has an option. Our 2010 Triumph Thruxton received a set of Spiegler's red anodized clip-ons in their handsome billet alloy bolt-on mounts and it's turned the Bonnie into a seal scratcher. The aluminum bars are easily replaceable if crashed and the 1.5" rise makes for pain-free riding at any speed. Low enough to allow users a fine view of the underside of a snake's naughty bits.
Lossa bars start at $100 – see www.los.saengineering.com for details. Spiegler available in silver, titanium, gold, red, chrome, blue or black, with risers up to 1.5" from Spieglerusa.com starting around $70.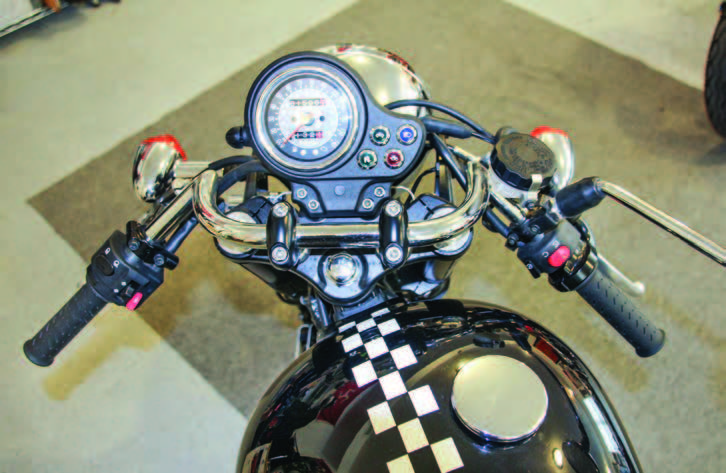 Sticky Rubber
Until now, finding sticky rubber for a Triumph Bonneville meant aiming at bubblegum stuck to the sidewalk near your crib. Continental has cured all this with their new Classic Attack radials. These fully modern radials offer the sort of grip previously available only to sportbike jockeys, but made in sizes to fit modern Triumph twins. We can also recommend Avon's road-hugging AM 22/AM 23 race rubber, a non-DOT approved compound that we've run to great success on both street and track. Better tire compounds mean in.creased lean angles, which translate into brisker out-of-corner acceleration and improved, safer riding.
Fork Oil and Springs
Motorcycle manufacturers build their ma.chines to suit the weight and riding style of the average punter – someone whom the
O.E.M.s figure weighs around 175 pounds and rides modestly. If you're the type who digs aggressive cornering and quick stops, you may notice that your motorcycle's forks dive faster than a frogman with lead flip.pers. A solution lies in removing your fork tube end caps, draining out the relatively thin factory fluid and replacing it with some heavy-duty fluid from the likes of Hagon, Race Tech, etc. Paired with a set of their progressive fork springs, these two can make your forks stiffer and less frantic under braking, and, as a result, your cornering will be smoother, more confident and, yes, faster. Imagine Crisco on a very cold winter morn.ing and you've just about got it.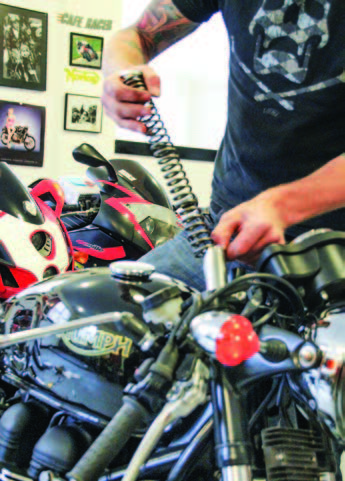 Shock Your Rear End
Like factory motorcycle forks, O.E.M. shock absorbers are built to suspend your aver.age rider and maybe a weekend's luggage; when it comes to aggressive riding, well, not so much. If you're a heavier rider – and let's face it, many American are these days
– factory shock absorbers on most bikes can only be adjusted but so far, meaning you may be out of the range of controlled suspension damping even before attempt.ing to adjust your factory shocks for more stiffness. Race Tech's GS3 custom shocks are built to suit your individual weight and riding style by the decades-old California suspension house. Our set of gas-charged, piggyback GS3s for Bonnevilles is fully adjustable with hydraulic preload adjusters, and they transform a spongy-feeling rear end into a poised, confident canyon carver. Well worth the $699 from www.racetech.com. Australia's Gazi Suspension also offers some serious dampers for modern Bonnevilles, with their BCC 212-X models propelling Thruxton Cup racers across the finish line for years. Made from aircraft grade alloy and available with 10 to 30 mm height extensions, they offer 20-click rebound adjustment and are fully nitrogen charged. The more advanced Sport-X Gazi shocks come with remote piggyback reservoirs and 10-click compression adjustment. Get straight and corner right for $699-$819 from flatlandcycles.com.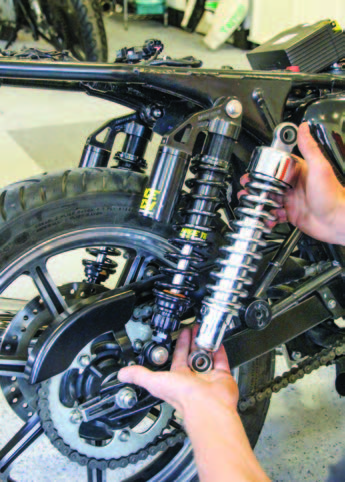 Wheel Around The Corners
As a family magazine, we generally shy away from copious references to the word rim, but here we go nonetheless: Losing what's commonly referred to as unsprung weight from your motorcycle means faster turn-in, quicker steering and a motorcycle that glides, rather than grinds, its way through corners. This is why professional race teams will spend untold four figure sums on featherweight carbon fiber rims to help shave mere hundredths of seconds from lap times. Lucky for Bonneville/Thruxton owners, no such dire ends are necessary. Just call Buchanan's Spoke & Rim for a quote on a set of lightweight aluminum wheel rims. The folks at Buchanan's can lace your Triumph's hubs and brake components to a set of lightweight rims with stainless steel spokes that will drop serious pounds from your machine, while offering better style, improved braking and cornering and all for around $600 (depending on whether Buchanan's laces your rims or you lace them yourself). Details at www.buchananspokes.com.
Breathe Deeply
If the key to a compression engine is improved aspiration, ditching the restrictive airbox on any Triumph twin is necessity simplified. Basically, removing your Thruxton's airbox frees up the carburetors or fuel injectors to suck in more atmosphere, resulting in increased combustion, more power and a happier, smoother-running parallel twin. The British Customs airbox kit includes a black-anodized, lightweight alloy battery tray, plus a chromed crankcase breather and hose, along with new jets and supports for carbureted models. Free-breathing K&N filters are included along with hardware to re-attach your stock sidecovers so the bike will basically maintain the stock looks. Paired with slip-ons, you're looking at a solid 7-9 horses, easy.
Boost That Octane
Though eyed with the same suspicion many of us harbor for male enhancement e-mails, octane boosters actually do work. No, these energy drink-sized vials of chemicals won't transform your Triumph's horsepower output as radically as, say, a nitrous oxide bottle or a turbocharger, but we've tested several brands, and after a session on the dyno have found slight in.crease in performance. A typical 15-ounce bottle will treat 25 gallons of fuel in carbureted or injected Triumphs, and for a few bucks, it's the cheapest means of upping your motorcycle's power. We've found similar, 2-4 horsepower increases using oxygenated race fuels commonly available at short circuits around the country, but at $8-$12 per gallon, regular tankfulls can be expensive.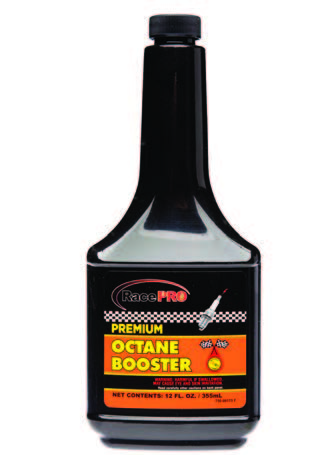 Brake It Up
Different from maxi pads, in that you'll seldom be embarrassed to mention these among pals, upgrading your brake pads – and brake lines, for that matter – will improve your riding in ways you may not expect. Because twisting the throttle is fun and relatively easy, slowing that charging steed is a more complex matter. Grabbing a big handful of brake will compress your front forks, pitching weight over your motorbike's front wheel and making it tougher to turn that fast-approaching corner. A set of upgraded brake pads will have your calipers gripping the brake rotors with less drama, reducing stopping distances in all conditions. Stiffer hoses .whether made from Kevlar or braided steel – have far less flex than spongy, factory rubber hoses, allowing hydraulic pressure to build more quickly and directly between reservoir and caliper. Many choices abound, but all are better than stock.
Move Those Dogs Rearward
Okay, if you're closer in height to an NBA star than, say, a dwarfish Moto GP star, rearset footrests may not be for you. How.ever, if you're limber enough to ride a cafe racer, aftermarket footrests can offer a racier (read: more aggressive) riding position. There's a reason roadrace bikes place an emphasis on a rider's feet being further back; this jockey-like riding position makes for pinpoint steering changes as the rider's weight is distributed more evenly along the length of the motorcycle. There's also in.creased ground clearance should the corner-carving dance move into serious territory and a finely-made pair of rearsets will offer shift linkage that's smoother and quicker than stock.