Swingin' Single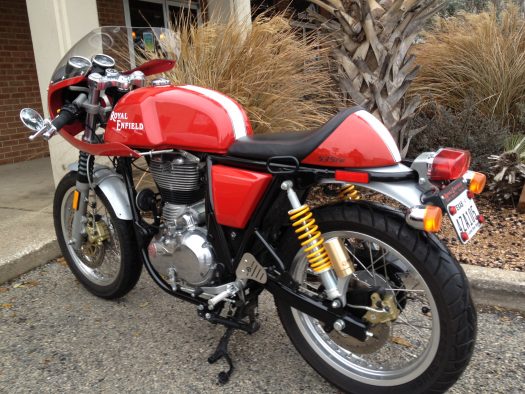 There are few types of streetbies that float our collective boats like single cylinder thumpers. The mechanical simplicity, the mad, raucous exhaust note and their ability to create thrust from so little make singles some of favorites. Case in point is reader Matthew Blaylock's Royal Enfield Continental GT. The Indian-made 535cc marvel is a massive seller overseas clocking somewhere near 400,000 units annually. The classic cafe racer looks and salty performance were enough to see Matthew who took the wrenches to his GT and came up with a spritely middleweight custom.
"The first thing I did was ditch the dinosaur-thigh stock pipe and replaced with a light, wicked-sounding open pipe with reverse cone silencer from D&D Performance. There's a Stage 1 breather kit with K&N oil case filter a Hitchcocks's
venturi to help air flow, a Dynojet Power Commander mapped for the stage 1 kit and the free-flowing exhaust." He also bolted on a CNC alloy fork top and bottom yoke also from England's R.E. specialists Hitchcocks, along with alloy bar-end mirrors, foam grips (to lessen vibration)and a tasty, 1960s-style fairing. The fairing required that the clip-on bars be dropped three inches,but the riding position remains civil thanks to custom CNC machined rearsets. Sweet!