Bike of the Week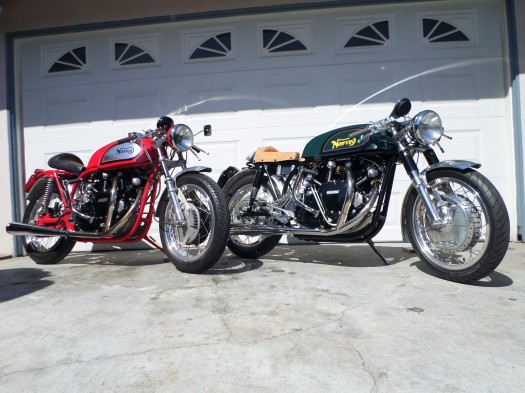 Overwhelmed- but in a good way. That's how we're feeling around the CRM offices after the flood of entries rolled in for our Bike of the Month contest. We're seen so many choice custom speedsters, in fact, that we're now serving up a new one this and every Monday for you, our throttle-happy readers.  This, the first of our weekly winners of a Cafe Racer Magazine prize pack come thanks to Huntingdon Beach, California's Larry Horn, owner of not one, but two beautiful Norvin specials. The Norvin was and still is considered the ultimate British high-performance custom, combining the torquey, 55-horsepower Vincent V-twin engine in one of Norton's sublimely capable featherbed frames.
Larry's red Norvin is a Norton Manx Wideline frame with a 1950 Series C 1000cc Vincent engine. He's owned and built this bike since 1968 and, being British and vintage, Larry  has rebuilt it many times. It's no trailer queen, Larry ensures us, with the Norvin still clocking the road miles every year. The green Norvin is a reproduction Norton feather bed wide line frame from England and a 1948 series B 1000cc Vincent engine. Dig on the massive, four leading shoe front brakes which are reproduction Yamaha TZ with disc-like stopping power.
Both bike are heavily modified with modern fuel and electrics and both Vincent engines have modern components inside including upgraded cams and valve trains says Larry who also owns a 1957 Ariel Square Four and a 1955 Velocette MSS. Nice way to amass a cool $250,000 in custom metal, Larry!