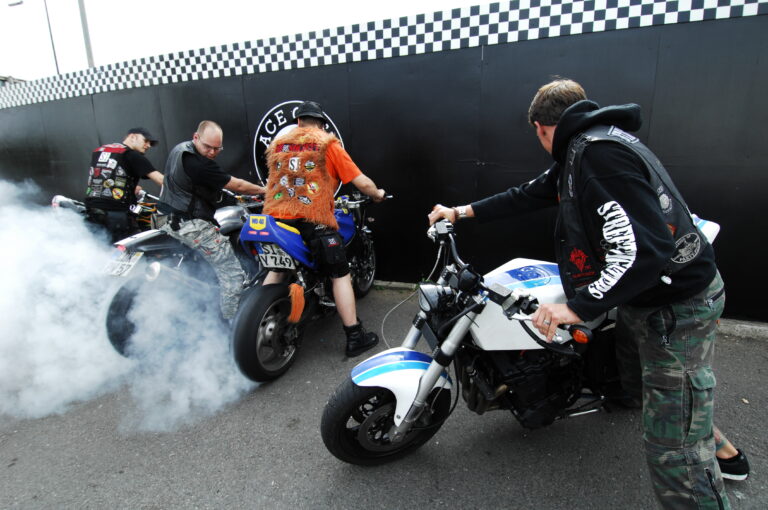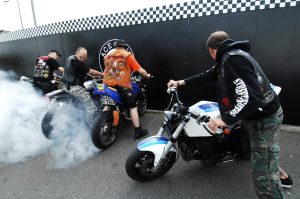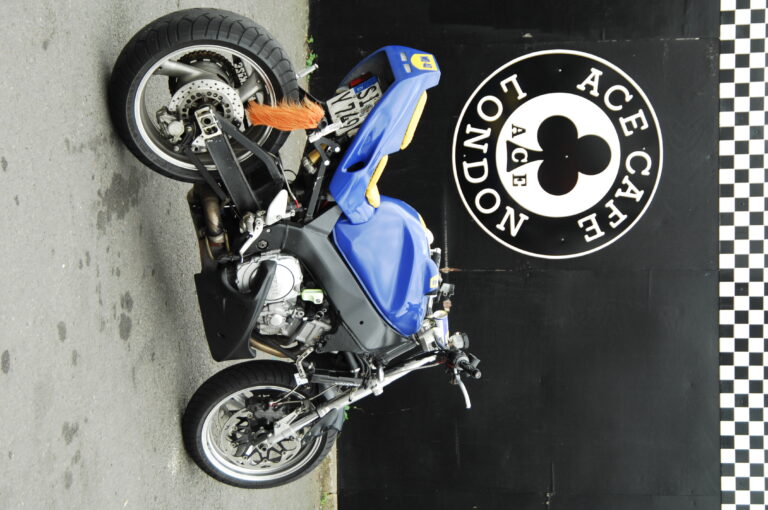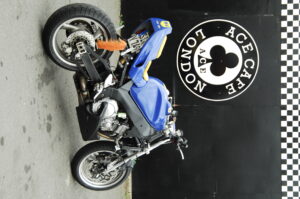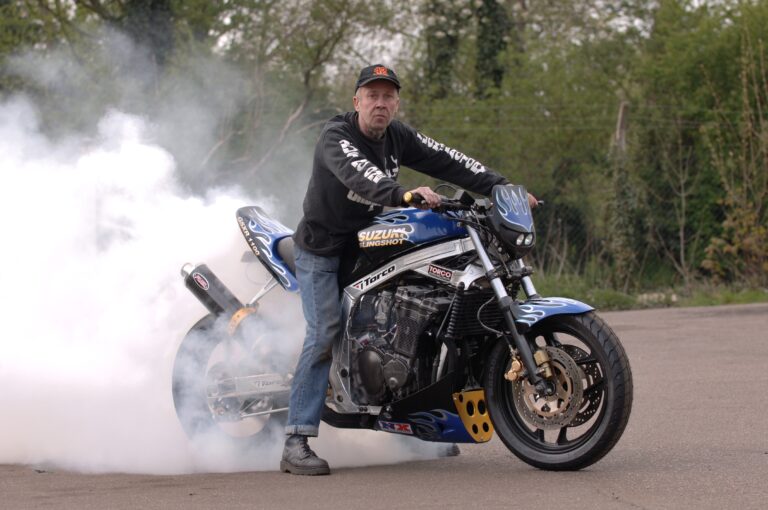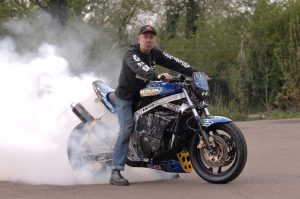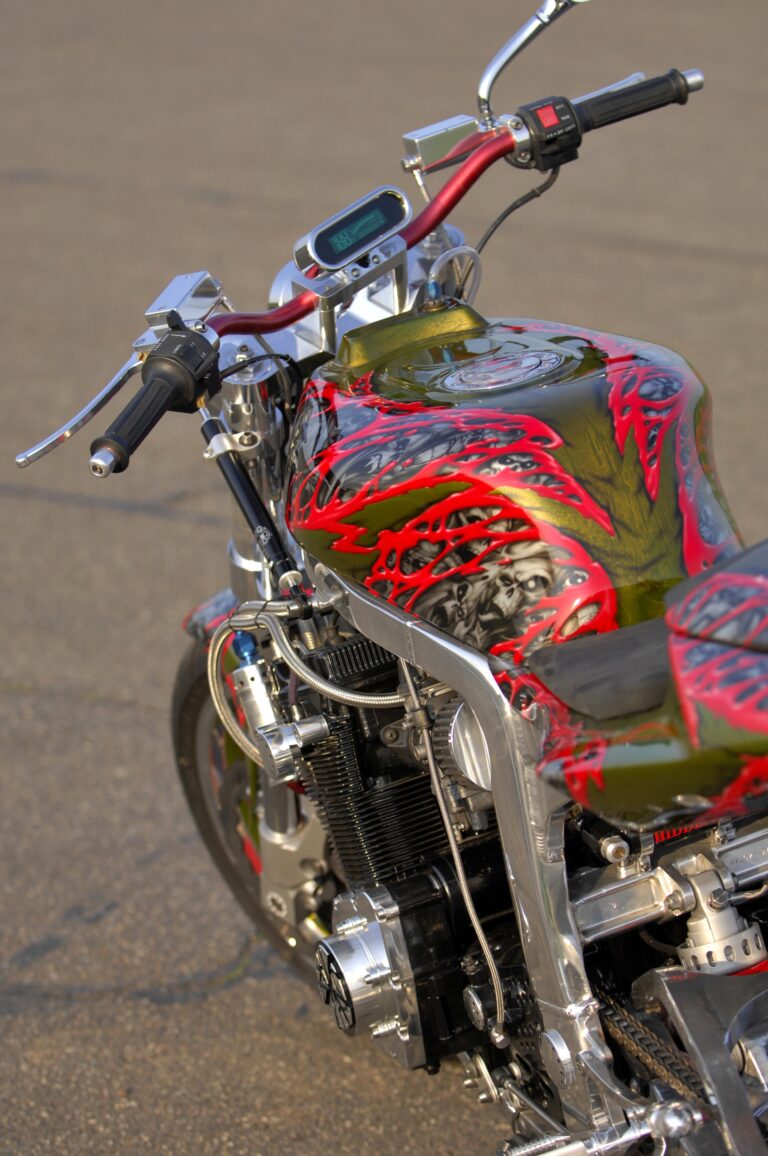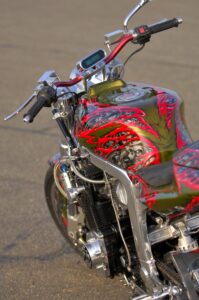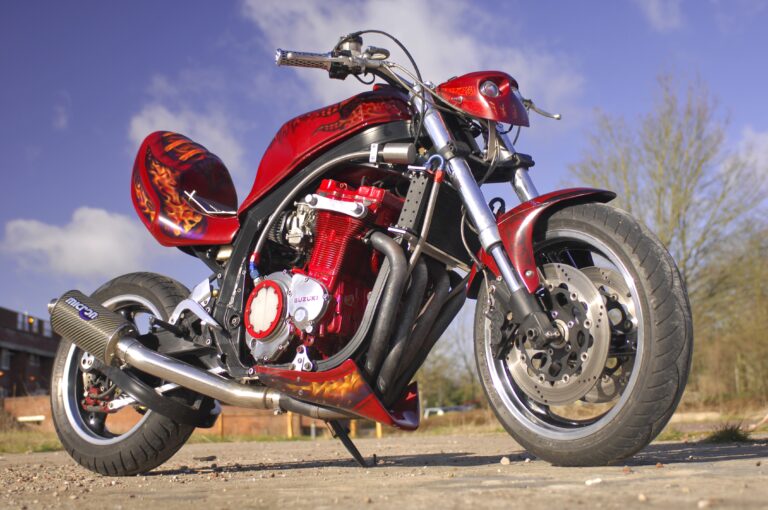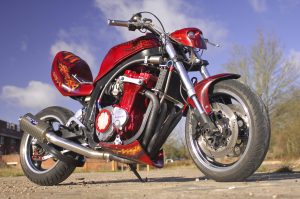 Trends in custom motorcycles have a tendency to fade away without our noticing much. For a while in the early 100s, rigid framed choppers were common sights at bike nights and rallies both local and national, but suddenly, the pop and roar of their oversized V-twin engines went missing. I've recently noticed the same phenomenon with streetfighters, a bizarre, inspired breed of custom streetbike that came and went with barely a notice. Well, if anyone could not to notice a radically-modded Japanese sportbike running a chromed frame, brightly colored anodized wheels and nitrous bottles and turbochargers (often on the same bike!)  that is. The trend started in Europe and the Uk back in the 1990s when countless wadded-up sportbikes were bought from salvage yards and rebuilt to be a sort of low-buck, high-concept vehicle of rebellion. Nobody worried any longer about track lap capabilities or the latest cutting-edge technology: with a streetfighter, original style, outlandish color schemes and creating a modern motorcycle that sailed an erect middle finger at convention was key. Sort of the same role choppers had played only 25 years previously.
I saw many such bikes while visiting the Uk and Europe back then and was always amazed at the way form overtook function for many streetfighters. Their wildly upturned seats, loud, illegal exhausts and manic states of over-tuning made them seem incredibly difficult to ride. However, after interviewing several 'fighter jockeys, I learned that this confluence of impracticality and look-at-me garishess was all part of the game. There was even a dedicated streetfighters magazine published in England that ran on for nearly 20 years. Our own chief photographer Simon Everett spent years shooting custom bikes for that publication and still considers these machines to be – like cafe racers- the ultimate expression of two-wheeled individuality.
It was always a pleasant surprise to spot the occasional streetfighter here in the States, as they caught on briefly with young custom motorcycle fans mainly in big cities along the East Coast. During the early days of Cafe Racer magazine, we met up with Frank Ford and A.J. Fulgado of New York's XPO Streetfighters, a small independent shop who cranked out some memorable naked customs. The parts for these over-the-top rides were either imported from suppliers overseas or made by hand and the small but dedicated US 'fighter scene reveled in its rarity and exclusivity. The fact that a passable version could be built for only a couple grand from a salvage yard wreck only added to the badass, devil-may-care image.
Unfortunately, it's been quite some time since I've seen a streetfighter bike parked up at a rally or bike night, and the motorcycle world is somehow duller without them. Maybe stripped-down GSX-Rs with flames and three-dimensional skull reliefs molded onto teh gas tanks weren't your particular bag, but you've gotta admit- streetfighters were something special.