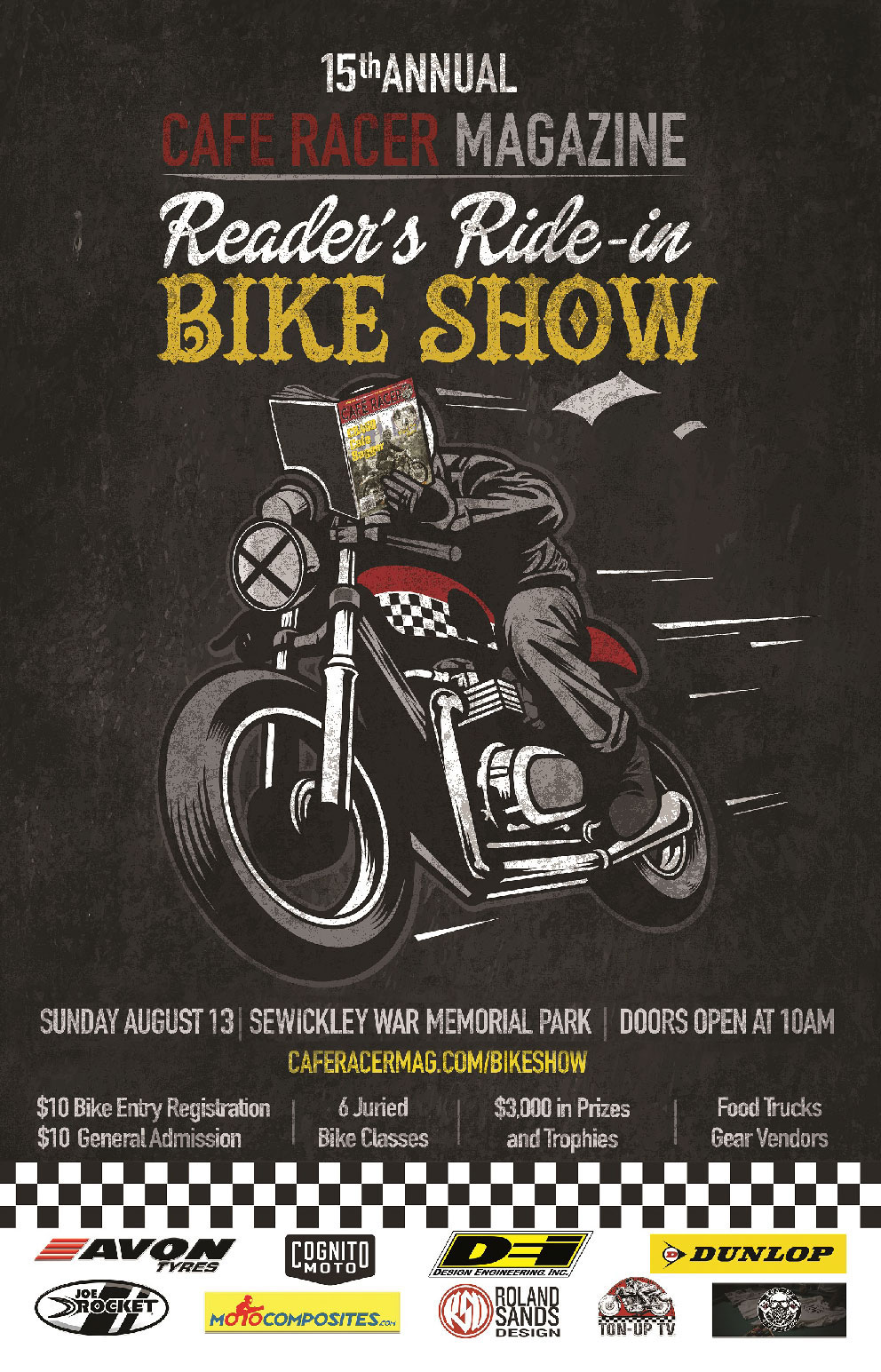 The 15th Annual Cafe racer reader's Ride-In Show is On!
When: Sunday, August 13th
Where: Sewickley's War Memorial Park. Doors Open at 10 am
Enjoy a day of scenic road riding, food trucks, prize giveaways and the coolest custom motorcycles around.
NEW THIS YEAR: $10 Admission includes Bike Show Registration
Come celebrate the world of custom cafe racers with us on Sunday, August 14 at Sewickley's War Memorial Park from 10 am – 3pm.
If you built a new ride for last year's show, get those polishing rags busy as the show is on for this summer. Join us an thousands of like-minded riders at the country's only cafe racer show dedicated exclusively to ton-up motorcycles. The CRM team is busy setting up our day-long bike show with seven classes of judged competition, a swap meet, used bike corral, gear and riding accessories vendors, food trucks and more.
Classes include:
Best British Cafe Racer, Best European/American Cafe Racer, Best Japanese Cafe Racer, Best Bobber, Best Antique/Restoration and Wildest Engineering, plus the ever-popular Peoples' Choice and Best in Show.
As always, the prize packages will be out of sight thanks to our many sponsors!
DJ Blair will return, spinning rockabilly tunes to accompany the lineup of food & beer trucks and vendor row.
Gates open Sunday morning at 10 am. Award Ceremony at 2:30 pm at the Cafe Racer Magazine pavilion.
Check this site for updates and a list of sponsored prizes and bring your best builds!
War Memorial Park is located at 811 Blackburn Road in the village of Sewickley, PA 15143, just past the YMCA.
Sewickley is a very quaint, walkable town, so bring the family! There's a terrific playground for the kiddos right in the park.
If you're the only bike lover in the family the main business district in Sewickley is just a 10-minute walk away, and has plenty to keep your whole family entertained while you get your fill of custom bikes. Click here for a list of things to do in Sewickley!
Nearby Hotels:
(All hotels listed are less than 5 miles from Sewickley)
Fairfield Inn & Suites, Pittsburgh Neville Island
5850 Grand Avenue, Pittsburgh, PA 15225, (412)264-4722
More Info
Approximately $150/night
LaQuinta Inn Pittsburgh Airport
8507 University Blvd, Moon Township, PA 15108, (412)269-0400
More Info
Approximately $109/night
Motel 6, Thorn Run Road, Moon Township
1170 Thorn Run Road, Moon Township, PA 15108, (412)269-0990
More Info
Approximately $69/night
Nearby Campsites:
Please note that the nearest campground is more than 20 miles from our location.