Bike Shows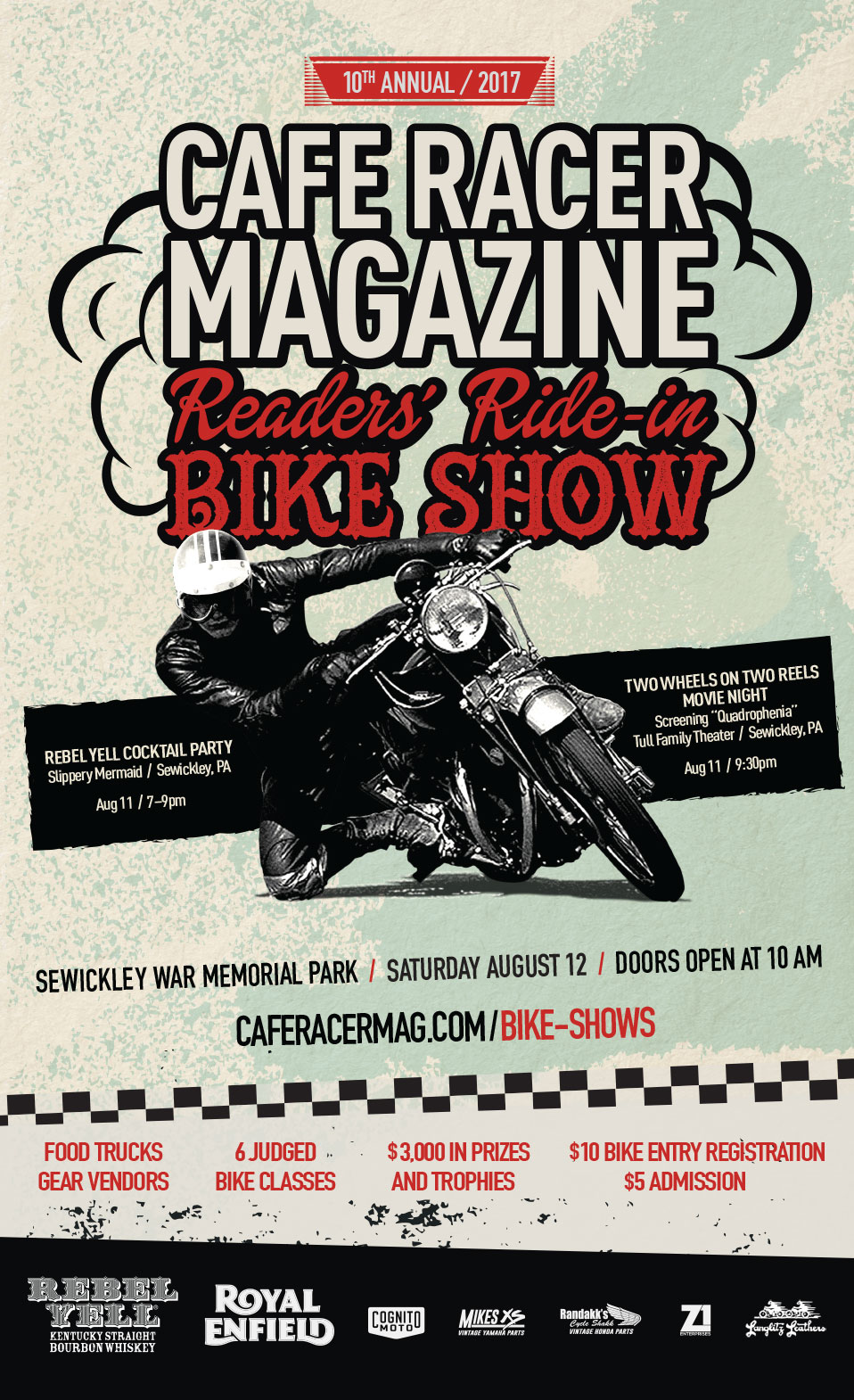 War Memorial Park is located at 800 Blackburn Road in the village of Sewickley, PA 15143, just past the YMCA.
Click here for the Sewickley Village Map
Sewickley is a very quaint, walkable town, so bring the family! There's a terrific playground for the kiddos right in the park. If you're the only bike lover in the family the main business district in Sewickley is just a 10-minute walk away, and has plenty to keep your whole family entertained while you get your fill of custom bikes.
$5 Admission $10 includes Bike Show Registration
SHOW WEEKEND SCHEDULE
Friday, August 11:
Pre-Party at Slippery Mermaid Restaurant 613 Beaver St. from 7 until 9.
Two Wheels on Two Reels Movie Night Featuring "Quadrophenia" At Sewickley's Tull Family Theater, 418 Walnut St. @ 9:30 p.m. Tickets available at thetullfamilytheater.org/2017/04/advance. We expect this to sell out, so suggest you purchase tickets in advance!
Saturday, August 12:
Tenth Annual Readers' Ride-In Bike Show! Gates open at 10AM.
Just $5 Admission
Just $10 includes Bike Show Entry
Admission includes all-day Motorcycle Flicks in Air-Conditioned Comfort!
Food Trucks this year include:

Nakama Express – Asian Cuisine
Sewickley Confectionary – Ice Cream
Blue Canary – Coffee
Evil Swine – BBQ
Cool Beans – Mexican

First and Second Place Trophies Awarded in The Following Classes: Best British Cafe Racer, Best European/American Cafe Racer, Best Japanese Cafe Racer Wildest Engineering, Best of Show and People's Choice
Prizes Include: Generous Prize Packages From Our Sponsors Plus $300 Best in Show, and $200 People's Choice Award. Additional prizes provided by VonZeti, Joe Rocket and Workshop Hero/Metal Rescue
New This Year – Name That Jacket! British Motorcycle Gear Will Award a new, leather riding jacket to the lucky person who enters a unique name for the jacket during the show.
Sponsors Include:
Royal Enfield
Rebel Yell Bourbon
Cognito Moto
Langlitz Leathers
Motul
Avon Tyres
Mike's XS
Z-1 Enterprises
Randakks Cycle Shakk
**Free Parking For Cars– Next To War Memorial Park in the upper YMCA Lot.
Nearby Hotels:
(All hotels listed are less than 5 miles from CRM HQ)
Fairfield Inn & Suites, Pittsburgh Neville Island
5850 Grand Avenue, Pittsburgh, PA 15225, (412)264-4722
More Info
Approximately $150/night
LaQuinta Inn Pittsburgh Airport
8507 University Blvd, Moon Township, PA 15108, (412)269-0400
More Info
Approximately $109/night
Motel 6, Thorn Run Road, Moon Township
1170 Thorn Run Road, Moon Township, PA 15108, (412)269-0990
More Info
Approximately $69/night
Nearby Campsites:
Please note that the nearest campground is more than 20 miles from our location.
More Info
Restaurants/Bars:
(All listed restaurants/bars are in Sewickley, an easy 10- to 15-minute walk from the bike show.)
The Slippery Mermaid
Excellent Sushi, just across the alley from CRM HQ – outdoor patio
Fri/Sat: 11 AM – 10 PM, Sun: 11 AM – 9 PM
613 Beaver Street – Website
Subway
Hoagie/Sub/Sandwich Shop Chain
9 AM – 9 PM every day
537 Beaver Street – www.subway.com
The Sharp Edge
Burgers, Dinners, Pizzas and Salads, plus Huge Selection of Imported Beer, especially Belgians. (Don't ask for a Coors Light here!)
Fri/Sat: 11 AM to midnight; Sun: Noon to 9PM
510 Beaver Street, Rear – Website
Sewickley Hotel
Appetizers, Burgers, Dinners, Salads and Sunday Brunch, and a Full Bar in a Former Coaching Inn
Fri/Sat: 11 AM – 10 PM (bar remains open later); Sun: 11 AM – 3 PM
509 Beaver Street – Website
Mamba Italia
Authentic Neapolitan Pizzas Baked in a Wood-Fired Oven, Pastas, Salads and Entrees (BYOB, but the wine store is on the way.)
Fri/Sat: 4 PM – 10 PM; Sun: 3 PM – 8 PM
424 Broad Street – Website
China Palace
Traditional Chinese and Thai Dishes, plus Sushi, and a Full Bar
Fri/Sat: 11 AM – 10:30 PM; Sun: 11 AM – 9 PM
409 Broad Street – Website
Pizza Roma
Pizza, Pasta and Bar Food with a Full Bar – Smoking permitted at the bar!
Fri/Sat/Sun: 11 AM to 2 AM – kitchen closes earlier
426 Beaver Street – No website, call 412-741-1744 for details
Note: A Burger King and an Eat n Park diner are located within 2 miles' driving distance.