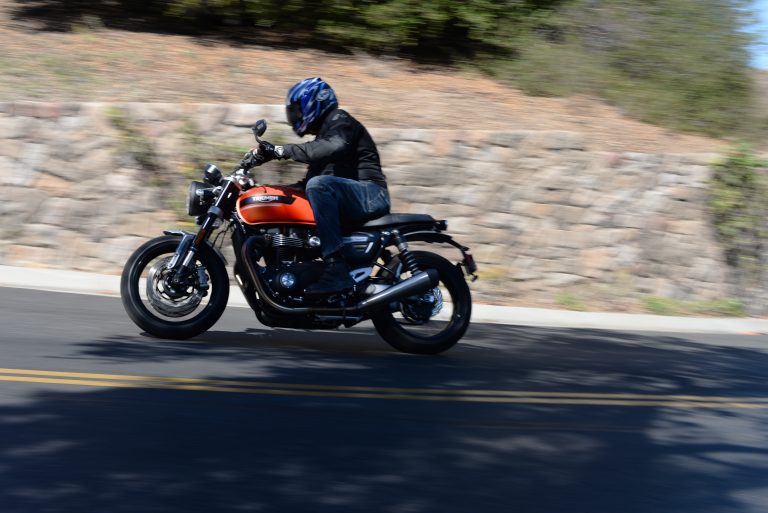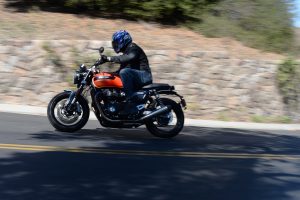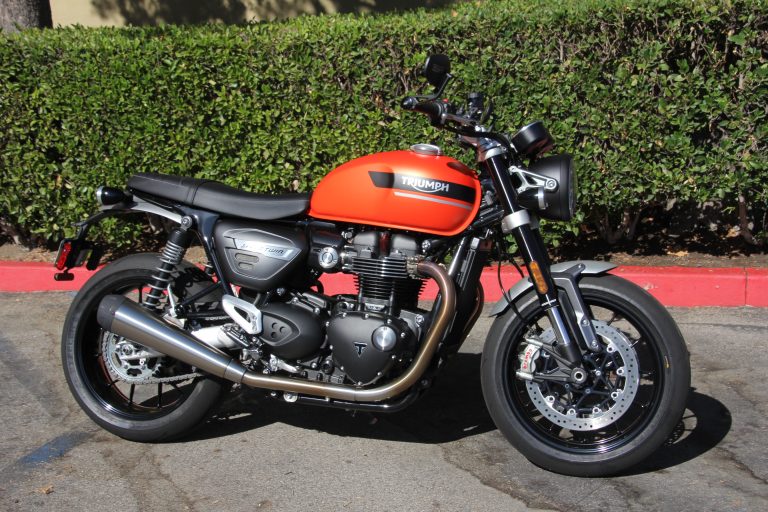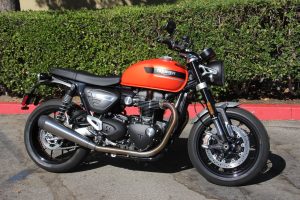 One of the most enduringly popular modern retro motorcycles to emerge in recent years is Triumph's 1200cc Bonneville platform. The new generation machines emerged in 2016, replacing the previous air-cooled, 900cc Bonnevilles that were hot-sellers on their own. However, the 1200cc Bonneville platform offered a whole new level of performance over the 58-odd horsepower offered by the earlier bikes. Now, these perfectly proportioned bikes had the oomph to match their looks and Triumph has smartly expanded their Modern Classic line-up to include at least eight different models, each producing an impressive horsepower range from 79 to a walloping 103. The Speed Twin falls in the upper range with a solid 100 horses and 83 foot-pounds of torque planted firmly in the engine's upper midrange. We owned and extensively modded Thruxton version of the 1200 for a few years and came away greatly impressed by its sportbike-like performance combined with all-day comfortable ergonomics.
The Speed Twin, which is also available in a 900cc version, follows the Thruxton's able lead, serving up enough power and sure-footed handling to make anything from canyons to highways equally fun. Dressed up in a funky matt orange color, there's plenty of retro detailing on the ST to keep owners grinning, especially when some youngster strolls by asking "how old the cool classic Triumph is."
Questions like these are inevitable on a bike with such convincing classic looks, as even the fuel injectors are disguised to resemble 1950s Amal carburetors.
A weekend spent zooming around the hills and valleys in the Santa Monica Mountains near Malibu proved that modern performance bikes don't need to be taxing on a rider's shoulders, neck and wrists to be exciting. I rode sportbikes and low-barred cafe racer customs exclusively for decades and came away with an Icy Hot addiction that would rival that of an NFL veteran. Not here: this bike can scorch into a corner in fourth gear, drop the gears down a cog and rocket out of the other side like a track bike while the flat handlebars leave you in a position where traffic is still perfectly visible and steering easy.
Were there any downsides to the Street twin 1200? Well, the non-adjustable rear shocks were oddly bargain-basement accessories for a motorcycle with such strong sporting potential, but that's about it. The sticky, Metzeler Sporttek tires certainly proved up to the job of making cornering feel sure-footed and the twin monoblock radial Brembo front brakes are the sort of kit previously found only on exclusive race-replica bikes. Read more in our current April/May issue and stay tuned for our stint aboard Triumph's more aggressive, 170-horsepower Speed Triple RR. coming up later this summer.