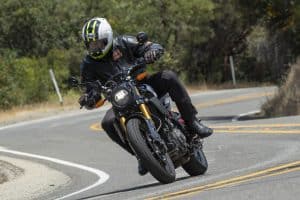 We spent an eventful day wrenching in the CRM garage this week with Adam Bowser, the hardworking owner of PGH Moto, a local cafe racer custom shop. Adam's two-wheeled creations have been featured several times in issues of the mag as his team's ability to locate, rebuild and sell-off some 500- yes, that's 500- custom bikes in the past eight years is simply amazing. He came to our place to be filmed for an upcoming episode of Ton-Up Tv which will air next month, and to lend his expertise to a couple of our vintage Honda project bikes. While chatting with Adam about the recent spate of mild winter weathers the Pittsburgh region has experienced, he eagerly recounted a 200-mile round-trip ride he and a pal took just last Friday to Erie, PA. I don't blame him for hitting the road as the skies were partially blue and temperatures reached an unseasonable 66 degrees and the sound of motorcycle engines could be heard echoing off the pavement all afternoon. Adam's journey took him along backroads between Pittsburgh and Lake Erie, as he was riding a Honda CB350 which isn't exactly designed for sustained highway riding. I asked about the conditions of the roads and he said there was plenty of salt laid down by road maintenance crews during previous snowstorms and there were plentiful potholes along the way. I admitted to Adam that I'd spent that and another warm December day working on garage projects and preparing the next issue of Cafe Racer magazine as I've learned from many years of experience that riding this time of year can prove more trouble than it's worth.
Few riders I've shared the roads with own proper cold-weather riding gear which is a must0have on days like these as the temperature can drop several degrees just by the sun disappearing behind the clouds or an early sunset. Bundle up and invest in a pair of electric gloves or grips if impulsive winter rides are in your future.
Also keep in mind that the ambient temperatures may reach the 60s several days during our typical Northeast winter, but the road surface seldom receives enough direct sunlight to match the air above it. That means most motorcycle tires, despite the compound, take a considerable time to reach a good, safe operating temperature. The salt that Adam ride through can bring all sorts of problems for motorcycles as the grainy, gravel-like substance tends to pile up in the center of roadway lanes where our tires will cross over it when turning inside lanes. This can easily cause a slide of loss of control, not to mention how corrosive road salt and other chemical compounds can be to our shiny, pristine bikes.
Potholes, which are caused by the frequent freeze-thaw-freeze cycle that winter weather brings, are another hazard; when they're hidden around blind corners or over the crests of hills, potholes can be especially difficult to avoid. I've bent soft aluminum wheel rims on some of the local potholes that an old riding buddy of mine used to joke were so big, they often maintained their own Zip Codes.
And then there's the chore of cleaning all the mud, slat residue and muck that gathers on motorcycles from wintertime riding at the end of any cold weather journey. It's important to hose down your machine just after a ride as leaning winter road residue in place is an invitation to surface-eroding gremlins of all sorts, though when cold, tired and thinking of a warm beverage by the fire, it's often the last thing we want to do this time of year.
Don't get me wrong- I know how exhilarating, freeing and enjoyable a winter ride can be, especially after the weather has forced us to park our machines for several months. But if you can't wait until spring the rev up those engines again, take extra care to make sure you're not subjected to more than just chilly hands and muddy wheels after a mid-winter ride.