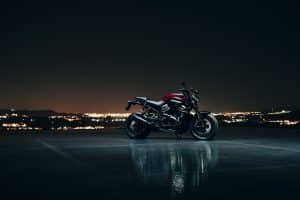 It's coming up on two years since Harley-Davidson first launched their Revolution Max 60 degree water-cooled engine. The powerplant was met with a predictable mixture of confusion and resistance (as witnessed on my Instagram posts from the April, 2021 Sportster 1250S launch) followed by awe from those who'd actually ridden the incredible new machine. The Pan America adventure bike was launched that same year with an even more powerful version of the Sportster's 125 horsepower mill, and its versatility, rugged design and high-tech acumen made it one of the best-selling bikes in that growing genre.
In Cafe racer's latest issue, we note how well both machines have sold with many H-D dealerships now listing their swiftly-moving supply of Sportster S models without the list price included; this is proof that the sought-after roadsters are demanding a bit more than the $15,995 asking price, which is pretty impressive for such a groundbreaking take on the world's longest production run motorcycle.
The versatile Revolution Max engine platform is easily adaptable to other bike designs, including the recently launched Nightster 900 which we'll review in a full road test come our February/March issue.
One evaluation we'd love to bring our readers is of a mysterious prototype Harley seen in spy photos a couple of years back that utilizes that same engine platform. Tentatively named the Bronx, the radical, streetfighter-flavored Hog follows none of the cues from the Motor Company's storied past: gone are any nods to cruiser styling and any concessions to the American market's penchant for low-slung, heavyweight motorcycle is long gone. The Bronx, with its tall, sportbike suspension, clean, minimal lines and bold shape, looks like a motorcycle you'd expect to see in an Italian brand's showroom, not at a shop hawking the Bar and Shield's latest products.
We're not alone in thinking the Bronx would prove a timely, worthwhile move for Harley-Davidson, especially as the brand seems to be courting a younger, more diverse and urban clientele that had bene the case in the past. Would the still-unreleased Bronx prove as hot a seller as the Sportster 1250S and Pan America? Well, if it handles and performs as well as the initial images suggest, it's tough to imagine the same crowd that made Aprilia's Tuono, Moto Guzzi's Griso and Ducati's Monster global sensations wouldn't embrace a genuine, high-performance Harley. Here's to hoping the Bronx makes an appearance in 2023.