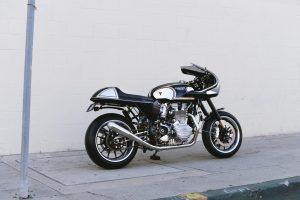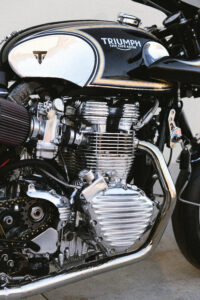 The first-generation Triumph Bonnevilles and Thruxtons were popular beloved machines for a number of reasons. The air-cooled 900cc twins were accessible due their undemanding riding positions and relatively low horsepower parallel twin engines. Though Triumph are said to have sold over 350,000 units between their 2001 introduction and the 2016 model year when the newer, faster and more technologically complex 1200cc versions arrived, the Thruxton 900 was never a fast motorcycle.
Back in Cafe Racer mag's early days, we set out on a mission to change that by seriously modifying a Thruxton we'd icked up from a local salvage yard. The machine received a plethora of go-fast accessories including new cams from British Customs, an Arrow full racing exhaust, Mikuni round slide carburetors and even a Wiseco Big Bore kit. The Triumph was definitely faster than before and thanks to brilliant tech Blake Kelly, it handled far better after he grafted on a complete front end and brakes from a Honda CBR600 sportbike. Blake even raced the oddball bike a few times at Mid-Ohio, coming in a respectable third in a grid filled with Suzuki SV650s and other sporty rides, proving Thruxtons could be competitive.  The horsepower output increased from a paltry 57 in stock form to just around 74 horses on the dyno, but we always felt there was more thrust lucking inside that docile engine.
Well, dear readers, the cover bike in our latest, December/January issue answers all our Triumph Thruxton questions in capital letters. The machines was built as a collaboration between Weiss Performance in Southern California and Florida's flattrack racing engine specialists Bonneville Performance. The results are awe-inspiring to say the least with the engine producing a solid 100 horsepower and offering the lucky owner a top speed just north of 140 MPH. There's plenty of background on this heavily leaned-on two-wheeled masterpiece in the feature story and Weiss, a candid, funny bloke, explains just why the two shops invested so much time, money and engineering into a bike often considered an also-ran in the performance sweepstakes. It's also a very handsome piece of machinery, as Weiss chose to adorn the Triumph with everything from Ohlins racing forks to Cognito Moto triple clamps to improve the looks and handling. If you've got a wildly modded Triumph Thruxton, send us some high-res pics and few technical details to rockersrule@caferacermag.com and you may just see it in our pages.