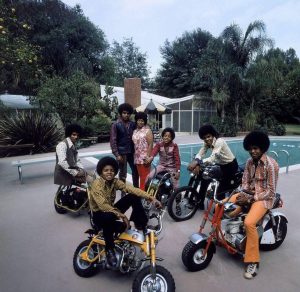 We came across this incredible image a few months back courtesy of a reader who located it in an old pop music magazine found at a flea market. It depicts the Jackson 5, one of the world's most popular vocal groups showing off the spoils of several years of non-stop touring and recording. The Gary, Indiana natives were obviously successful enough by then to have abandoned their home in their gritty, former hometown for the sunny climes of Southern California and like all red-blooded American kids, one of the first ways the boys chose to reward themselves was with new motorbikes. The assortment of tiny two-wheelers depicted here will bring back memories for anyone who was riding as a kid back in the early 1970s; Michael, being chief bread-winner, lead singer and star of the show, is aboard a genuine Honda Monkey bike, the 50cc factory custom that's still beloved- and back in production today.
the little pull-start single-cylinder mini-choppers were sold in hardware stores and mail-order catalogs and their rigid suspension, cheap, welded-steel frames, lawn mower derived engines and 6″ balloon tires provided many kids with their introduction to motorized biking. These bikes were so popular in my old neighborhood just outside of Pittsburgh, I wonder today if there were any lawn mowers still functioning as the mini-bike makers had stolen all the engines!
The best part of the shot involves oldest brother Tito Jackson's groovy Honda CB160 cafe racer, replete with the chrome-sided fuel tank, motocross handlebars and miniscule drum front brake. Don't know if any surviving Jacksons are still motorcycling in late middle-age, but images like this portray a family of hard-working performers enjoying the fruits of their labor.