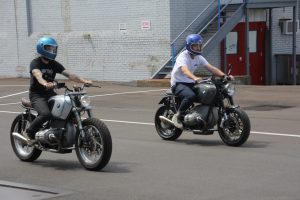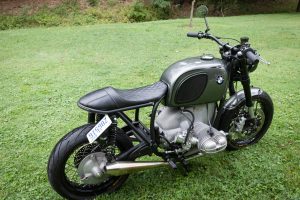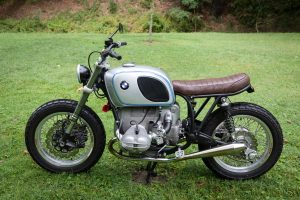 regular readers of Cafe Racer magazine will notice an uptick in the frequency of classic BMW-based customs being featured in our pages. It seems every couple of issues, we're treated to an invitation to photograph a tasty Teutonic machine that's been radically re-worked by some talented motorcycle engineer which is a great development for a number of reasons. in our earliest issues, we featured loads of vintage British bikes that had undergone the ton-up treatment, but as the years wear on, the BSAs, Triumphs and Nortons from the middle 20th century held less appeal to a newer generation of cafe racer fans who grew up in the 1980s and '90s when vintage Japanese bikes captured their collective imaginations. The results were an astounding rise in the number of 1970s Hondas, Yamahas, Suzukis and Kawasakis being re-imagined as stripped-down street racers. The trend became so popular worldwide that many collectors groused that it was becoming downright difficult to locate a Japanese streetbike from this period that hadn't had its frame de-tabbed and its bodywork customized.
Into this fraught atmosphere entered the air-cooled BMW Boxer twins, otherwise staid, old school touring and commuter bikes that had largely escaped the gaze of shadetree customizers. It's amazing that it took quite so long for the BMWs to be recognized as perfect donor bikes for cafe conversions: their re-sale value is still relatively low compared to say, comparable British bikes of the same period, their German engineering makes them dead-on reliable and the relatively simple design means customizing a R 75/6 is about as easy as such jobs get.
In our current issue, we're pleased to present two of the better BMW customs we've ever come across, both built by te team at Virginia's Cognito Moto. The two bikes have received typical 21st century cafe upgrades including the grafting on of modern superbike front ends replete with dual multi-piston disc brakes, electronic ignition systems and rebuilt engines, but their understated style and thrumming, two-cylinder exhaust notes makes them instantly identifiable to BMW enthusiasts of every stripe.
In the months to come, we've got even more customized Beemers lined up some from the UK and Europe and others from here at home. Send us pics of your own reworked Boxer (on inline four-cylinder K models) and we'll be sure to give them space in our pages. Build on!