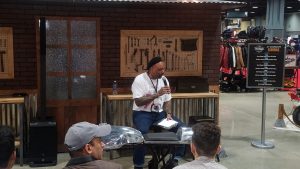 Planning an event weeks or even months in advance is always tough, especially one that involves thousands of individual businesses, tens of thousands of people and enough logistics to confuse a spreadsheet designer. A culmination of factors resulted in the sudden cancellation of this year's Progressive International Motorcycle Shows, which is unfortunate for us all. The US motorcycle industry has always lagged behind that of other countries especially when it comes to events and industry visibility. having attended Germany's Intermot weekend a few years back and strolled through the seemingly endless rows of vendor displays at Italy's EICMA, it always amazed me that our own country struggled to offer enthusiasts a similar showcase. The IMS as it's known, may not have been embraced by a multitude of manufacturers as the European events are, and the shows could tend to be a little too heavy on the booths hawking cheese "If You Can Read This, The Bitch Fell Off!" shirts, but this collection of traveling motorbike celebrations was the closest thing we had to our own EICMA.
Last year's IMS showcase was staged at outdoor venues in an acknowledgement of covid restrictions then in place across the country. It was a clever decision to move the evens to outdoor spaces where the contentious mask debate wouldn't affect attendance. However, after attending the Carlisle, PA. IMS last summer, it became clear that inviting punters to ride the latest demo bikes from some, not all the current manufacturers was missing something. cafe Racer magazine skipped setting up retail booths at last year's IMs dates because we relaized that folks arriving at the gates on two wheels were highly unlikely to care about purchasing magazines, T-shirts and posters which they'd have trouble transporting home. There were precious few retail vendors at Carlisle which left anyone not interested in test-riding new bikes disinterested to say the least.
I was often amazed and bemused at the crowds that turned up at previous IMS rounds, some wearing their complete riding gear from head to toe despite the wintertime staging dates making arrival by actual motorcycle an impossibility. Their attire was an indicator that these folks came to the UIMs not so much for a chance to check out the latest new bikes, but because as dedicated motorcycle enthusiasts, they craved the camaraderie and shared interests of being around folks like themselves. By cutting out all the riding gear vendors, classic and custom bike seminars and other attractions that got riders out of the house and eagerly donning their leathers in the middle of a frozen winter. Hell, I've known riders who turned up at IMS events just to eat funnel cakes and drink beer at the bars full of fellow bikers. Hopefully the IMs will return anew next year, bringing back all the amenities and attractions we grew so used to. Let's hope.