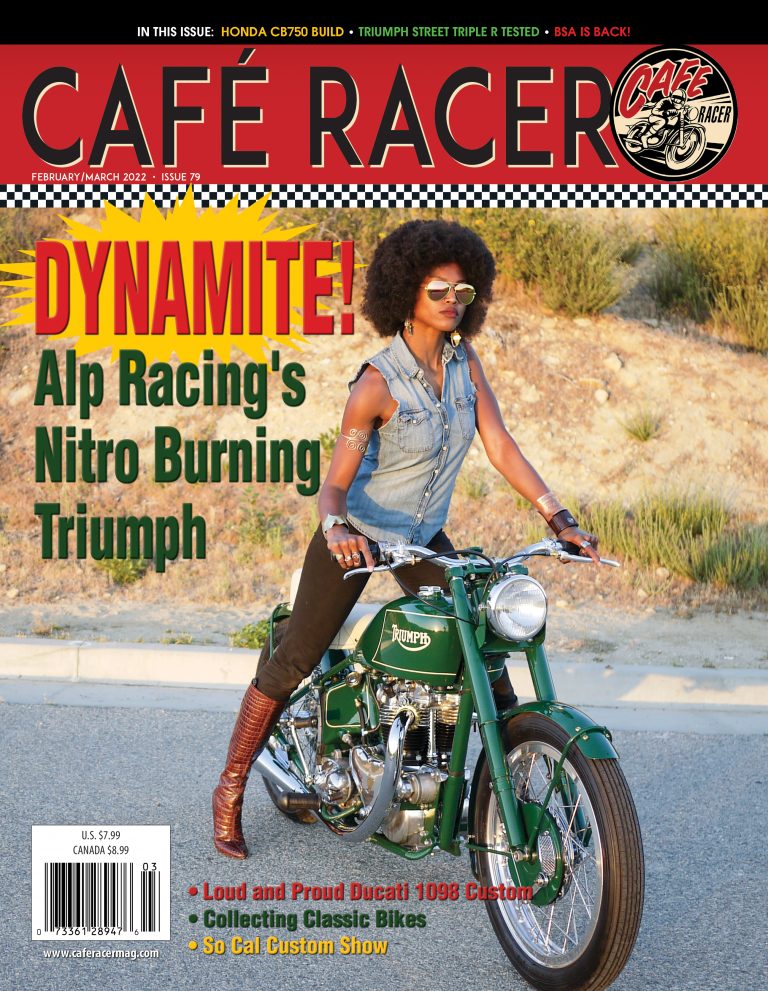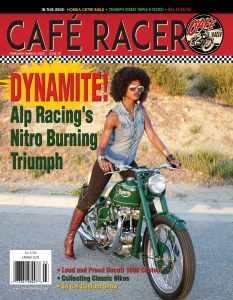 We're absolutely thrilled to bring you our latest issue's cover story that focuses on the efforts of So Cal's Alp Racing. The small-but-skilled proprietor Alp Sungurtekin is one serious speed freak, competing alongside his partner and the issue's striking, badass cover model Jalika Gaskin at Bonneville and other high-velocity venues on some of the quickest vintage Britbikes ever made. Classic British twins have been a staple of CRM's coverage for years, but Alp's experiments with burning volatile nitromethane fuel in the hearty, old school machines has produced some figures that sound like something from a new sportbike tech sheet. We're talking speeds in excess of 150 MPH from naturally-aspirated, air-cooled Triumphs, if you wrap your brain around that one.
There's plenty of detail about just how Alp achieved such radical results in the cover story, a feature that reminds me of an incident that occurred back when we were filming the first seasons of Cafe Racer TV. One of the show's producers was filing through airport security one afternoon when he was asked by a TSa employee to submit to a quick, routine hand-swad. The security agent took one glance at the results and promptly shut down security at the gate, summoning police and whisking the poor fellow off to be interrogated. The reason? Traces of high-explosives found all over his hands and clothes, which raised a few eyebrows in those days when shor bombers and all sorts of other terrorist craziness was in the headlines. Turns our the producer in question had been filming top fuel Harley-Davidson dragbikes the previous weekend and traces of nitromethane fuel had permeated his clothes and hands, an explanation that the federal authorities finally bought after a lengthy interrogation.
Keep that in mind when reading about these fire-breathing Triumphs and never ride or build one before attempting to fly!