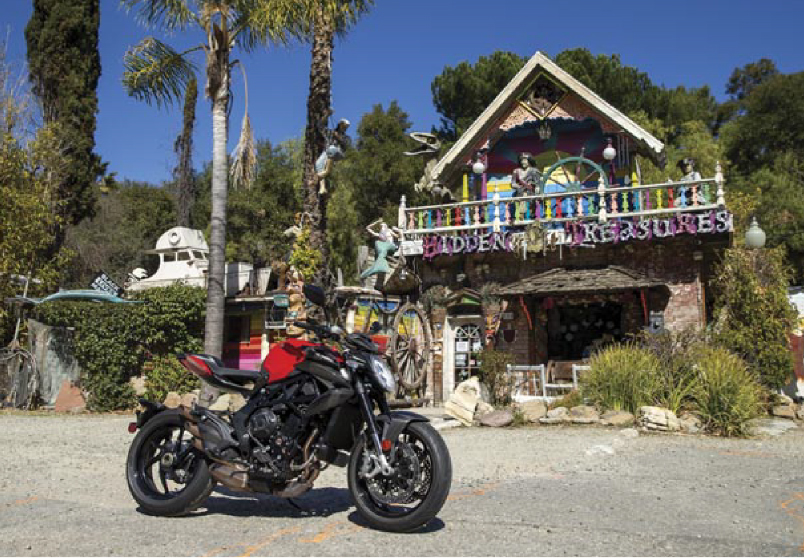 Story: Alonzo Bodden, Jay LaRossa and Mike Seate
"I wish I was 5'8" tall and had younger knees. Then I'd buy this bike and just do track days all the time!" That was comedian-turned motorcycle test jockey Alonzo Bodden's enthused take after a few quick miles aboard MV Augusta's scintillating Brutale Dragster triple. The strippeddown futuristic cafe racer had quickly become the most popular of all the new bikes dropped off at our Calabasas, California hotel for a weekend of test rides. There were other, more refined bikes and a few
boasting more powerful engines, but the MV, with its lush red (or Rosso) finish, copious carbon fiber and raspy exhaust note, drew attention like, well, let's put it this way: at a stoplight in Malibu, a dude in a$200,000 Ferrari rolled down his window to ask to hear the Dragster's engine wound up, while a young woman in our hotel parking lot was so turned on by the bike, she openly offered the MV demo fleet rep her phone number and address if he'd take her for a ride. Can't make this stuff up, folks.
What has been cleverly made up is the Dragster's design, a formula that involved soliciting ideas from the Italian firm's top engineers. Their brief? To create a motorcycle that's both accessible to everyday riders and hard-edged enough to appeal to track day regulars. That's a tall order to fill, but the MV somehow achieves it. At a price, that is. $16,499 is a lot of money for a sharp-edged corner-carving tool, but you definitely get what you pay for in this instance. The Dragster's water-cooled, 798cc 12-valve engine is itself a thing of muscular proportions, producing 110 horsepower at a snarly 11,500 RPM, and you can feel the power increase through the buzz in the flat, tubular handlebars.
Light as a carbon-encrusted bike should be at 370-pounds dry, the aptly-named Dragster rockets to an eye-watering 148 MPH. That's faster than most folks would every dare go on the street, even the throttle-lust for this veteran speed merchant? "Oh, it's bad-ass looking, for sure and one hell of a ride. You'd just better be ready when you get on a bike like this because it's no fun to ride slow," he said.
"What kind of idiot would buy an MV to ride slow or worry about comfort?" Alonzo countered with a laugh. "You buy an MV Augusta because it's the fastest, best-looking little bling bike on the planet and everybody's going to notice you when you roll into the Rock Store lot on something like this. Better yet, nobody, not even guys on 1000cc BMWs and Ducatis can mess with a bike that handles this well when you get into the twisties," he said. True that. I've seldom experienced such pinpoint steering on a streetbike or enjoyed a ride quite this focused. It's also a bike that reminds me that, as a 58 year-old magazine editor, I'm getting a bit tight in the knees for even this, the tall handlebar version of MV's legendary triple. The shifter, by the way, was tough to snick into higher gear, not being designed for size14 riding boots.
Still, the Dragster Rosso is intriguing enough and different enough that I can see its appeal, despite its uncompromising, slightly rough edges. The trio of stubby mufflers exiting the right side, the elongated, Salvador Daliesque headlight and the gear-shaped MV logo all contribute to a machine that would be as much fun to whip around a canyon as it would be parked on a race stand, admired from across the garage with a glass of Italian Chianti in hand.
But that would be a major waste of a fine, scalpel-sharp road instrument. Any motorcycle daring enough to be labeled Dragster is meant for spot-on cornering and full- throttle action. If that's not your bag, well, there's always room for a bike that looks better with each glass of Chianti… CR
MV Augusta Dragster Rosso 800
MSRP: 
$16,499
Engine: 
798cc water-cooled in-line triple
Transmission: 
Six-speed with up/down quickshifter
Brakes: 
Twin radial four-piston Brembo radial calipers w320mm rotors front; Single 300mm rotor w/four-piston caliper, rear
Wheelbase: 
55.12"
Power: 
110 HP@11,500RPM; 64 foot- pounds torque@8,500 RPM
Weight: 
370 pounds (dry)
Fuel Capacity: 
4.36 Gallons
We Dig: 
The luscious looks, detailing and the unmistakable Italian panache.
We'd Ditch: 
Six inches of cartilage from each leg and size 14 boots.