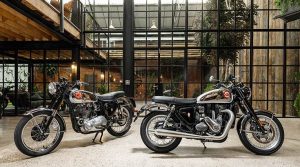 While Italy just wrapped up their annual EICMA motorcycle industry showcase, England's NEC Show unfolded with its share of surprises for the two-wheeled fraternity this past week. Chief among the jolts of great news concerning the United Kingdom's burgeoning motorcycle industry is the re-emergence of BSA, a vaunted brand that's been dormant since "Monty Python's Flying Circus" was in first-run broadcasts. The former Birmingham Small Arms firm was bought up by Indian firm Mahindra a couple of years back and the small-displacement streetbike and scooter manufacturer wasted little time capitalizing on the brand. Their reveal of an all-new BSA Gold Star, named and designed to resemble company's most respected and sought-after model, signals nothing short of a massive re-awakening of the British motorcycle industry. Yes, Mahindra is based in India, but Anupam Thareja, a company spokesman said the new single was designed in the UK, engineered in the UK, industrialized in the UK but most importantly, imagined in the UK. "We have envisioned this bike as an ode from the UK to the world."
True to its original form, the new thumper retains much of the Goldie's spartan beauty including its chrome-sided fuel tank, kinked exhaust pipe and timeless spoked wire wheels. The engine is upgraded, naturally, to satisfy today's faster roads, with a 650cc displacement belting out a respectable 45 horsepower. There's even classically styled round gauges (that are actually electronically actuated) for traditionalists, while the brakes are world-class Brembo units equipped with ABS as standard. There's several color options available including  Insignia Red, Dawn Silver, Midnight Black, Highland Green and our personal fave, Silver Sheen (Legacy Edition).
Initial images of the new Gold Star reveal a stylish, well-thought out motorcycle that's imbued with the same blend of nostalgia and modern tech that's make Triumph and Royal Enfield such formidable players. I'd imagine some of my fellow horsepower-mad Yanks will view the new Bsa as a tad underpowered, but for riders in the rest of the world, 45 ponies not only meets most beginner licensing requirements, it's plenty of go for casual backroad jaunts and commuting in crowded urban areas. Team CRM is pretty excited about a new player entering the already burgeoning retro streetbike market and as a crew who've long lusted after a Gold Star (or moreso, a Rocket Gold Star 650 twin) 2022 looks like a banner year.