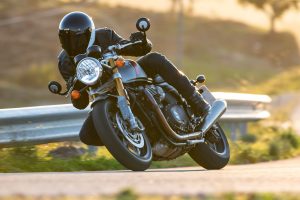 Summer is motorcycling's best season what with copious rallies, events, races and seemingly endless warm, sunny days to enjoy the sport. However, I'll let you in on a secret: fall is even better. Living in and around Pittsburgh for most of my life, I've come to appreciate the change of seasons and the difference that atmospheric conditions have on riding. As the temperatures fall a bit in October, I've found that motorcycles actually respond more briskly, their engines running more smoothly and with less stress on internal components than when facing ambient temperatures in the 80s and 90s. Streetbikes have notoriously poor cooling systems and all suffer in hot weather traffic when overheating is always a possibility. Come fall, you'll notice your machine revving more freely and less heat radiating from the engine and exhaust, making for  amore enjoyable experience – especially in traffic or city riding situations.
If you're the sort of goofball who digs riding in shorts and sneakers, fall is likely not for you. However, if you're serious about safety and keeping on two wheels, you'll know that fall is your season. Riding in full leathers again feels comfortable in the cooler conditions and the with the oppressive humidity gone, the skies are clearer, allowing for longer fields of vision. And then there's the fall foliage that makes for some of the inspiring travel of the year. Pick your favorite road or series of roads from last summer for a re-visit this fall and I guarantee the journey will be more visually satisfying this time of year.
On weekends in these parts, there's another added bonus to autumn riding:  the lure of football keeps thousands of cars off the roads as the college games of Saturday, followed by the near-religious devotion to Steeler games on Sundays means the roads are so delightfully empty, it sometimes feels as if I'm riding my bike through the set of a zombie movie. A couple of years ago, I roared past a Pennsylvania State Police cruiser, having been going too fast to notice his low-profile lights just ahead of my Aprilia RSV. Slowing down dramatically for what I figured as an inevitable pull over and speeding ticket, I laughed out loud in my helmet after glancing over and realizing the cop was actually absorbed in the football game on his smartphone.  It felt like receiving a 90-MPH Get Out of Jail Free card.
Are there drawbacks to riding this time of the year? Certainly. The whitetail deer population in this part of the country is larger than ever and with the males caught up in the hormonal clutches of mating season, they're on the move continuously. If you're riding near dusk or in early mornings, keeping your eyes scanning the roadside vegetation of deer movement can be  a life-saver to say the least. The cooler temperatures can also be draining on one's body, especially if the weather cools even further after the earlier fall sunsets. I've spoken with old-timers who rode with rolled-up newspapers stashed on their bikes which came in handy as wind-cheaters  when stuffed inside their leathers jackets come sundown. I've also learned my lesson when it comes to riding in a helmet with a smoked visor: they're excellent for dimming blinding sunlight during the peak daylight hours, but getting caught on the move in a dark visor after sundown is a weirdly disconcerting experiencer.
All things considered, fall riding remains one of my favorites and the next few weeks always provide enough fun, positive memories to last during the on-setting winter months. Be careful, have fun and remember to dress accordingly.