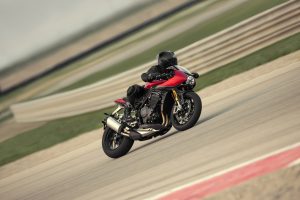 Just when you thought motorcycles couldn't get much faster, technologically complex and downright lust-inducing, Triumph breaks into the streetbike party with one hell of a guest. I'm speaking of their latest incarnation of their stripped-down three-cylinder Speed Triple, a motorcycle that pretty much invented the factory cafe racer game back in 1994. Many performance upgrades and technological innovations now separate the brawny, first edition S3 from the latest incarnations,  and it's safe to say, having ridden nearly every model, the bloodline is as pure and true to its original intent as ever.
The new-for-2021 Speed Triple RR is an altogether different cuppa tea as it makes no pretenses to being a slightly milder, unfaired superbike; this thing is a full-on racetrack missile, equipped with electronics, brakes and a chassis rivaling anything seem zipping around World Superbike circuits just a few years ago. The specs seem almost contrary to the trends that have rejuvenated streetbikes sales during recent years- you know, lighter weight, lower-0displacement machines that both beginners and experts can ride without feeling intimidated and overwhelmed with too much power. Instead, the new, 1200CC S3 blows right by commuter-friendly moderation on its 6″ wide back wheel in a cloud of tire smoke.
Though CRM was not invited to Triumph's press launch for the new bike, we're eagerly looking to set-up our own test ride to satisfy both our own curiosity and that of our readers. The spec sheet is mind-bending as the triple now offers Brembo Stylema brakes identical to those found on cutting-edge professional race bikes, a two-way quickshifter that makes use of the clutch nearly superfluous at high speeds and five riding modes to play around with on the fly. Not many of us mere mortals will be able to use the full, 180horsepower, water-cooled twelve valve engine to anything near it's potential, but that's all part of the marketing brief of motorcycles like the new Triumph- owning and riding one if certainly going to be a challenge, but one that we suspect many riders will readily accept in return for the NASA-sized thrills on promise.
It doesn't hurt matters that new new Triumph is downright gorgeous, offering enough modern styling cues alongside a very 1970's Ducati SS fairing that perfectly combines the new and the retro.
Having test-ridden a couple of the latest 200-horsepower street rockers earlier this year (Kawasaki H1 and Ducati's man-eating V4 Streetfighter) I found myself both admiring how far motorcycle engineering and performance has advanced in recent years and also wondering where besides the Isle of Man or a closes racing circuit, a rider could properly exploit so much raw power? Keep an eye on this space and we'll bring you the first riding impression as soon as we vacate the rider's seat.