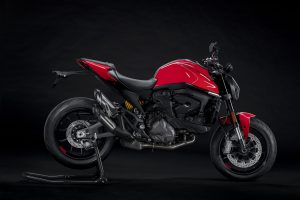 We received a call that it was Cafe Racer magazine's chance to test ride the all-new 2021 Ducati Monster last week. Naturally, having heard so much about the completely revamped Italian naked sportster, we jumped at the chance. However, these was one significant catch: the motorcycle was located at a dealership some 300 miles East of our Pittsburgh-area offices and with our tech's van currently out of commission, we had no easy means of reaching the bike. Lucky for us, we were able to hitch a ride to Carlisle, PA. where our friend and columnist Robert Pandya was going to set-up a new rider training operation at the Carlisle installment of the Progressive International Motorcycle Show. Ducati was kind enough to truck the bright red 950 Monster to Carlisle from the Philly-0area dealership and when I arrived early yesterday morning, there she sat, looking svelte, fast and very capable. Though I've owned several Ducatis over the past two decades, a Monster has never been among my stable. My wife worked at the first Italian motorcycle dealership in Pittsburgh during the mid-to-late 1990s so I had the fortunate chance to ride several incarnations of the Monster, each of which was fun, thrilling and revolutionary in its own way.
The crew at Ducati North America were concerned that Cafe Racer magazine and its readership wouldn't appreciate the radical makeover the machine received for 2021, as everything from the trademark steel trellis frame to the bulbous fuel tank had been scrapped in favor of a more modern design. Up close, the new machine was absolutely stunning in it's more futuristic, angled look. However, to anyone familiar with the Monster's history, some of the original M900s DNA is still evident- especially the way these unique bikes seem to seduce a rider with a visceral need to get busy riding it.
Which is precisely what I did for the next five hours on the roads home to Pittsburgh. With a former powerlifter's knees, I'm often reluctant to tackle rides of more than 140 miles, especially on Italian motorcycles with their famously cramped ergonomics. Not this time, I'm pleasantly surprised to report: the new Ducati Monster's seating position was accommodating to my 6'4″ frame and the rider's pegs low enough to make repeated 60-mile sprints along the curvy, mountain sections of the PA Turnpike  a breeze. This bike absolutely craves and devours corners and has enough power- 110 to be precise – to tackle passing semis with aplomb. When stopped at rest areas along the way, several Ducatisti stopped to comment on how cool the new bike looked, everyone seeming to agree that the new look is both timely and more modern then before. There's a full test ride report coming in Cafe Racer's October/November issue and I think you'll be surprised to see how the newest Monster is a worthy successor to all 350,000 of its predecessors and than some.