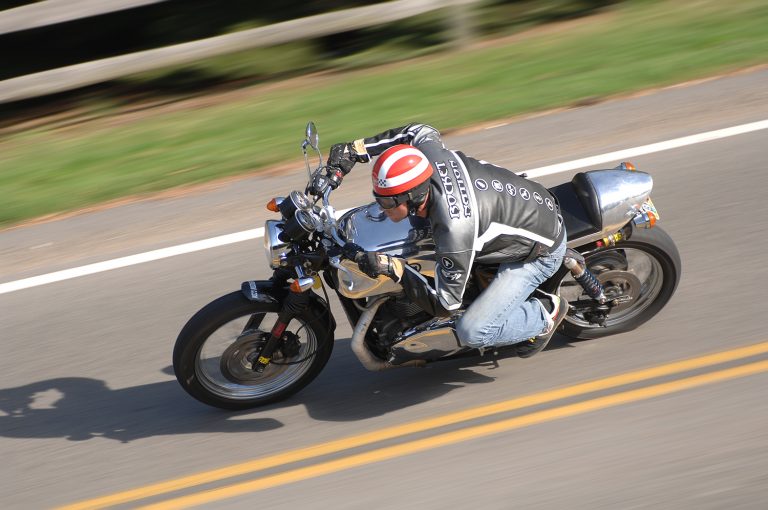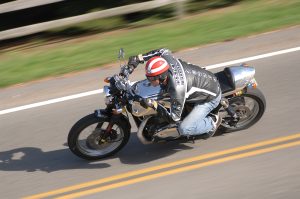 Blake on our original Project Bonneville, circa 2010
We've long been of two minds concerning the first-generation Hinckley Triumph Bonnevilles. The air and oil-cooled parallel twins were introduced in 2001 at a time when the retro cafe racer craze wasn't exactly tops for most motorcycle manufacturers. The 865cc machines weren't exactly designed to set any performance records with their mildly-tuned, 67 horsepower engines, but riders the world over embraced the T100 line-up, making it one of Triumph's all-time top sellers since the company reformed in 1991. Back as early as issue# 6, we were busy modifying a salvaged Bonneville and transforming it into a custom ton-up bike, as our tea, led by the multi-talented Blake Kelly, were collectively intrigued by the possibilities. A strong performance parts aftermarket had sprouted up to serve eager Bonneville owners and racers, meaning we had our pick of a bevy of upgrades from suspension components to engine parts. Along the way, we installed a Wiseco big bore kit, Keihin smooth bore carbs, hot cams and Blake even managed to adapt a complete front end, brakes and wheels from a Honda CRB 600RR sportbike. A set of aluminum bodywork in Manx Norton pattern helped to shave a good ten pounds from the Triumph and sticky Dunlop radials made it hug the road far better then it did on stock rubber. The results were encouraging with an increase of around a dozen ponies and the bike did handle batter thanks to a set of adjustable Hagon rear shocks and revised Race Tech fork internals. Blake even placed in the top ten in a Thruxton Cup race at Mid-Ohio, proving the voluminous upgrades had indeed upped the performance ante. However, with the advent of the second generation Triumph Bonneville and Thruxton in 2016, the race to modify the earlier bikes was faded, especially as the newer Bonnves' 120cc engines produce a walloping 94 horsepower in stock guise, making them far faster than before.
Still, there's no shortage of shops and parts suppliers offering upgrades for the earlier Bonnies which have dropped considerably in price in recent years. We're working steadily on a new old Bonneville project at the moment, helped along massively by the blokes at Illinois' Framecrafters. The FC team has fashioned one of their amazing fat Featherbed Norton replica frames to host a 2008 Triumph Thruxton 900 engine and we're absolutely thrilled to imagine what the finished machine will offer. One of the Hinckley twins biggest flaws was its simple, bolt-together chassis that offered fine enough handling for the roads, but failed to deliver when the roads got twisty and the pace quickened. The brilliant, chromoly Framecrafters unit should more than make up for the Triumph's design shortcomings, and you can read along in the next three issues of CRM to see how the project pans out. Roll on.