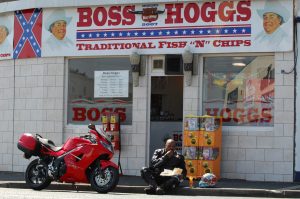 One of my favorite parts of traveling by motorcycle is the strange cultural sites that appear by the roadside. Over the past 40-odd years of riding two-wheelers, I've come across some sights that make for excellent post-ride bull sessions with some of the sights in question provoking fond memories and belly laughs many years later. Among my favorite sights are European restaurants that strive to attract American tourists with what the proprietors believe are authentic-sounding, mock-American names and concepts. While working in London a few years back, our pack of bikes repeatedly passed a tiny take-out restaurant that was doing a brisk business in "Genuine New Jersey Southern Fried Chicken."  Not only did I grow curious about the potential taste of  such geographically confused culinary delights, but the lighted sign outside made us wonder whether the restaurant's owner had ever actually visited or even read a travel book about what people eat here in the U.S. or was he or she just, ahem, winging it?
I guess these places are no different from the countless so-called Irish Pubs in the U.S. that are clearly designed by folks who've never been closer to the Emerald Isle than the bottom of  a pint of Guinness. Most are massive, airplane hangar-sized affairs with none of the quaint intimacy or homey feel of  areal pub, let alone the cozy decor and lovely trad music.
While riding in Northern Ireland a few years back, I came across what had to be the silliest faux-American concept eatery I'd ever seen. The fish and chip restaurant, located near the Coleraine race course where the annual Northwest 200 superbike race is held, caught my eye and I immediately had to pull the Triumph over for  a better look. Being a big fan of fish and chips, I ventured inside where the cheerful proprietor explained that the 1980s Tv show "The Dukes of Hazard" had been a massive hit in his country and in honor of the show's villain, Boss Hogg, they'd decided to name the chippy. "We even have  a Boss Hogg fried chicken dinner if you're interested," he continued. Naturally, I passed on the fried chicken by rather enjoyed the fish, which is what places like this do best. Well, that and choose wacky names for themselves.