In a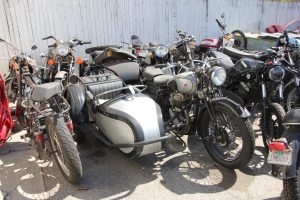 n upcoming issue, we'll be profiling several motorcycle enthusiasts who share  a common malady: they can't bring themselves to sell any of their motorbikes. It seems that everywhere we travel, we're told of people who have amassed enormous, multi-bike collections and the stories behind these assemblages of high-performance metal are as fascinating as the machines themselves. As the interviews begin to  unfold, we're learning just how easily the Motorcycle Disease as some jokingly call it, can manifest itself in even the most modest of garages. Very often, collectors speak of "just forgetting to sell" bikes they've owned for years but haven't ridden. Over the course of several years or decades, those three of four cherished motorbikes suddenly multiply in ways that annoy family members, cause undue stress with partners and spouses and even begin to dominate their owner's leisure time. How many bikes is too many, we asked all the folks involved? Well, there's no simple of universal answer to such a question as some collectors are endlessly striving to relocate examples of bikes they'd owned years before while some are admittedly omnivorous in their quests, buying up machines with neither discretion nor concern for the resultant financial issues.
Feelings are very mixed on the subject when discussed at the CRM garage. While some team members feel that, as long as a person can afford to won and garage several motorcycles, why the hell not? Others, like contributor Blair Powell owns nine bikes and prefers wrenching on them to riding, accepting that the machines serve as  a sort of mechanical therapy that's both rewarding and and investment of sorts.
I recently visited  a local bicycle museum and found the rather obsessive collection of 70,000 two-wheeled pedal bikes stored inside to be almost disturbing.  There were rows upon rows of rare, collectible bikes hanging from ceilings, walls and into tiny alcoves. There were Schwinns and Huffys in numbers that made it difficult to focus one's eyes on a single specimen.  But somehow it more resembled  a bicycle prison rather than something to celebrated. Bicycles, like motorcycles are, after all, meant to be ridden and enjoyed on the roads, not secured out-of-sight like holy religious icons in a museum showcase.
Personally, I've had as many as 20 motorcycles crammed into various garages and storage spaces, and have found the joy in owning examples of historical machines I'd only read about as  a penniless youth. Then again, like most collectors, the strain of maintaining so many bikes- especially with the insistence that they all be rideable – can end up feeling as if the motorcycles own me and not the other way around as intended. Do you yourself own multiple streetbikes or know someone who does? have them get in touch wit us through rockersrule@caferacermag.com – we'd love to include their story.