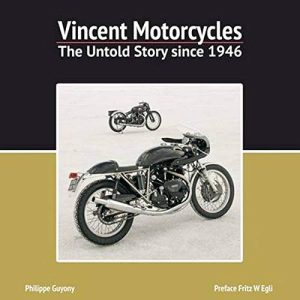 Legends are strange phenomena. Human beings are endlessly fascinated by objects for the oddest of reasons and one motorcycle- or brand of motorcycle- that's genuinely captured the imaginations (and dollars) of many wears the vaunted Vincent label. I've long lusted after a big-bore Vincent twin just like many riders and fans of classic British streetbikes, so I've spent as much time as I could reading up on the short-lived marquee, learning the engineering background of these sought-after motorcycles. Most recently, I came across what has to be the definitive book on the subject, "Vincent Motorcycles: The Untold Story Since 1946."  Penned by French moto-journalist Phillipe Guyony, it's an exhaustively researched, 400-page coffee table book that manages to cut through the haze of admiration and hero worship these formidable machines have engendered. The sheer depth of Guyony's historical investigation is awe-inspiring, as he unearthed rare documents and engineering plans from the long-defunct manufacturer, chronicling everything from production figures (which were shockingly small) to performance parts manifests and business practices both smart and not-so-smart. The book taught me more than I ever expected to learn about Vincents, including the hard-headed stubbornness of owner Phillip Vincent, who produced just 11,000 streetbikes during the period following WWII. The once-revolutionary design of his twin-cylinder Rapides, Black Shadows and Lightnings had aged quickly during the early 1950s, outpaced by lighter, quicker and, most of all, better-handling machines from other British manufacturers. A self-made man, Vincent was tone deaf to many ideas that might have saved the Vincent name from the dust-heap of British manufacturing. While Norton's investment in their championship-winning featherbed frame, which was equipped with then cutting-edge hydraulic forks and rear dampers, paid endless dividends on racetracks and in showrooms, Vincent steadfastly stuck with his 1930s-era chassis design. And then there was the cost dilemmas. at a time when the average British household brought in only a few hundred Pounds salary per year, Vincents were prohibitively expensive, costing about a year's wages. Affordable, lightweight commuter bikes like BSA's ubiquitous Bantam were the motorcycles that captured Britain's hearts and wallets, while the Vincent line-up resembled two-wheeled Rolls Royce touring sedans.
The larger portion of the book carefully chronicles the ascent of specials builders like Swiss engineer Fritz Egli who kickstarted the global cult of the Vincent motorcycle in the late 1960s, even after the company had gone belly-up in late 1955. In fact, most of "Vincent Motorcycles" explores the various re-configurations of the endlessly rebuilt and reconditioned motorcycles that, for  a time in the late 1960s, were considered so outdated that they could be purchased for only a new hundred dollars. That's hard to imagine in an age when even dusty old basket case Rapides sell for well over $60,000.
Plenty of interviews with Egli and notes from his original work improving the Vincent breed are here, including the brutally honest assessment that the original frames, which utilized the engines as stressed members, were, well, pretty crappy.  This will be taken as sacrilege by Vincent fans, but Guynoy's painstaking research holds it own. Not to say there isn't a special beauty and old school charm to these exclusive motorcycles; their small production numbers and unique mechanical design makes the a visual feast for anyone who truly loves two-wheelers.
A good writer can always provoke plenty of outside-the-box thought, as Guyony does when comparing the Vincent twin's much-ballyhooed top speed figures- 110MPH for a 998cc Rapide touring model and 125MPH for a tuned Black Shadow – to that of its contemporaries. The fact that these archaic twins could best the magic Ton in the early 1950s was quite a feat indeed. However, Harley-Davidson's XLCH Sportster, introduced just a few years after Vincent's demise, was only about 10MPH slower than the Shadow, while offering superior handling, brakes and reliability. I finished the book wondering if, had the tables turned and Harley-Davidson had ceased production in the 1950s and Vincent somehow continued producing motorcycles to this day, would collectors be willing to part with six-figure sums for 70 year-old Sportsters?
Guyony's book provokes plenty of such questions while being lavishly illustrated and full of fun, interesting facts. Read it and wipe away the mystery.