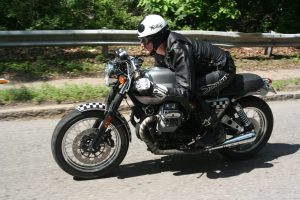 The photo above depicts one of the prouder, early moments of this, ahem, esteemed publication. Shot n spring, 2011, the customized Moto Guzzi V7 was only the second bike we'd revamped in our then tiny, home garage. Many more would follow as motorbike manufacturers who advertised with us grew increasingly comfortable handing our team new machines to fiddle with. There wasn't much of a custom or performance parts aftermarket to draw from as the V7 was still a fairly new bike back then. Though it's since become Moto Guzzi's best-selling street machine, we had to hunt and search for parts t make the horizontally-opposed twin sleeker and faster.
In the end, we'd managed to more than get the magic ton from the V7 by adding a set of aftermarket, freer-breathing mufflers, an new ignition module and, with help from our pals at Vista, California's Airtech Streamloning, the bike became more aerodynamic thanks to a cool, old school Ducati-replica nose fairing. Race Tech itched in wth re-valved forks and custom shocks and the Moto Guzzi suddenly rode with the composure and confidence we'd always imagined it would.
Fast forward to this year and we're again set to try and mdfy a Moto Guzzi shaft-drive twin for cafe effect. The folks at Guzzi are set to celebrate their 100th year in continuous production in 2021 ad they're bestowing on us a new V9 Bober Sport edition to play around with. The V9 has garnered some rave reviews for its poise and tractability, offering far more speed and smiles-per-mile than you'd expect from a 60-horsepower air-cooled twin. We're honored and thrilled by the proposition of making the bike roll even faster, which we're set to begin in our April/May issue. Got any ideas on what might best make ll this happen? Drop us a line at rockersrule@caferacermag.com and we'll lend an eager ear. Ride on!