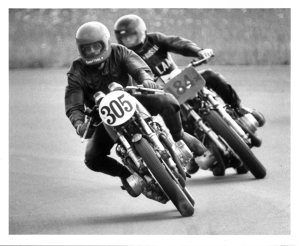 Those of you who haven't yet picked up a copy of our current October/November issue are missing out on a real peach of a Legacy feature story. The piece follows the long, challenging trajectory of a local amateur roadracing team known oddly enough as Team Heschimura Racing. These guys and gals were tearing up racetracks throughout the Mid-Atlantic region throughout the late 1970s, competing on a series of handcrafted, highly-modified Honda streetbikes. The story, expertly penned by contributor Bret Smith, chronicles that slapdash approach to competition riding that the Heschimura squad employed to get to the checkered flag. Personally, my jaw drops reading about how high-performance pats and accessories that today's track addicts take for granted- things like sticky, race-compound tires, aftermarket bodywork and easily-altered gearing- were not available 40 years ago. Instead, racers made do with what was at hand, including the stiff, bias-ply road tires they used on their everyday commutes and weekend jaunts.
"Only the top professional race teams with full-factory backing could afford wide, aftermarket wheels and slick tires. It took years after a bike's introduction for the aftermarket to catch up and offer different exhausts so we just welded our own together from cut-up lengths of pipe," said Bob Hesch, the team's leader and chief tech. We wanted to share an awesome image from the Heschimura archives of racer and later, development rider for Honda, Keith Marshall getting jiggy on his CB550 Four at Summit Point Raceway. The lean angle is modest by today's elbow-dragging standards, but the speed and intensity are timeless.
The starting grid images the tam shared were also very revealing as the line-up of bikes for one of the grueling 24-hour endurance races included everything from Harley-Davidson XLCR Cafe Racers to Yamaha two-strokes and even a few showroom-fresh Honda CB750K models. Since the article surfaced, we've been hearing from other 1970s racers with similarly fascinating stories to share, all of which we;ll continue to bring you in future issues.
Worth a read.