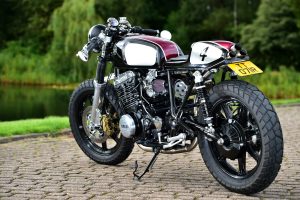 We've received a good deal of feedback on one of the bikes featured in the current July/August issue, a customized Yamaha XS750 triple. The Yamaha is an odd choice for cafe builders as the model is frequently overshadowed by its smaller brother, the twin-cylinder XS650. There's no great mystery as to why the 650 reins supreme over the 750 in popularity; far many thousands more of the twins were built and over a far longer length of time then the 750, and the bigger bike's final shaft drive scares away many would-be customizers who feel the mechanism limits the swapping out of rear wheels, tires and other essential driveline components.
However, as this issue's feature bike more than proves, shaft drives are in no way an obstacle to creating quick, fantastically-detailed and original motorcycles.
Some readers who've contacted us have asked what sort of aftermarket parts are available for the XS750, and the short answer is this- it all depends on your mechanical expertise and level of creativity. No, there's no dedicated aftermarket parts websites for the XS750 as there are for the 650 (www.mikesxs.com) but many of the bits that can be used to spruce-up other Japanese bikes from the same time period, will easily adapt to the Yamaha. The XS750 is already blessed with a racy fuel tank that's made from steel and often sought after by builders of other makes and models. Sudco offers banks of round-slide carburetors for the 750 that, along with a new exhaust system and an electronic ignition system, will increase power and make for smoother running. Our feature bike has been upgraded with Brembo dual front brakes thanks to a pair of one-off machined caliper mounts and the underseat trio of exhaust ports is sheer genius. If you're planning to put the torches to an XS 750, send us some images and drop us a line (rockersrule@caferacermag.com) and we'll do our best to help your project along.