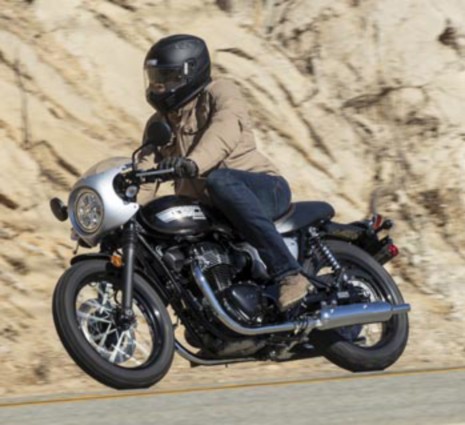 We'd been collectively itching to get our mitts on Kawasaki's new W800 since spotting one on the Team Green display stand at last January's International Motorcycle Show. Fans of retro cafe racers have long lamented to loss of Kawasaki's original W650 from the lineup, but after some 17 years the very British-feeling air-cooled parallel twin is back. This time, the W has faced down all the emissions nightmares that caused its demise in the U.S. market by adding electronic fuel injection. The difference is evident from the first thumbing of the starter button: instead of the famously uneven idle of the carbureted 650, the W800 purrs to life with a steady whirring sound emerging from its trademark bevel drive shaft running vertically along the right side of the engine.
The 800 is fairly dolled up compared to its former self, with loads of visual accents vying for your attention. The LED headlight rests within a small bikini fairing and is a complex, multi-beam work of art. The subtle two-tone brown and black paint and matching cafe seat reach a BMW R nineT level of quality. The rear drum brake has been supplanted by a drilled disc with two-piston caliper while the front two-piston Nissin disk set-up remains unchanged. That's fine as the linked ASB (which is standard) works perfectly, slowing the 479 pound bike with ease. Whenever managing editor Kim Love rides her W650, passers-by comment on "what a cool old Triumph" it is. Kawasaki must enjoy this mistaken identity, having reduced the size and number of their brand logos on the 800, preferring to adorn the fuel tank with horizontal stripes and a capital W.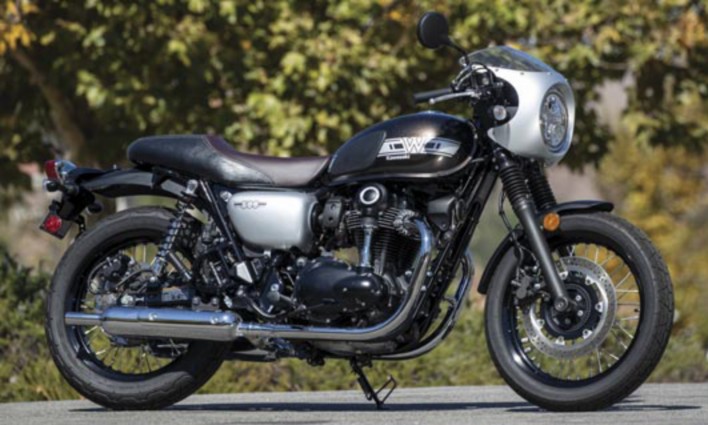 Blacked out Clubman handlebars, redesigned round, analog-look instruments (imbued with a fuel gauge, engine warning light and blinking ABS sensor) and oddly, no rearset footpegs, finish off a tasteful package that screams remember, Kawasaki had a bike like this back in 1968. Our plan for sussing whether this was indeed a '60s throwback bike or a modern ride in rocker's clothing involved letting two of Southern California's most experienced canyon carvers loose on the new retro, with former AMA and World Superbike champ Eric Bostrom having first go.
Bostrom, who's more accustomed to 200-horsepower racetrack missiles, set off down an undulating stretch of Mulholland Highway, short-shifting the twin quickly enough that the soft, staccato exhaust notes echoed off the dry stone walls. Graceful and pinpoint accurate with his direction changes, watching a rider of his caliber on an ordinary streetbike proved even retro roadsters can be ridden harder than most will ever realize. Or, perhaps not.
"The motor's fun, the brakes are exceptional and it's a great little bike, but I couldn't tell you how it handles because they just missed the suspension. I couldn't really get a good rhythm going because the suspension is so soft and spongy, it was just completely bobbing up and down the whole time. I thought it was going to handle fine, but it just pogos all over the place. It never felt stable enough to get aggressive in the turns because the front end dove everytime I touched the brakes and the back end squatted whenever I accelerated. That's a shame because they really nailed the styling. It's a really nice-looking bike with some quality to it. I like the color of the seat and the overall look, but too bad it's let down by too-soft suspension," he said. With Bostrom weighing in at about 160 pounds, it was surprising to find that his welterweight dimensions were enough to over make the seat feel "ultra firm" and tax the Kawasaki's dampers.
Looking at 6'7", 250-pound Mr. Bodden, it was easy to imagine a more disastrous turn aboard the W800, a bike that seemed sprung for a 12-year-old on a crash (no pun intended) diet.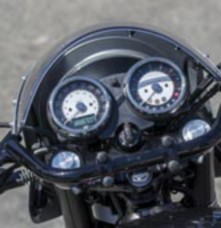 Instead, Alonzo got on fairly well with the 800, spending a few hours on the bike riding everywhere from the rapid, five lane California Interstates to diving at apexes along Mulholland. "It's got a great retro look and my long arms worked great with the clubman bars. Now they just need to give it a few horsepower and add the non-wallow suspension," he dryly observed. Though the addition of Clubmans without the prerequisite rearset pegs seems an odd choice, the setup seemed to suit Alonzo – for at least the first 50 miles, that is. "This bike isn't made for riders who want rearsets. They're dealing with arthritis and all sorts of issues so they want to get off a bike and their legs still work," he quipped.
"This bike really needs some power. I think I could keep up with it on my Honda Grom. The suspension is soft. I don't see too many two shock bikes anymore so maybe there aren't great shocks out there, but I'm sure they could've done better. If you want a lazy Sunday ride with a retro vibe this might be the bike for you. Just don't challenge anyone," he laughed. All assembled agreed that the W800 feels no faster or more torquey than the previous 650cc version, which is odd. What's even more disturbing is that Kawasaki's other retro roadster – the brilliant Z900RS – boasts twice the W800's paltry 54 horsepower, and costs just $1,400 more than the $9,799 twin. These aren't just academic figures, the Z900's fluid acceleration is truly astounding while the W800, as Eric Bostrom pointed out, is squarely aimed at folks uninterested in such thrills. "I think it's a classic British motorcycle for people who like the looks and ride quality of, say an old BSA or Triumph, but don't want to be bothered working on it all the time."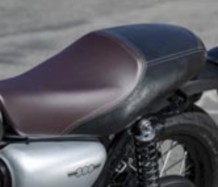 Which just about sums up the mission of modern retros in general, bikes with reliability, a modicum of comfort, anti-lock brakes and great looks, but imbued with just enough classic character to make you feel like you're riding a genuine, oil-spewing, where's my AAA roadside assistance card antique. Add a decent set of aftermarket fork springs to the W800 and upgrade the shocks, and this is a suitable everyday ride. But make no mistake, it's no snarling cafe racer.
Kawasaki W800
MSRP: $9,799
Engine: 773cc air-cooled parallel twin
Fueling: Electronic fuel injection
Transmission: Six-speed
Power: 54 horsepower (claimed)
Brakes: 320mm petal disc with two-piston caliper front; 270mm petal disc w/two-piston caliper rear.
We Dig: The styling
We'd Ditch: The shocks and fork springs for something harder, please.