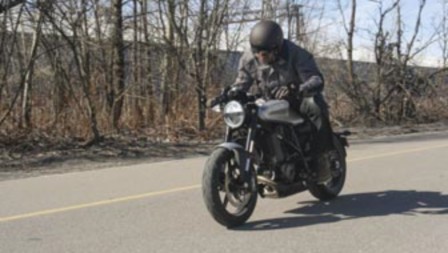 Story by Mike Seate
Photos by Paul Rudolf
Having sat on an idle Vitpilen at a recent International Motorcycle Show, I was struck by how low the handlebars were and how compact the overall design was of this Swedish-made factory cafe racer. Hoping to blag a test ride aboard one of the sporty 700cc singles, I jumped at the chance when a neighbor offered a blast on his showroom-fresh 2020 model. The angular bodywork and unusual looks of the futuristic machine are shared by Husky's Svartpilen, which is a matte black, higher-handlebar version of the same bike. The looks are divisive, but not the performance which has garnered nothing but praise. After riding contributor Nick Coumos' KTM 690, which, thanks to the companies being under the same ownership, houses the same sporty four-valve engine, I knew the Vitpilen – which translates to white arrow – would be a fun, engaging motorcycle. Nearly silent on the idle, the single-cylinder powerplant barely causes a smidge of vibration at low revs. This isn't your father's thumper. No frantic shaking of the rear-view mirrors or a motorcycle that dances on its kickstand. Instead, the engine's counterbalancers ensure a smoothness and throttle response that makes this feel more like a twin than a bike pumping a single 105mm piston up and down. Power is available from anywhere up to the 9,000 rev ceiling and the hydraulic clutch has an actuation that's both light and effortless. My initial impression is that this is the sort of streetbike too many manufacturers have missed the boat on: new riders, like my neighbor, aren't intimidated by the reasonable spread of power while the more experienced will dig the way the motor has enough oomph in store to make everything from commuting to backroads jaunts to even highway riding a breeze. No racing pretensions at work here, just a fun, easy-to-use streetbike with an aggressive but not torturous riding position.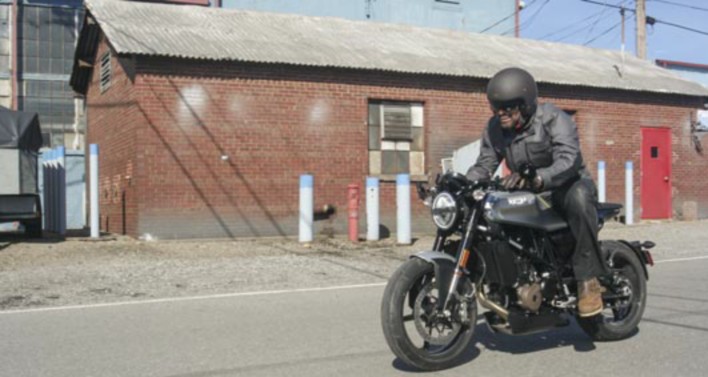 The awesomely high-tech, liquid-cooled engine also features a slipper-clutch, two exhaust headers feeding into a single oversized muffler, a dual-spark head for efficient combustion, traction control that the rider can actually switch off when the mood (for wheelies) strikes you. There's even a quickshifter, which means simply holding the throttle open and whacking upwards with the shifter pedal for a seamless surge through all six gears.
Where many singles struggle to produce comparable power for their displacement, the Vitpilen manages to crank out an impressive 75 horses and 50 foot-pounds of torque at 6,750 RPM. That means this is one seriously fun streetbike, nimble to an almost startling degree when leaned over into a corner. The steel trellis frame is not only satisfying to look at (we imagined how righteous it would look in bright red) it also helps keep the Vitpilen on its weight-loss program. At 362 pounds full of fuel, it's lighter than KTM's 390 mini superbike, though far more satisfying to ride at lower revs. Poised and controlled during what little cornering we experienced during a too-brief test ride, the Husky benefits from its well-heeled parent company also owning the WP-branded suspension firm supplying the Vitpilen's two-way adjustable upside-down 43mm forks and adjustable rear monoshock. Though at 250 pounds I'm far heavier than the Swedish test riders this machine was set-up for, the suspension needed no fiddling whatsoever, proving both firm and compliant, unlike many mushy-suspendered retros and too-firm race replicas.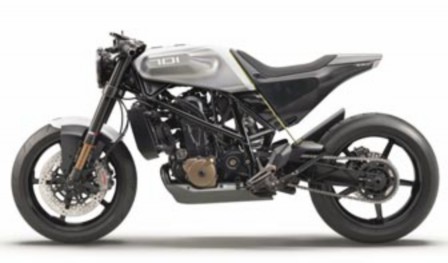 Solid braking is a no-brainer thanks to the radial Brembo front stoppers and the anti-lock braking system that, like the traction control, can be switched off. The blacked-out 17" mag wheels are adhered to the pavement with Bridgestone S21 radial tires that add to the Vitpilen's surprisingly sporty prowess. I found myself wishing I hadn't promised my wife that my track days were behind me as this is a bike that would excel on a closed course like few others. When too-powerful 1,000cc bikes can leave track day jockeys either accelerating too hard or panic braking in response, this meaty single could be caned like a thoroughbred, maintaining the sort of blistering corner speeds that only a lightweight, mildly-powerful machine can. Honey, we might need to have a little discussion later.
Husqvarna Vitpilen 701
MSRP: $11,999
Engine: Liquid-cooled 692cc single
Fueling: EFI with ride-by-wire throttle
Transmission: Six-speed
Brakes: Twin 320mm radial Brembos in front; Single 230mm Brembo rear
We Dig: The power and poise
We'd Ditch: The ugly rear license-plate holder.