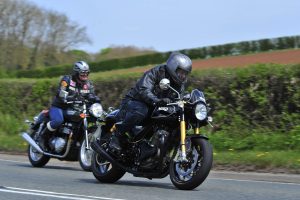 Since as early as issue #7, Cafe Racer Magazine has been an ardent supporter of the newly reborn Norton Motorcycles. Being huge fans of the original Bracebridge Street firm, we were chuffed to learn in 2009 that the British manufacturer, headed by venture capitalist Stuart Garner, was back in business. Their plan was a modest one; building upon prototypes engineered by Portland's Kenny Dreer about 25 years ago, the new Norton began churning out a limited production series of handsome and surprisingly capable machines bearing the vaunted Commando label. The 961cc air-cooled bikes were a blast to ride, offering solid roadholding, relatively quick throttle response and some of the finest retro streetbike looks available. CRM's editor at large Blake Kelly and I logged several hundred miles on these Ohlins suspension-shod beauties during visits to the factory in 2011 and 2012, where we witnessed employees building the new Commandos in a small assembly line. It did seem odd that, come late last year when we dispatched contributing writer Nick Coumos to visit the Donnington Norton HQ once again that things hadn't changed much in the ensuring 8 years. The Commandos were still leaving the plant in very small numbers and the factory still hadn't gone fully or even partially automated as had most major- and even minor- motorcycle manufacturers. Rumors were thick on the ground about the company's squandering tens of millions designing and then racing a very costly V4 superbike at the Isle of Man TT. This seemed a preposterous move for a company without the R&D budget to outfit their flagship bikes with modern amenities like anti-lock brakes or traction control, and England's Motorcycle News recently reported that TT racer John McGuinness had yet to be paid for racing Norton's V4 in recent competitions.
Norton had also been touting the creation of a new 650cc parallel twin line-up of bikes that would utilize half the V4's massive, 1200cc, 200-horsepower fuel-injected engine. This would help salvage some of the cost overruns of the superbike project, we figured, while introducing a much-needed, affordable middleweight machine to Norton's limited lineup.
But during Nick's visit there was but one 650cc Atlas model at the plant and Norton's brass made very clear to CRM that we were not permitted to ride nor photograph the new motorcycle.
So it came as no great shocker to learn recently that Norton has been thrown into bankruptcy by the English government, owing nearly a half million in back taxes. In our new February/March issue, we were able to break the story, serving up some fascinating details on what went wrong, and, more importantly, if this vaunted company still has a future.