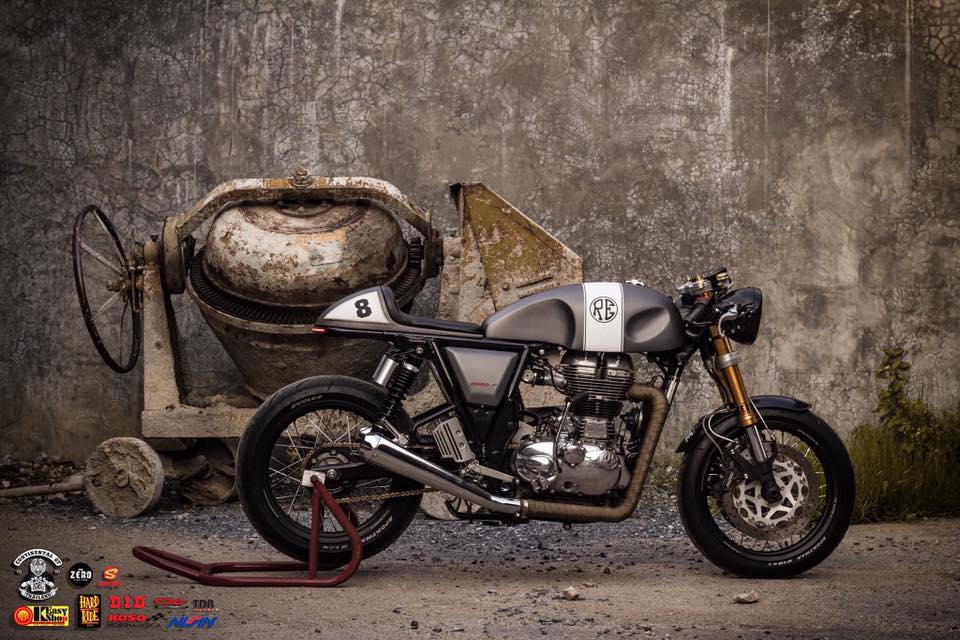 We've been feverishly butting our heads at the GRM garage as o late in discussions over what the do when customizing the Continental Gt twin we picked up recently. In recent weeks, contributor Blair Powell has been riding the 650 to get a feel for the bike and he's reluctant to surrender the bike in order for us to remake it over the coming winter. Blair seemed encouraged after we shared with him some of the incredible images floating around in cyberspace of customized late-model Enfields. One of our favorites, naturally, is this Continental GT cafe racer fashioned from one of the 535cc singles by OK Easy,a new-school custom bike shop located in Thailand. There's a burgeoning custom bike scene throughout many Asian countries these days and this bike is proof that anywhere that the British Empire touched down, a lasting legacy of British-inspired bikes remains.
This GT looks like something from the Busy Bee car park circa 1966 with its Lyta spring racing fuel tank, blacked out wire wheels and tasty bum-stop racing seat. The gas-charged shocks and beefy upside down superbike forks with their radial brakes may be a bit of overkill on a 28-horsepower single, but they definitely add a competition look to the whole affair.
In coming issues, we'll be experimenting with everything from suspension mods to new paint and bodywork for the GT 650 which we'll take on the road next summer to various events for you folks to see up close. The door is literally wide open what with so many aftermarket performance parts available for the new Enfield twins, so keep an eye on the December/January issue for the latest.