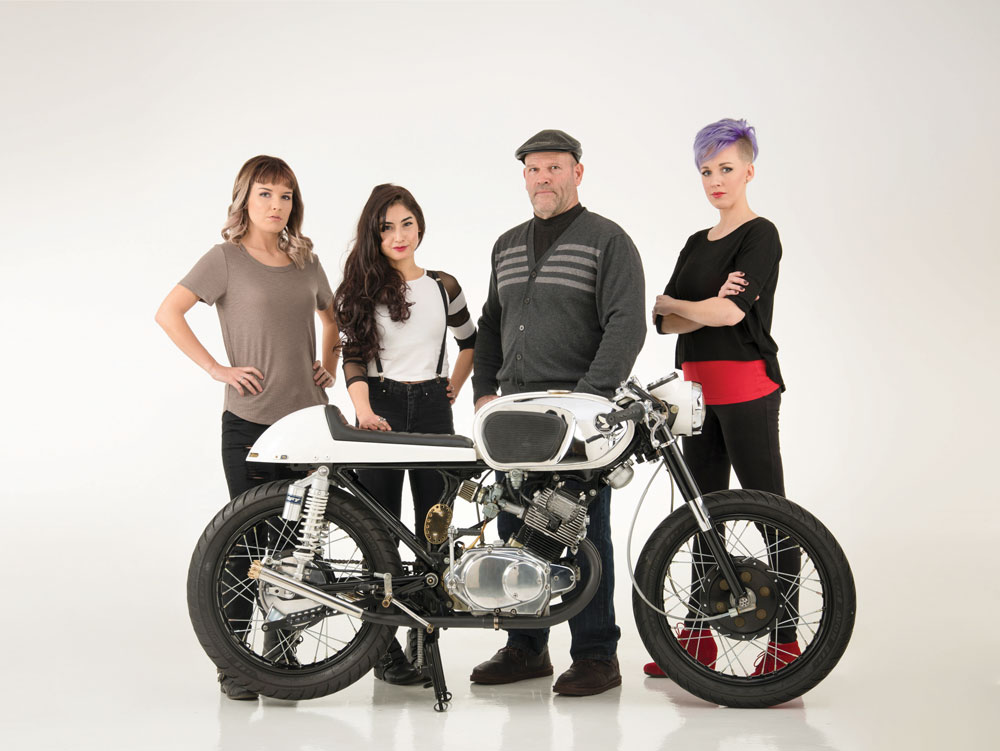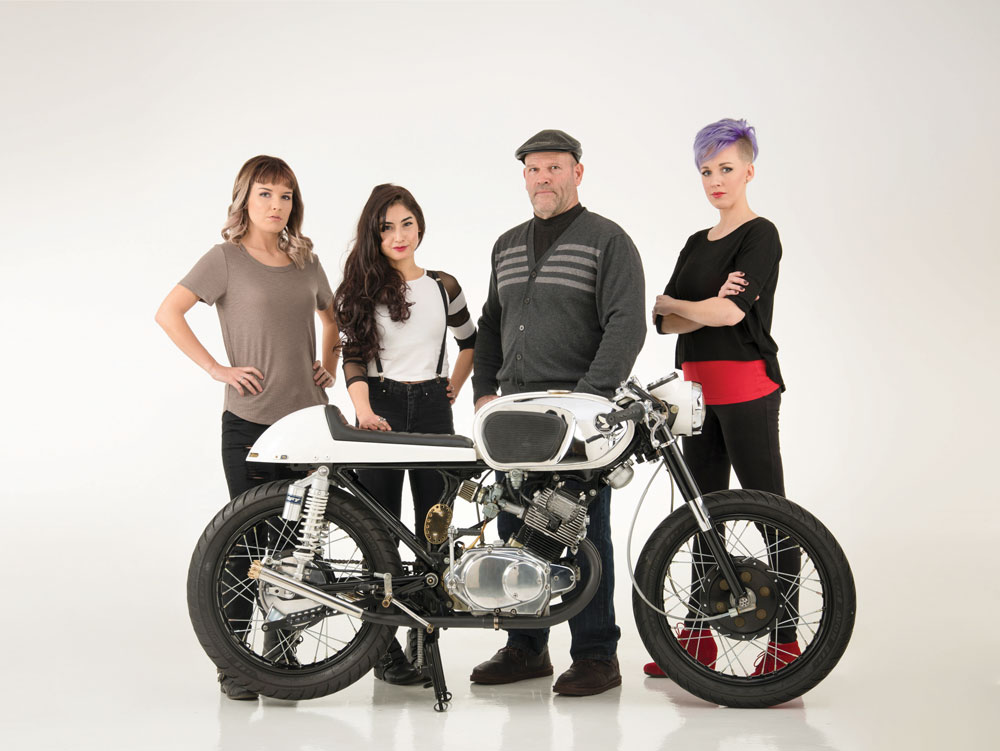 Meet Arkansas' Multigenerational Custom Clan
In an age when many youngsters refuse to abandon their smartphones long enough to embrace motorcycling, Jan Sallings has no such problems. The patriarch of a large Farmington, Arkansas family, he's helped and encouraged no less than eight relatives to design and build their own custom streetbikes. A lifelong two-wheeled enthusiast, Jan Sallings caught the motorbiking bug as a boy, eagerly ogling the Allstate motorcycles in the family's Sears catalog.
"I went with my mom when I was about 8 to a store that sold vacuum cleaners and BSA motorcycles, and she had a hard time getting me to leave," Jan recalled. Before long he'd convinced his Dad to let him purchase a worn-out Honda 150 Dream which was soon bobbed and adorned with Jan's first-ever "custom" paint job. Later came a new Harley Super Glide in 1976 which he also customized. But soon the responsibilities of home, family and career took over and the Sallings garage was bike-free for several years.
By 2009, the family had relocated to Fayetteville where Jan began collecting 1970s Honda twins, having long been a fan of the CB350s. "In 2009, after walking around Bikes, Blues, and BBQ, and seeing a lot of custom bikes, I decided to try my hand at building one. I had the 350 parts, and not much money, so I built with what I had," Jan said. Drawing on his long-dormant workshop skills, he ended up building the 350's chassis, front end, fuel tank, pegs, kickstand, and loads of other hand-fabricated bits for the radical, rigid bobber pictured here.The stretched and lowered chassis with its gracefully arched rails looks like anything but a first-time builder's home project. There's clearly some extraordinary talent flowing through the Stallings family's blood.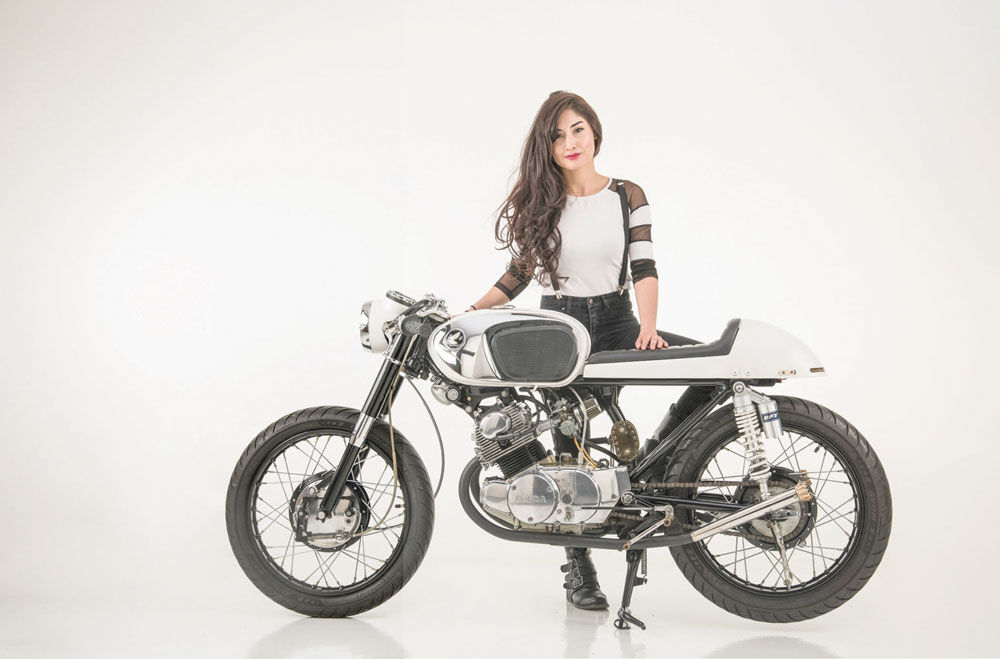 Once the Honda bobber was completed, Jan encouraged his sons to share time in the family workshop. Each one embracing a Honda CB350, the clan waded into the challenge with a variety of custom visions in mind. To date, four Honda twins have been completed with a fifth – slated for a wild, school bus paint scheme and a radical monoshock rear end – still in the works. Being part of a motorbike-friendly family has its way of affecting everyone around, and before long, the girlfriends of Jan's sons, Michael, John, Patrick, Max and Sean, all learned to ride on their own.
The first to fall victim to the bike bug was Jenine (seen aboard the white CB160). A dental hygienist by day, she spent many hours cleaning, assembling, and designing her bike, says Jan, and has won a few first place trophies. "I helped with the fabrication of the exhaust, rearsets, brass inserts, etc., and made sure everything worked as it should," he said. "Kat, my youngest son's wife, who is a graphic designer, was next in line. She rode with my son a couple of times, then decided that wasn't going to do, so they bought a 1974 Honda CB175. She learned to ride it quickly, then did a little custom work to it, but when it broke a ring, she decided to do a complete rebuild. She was very determined to do as much of the work as she could, and did do a lot of the assembly and adjustments," Jan said. Though this was her first try at building a café racer from scratch, Kat also designed and did the custom work to the backbone of the frame while Jan helped with fabrication on the exhaust, rearsets, battery and electrical box.
Jenny Lawson wasted few words when describing her favorite aspect of building a custom streetbike: "Making it start the first time," she said. "Really I loved so much about it. Anytime I got to use the plasma cutter was always fun. I enjoyed making my seat pan with it and side covers and assembling the engine itself. It was like putting a puzzle together," she said..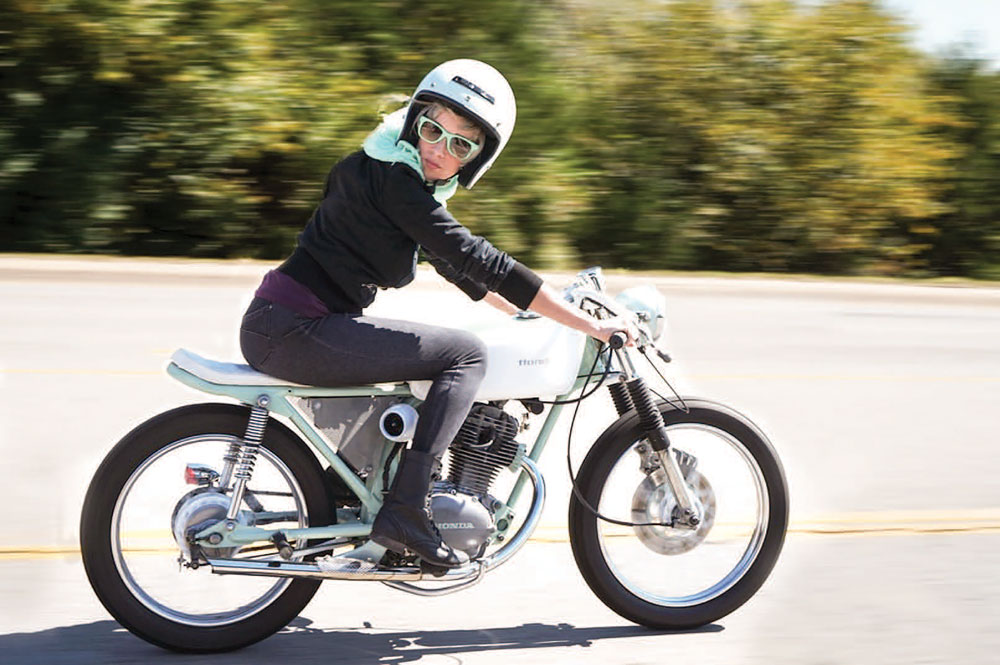 White Bike
OWNER: Jenine Sallings
BUILDER: Jenine Sallings/Jan Sallings
YEAR/MODEL: 1964 Honda CB160
TIME TO BUILD: 1 year
COST TO BUILD: $3,000.00
CHROMER: Whitworx, Lincoln, Ar.
PAINTER: Mark Pulsifer
ENGINE DISPLACEMENT: 161cc
PISTONS: Stock
HEADS: Stock – bead blasted, 3 angle valve job
CAMS: Stock CARBS: Stock
AIR CLEANER: Chrome cone filters
EXHAUST: Custom stainless megaphone with custom brass tips by JMS Customs
FINAL DRIVE: #428 roller chain
FRAME: Smoothed, custom loop on rear, mounts for battery, electronics, etc. added to frame. Powdercoated FRONT SUSPENSION: Stock hydraulic forks – new seals, polished stainless covers, black powdercoated lower legs and covers
REAR SUSPENSION: RFY nitrogen shocks
FRONT WHEEL: Powder coated rims, hubs. New spokes, brass screen inserts in machined hub. REAR WHEEL: Powdercoated rim and hub. New spokes.
FRONT TIRE: Avon Roadrider 90/90 – 18
REAR TIRE: Avon Roadrider 100/90 – 18
FRONT BRAKE: Stock
REAR BRAKE: Stock
ACCESSORIES: Custom machined brass frame accents by JMS Customs
HEADLIGHT: Stock TAILLIGHT: Custom Led incorporated into rear cowl by Jeanie and JMS Customs
FUEL TANK: Stock CB160, side covers re-chromed
HANDLEBARS: Clubman
SEAT: Brass Café seat pan & cowl modified for
LED: tail light
PEGS: Custom brass by JMS Customs
HAND CONTROLS: Stock, polished
FOOT CONTROLS: Custom fabricated by JMS
Customs TAG BRACKET: Custom fabricated by JMS Customs
Dating a member of the Sallings family exposed her to cafe racers for the first time, Jenny said, and from there the appreciation for sleek two-wheelers blossomed. "I love how classy and how retro they look and I love how they aren't too bulky and how minimalist they can be," she said.
Jenny describes herself as somewhat modest, but the building experience revealed a side of her she never knew existed. "I'm not that prideful, but when I walk out to my garage and look at that machine that I poured my blood, sweat, and tears in, I do in fact have a great sense of pride. I knew zero things about motorcycles before I started building mine, so to look back on how much I've learned still amazes me and I love the sense of accomplishment that it gave me and the freedom it gives me any day the weather permits."
Jenine Sallings' classic white Honda CB160 revealed to her a hidden engineer's curiosity about engines and how they operate."I loved getting to look inside the heart of an internal combustion engine. It was great to see how this amazing machine works and the tools it takes to get them there," she said.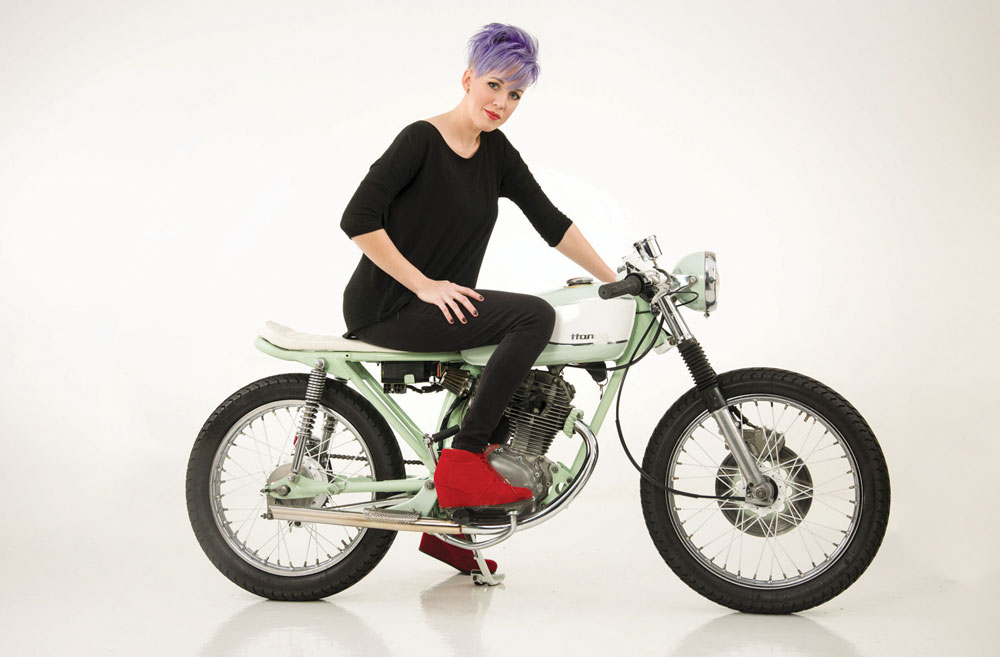 She's especially fond of pushing the twin through the twisty roads near her North Arkansas home, and digs the reactions she gets when parked up after a ride. "A five-foot Korean-American girl is not the typical rider/builder you come across. I get some people asking me about my bike when I'm obviously the owner, which I've always thought was odd. But I've had many people, particularly middle-aged men, bring up how they used to own an old Honda and they seem thrilled to see one restored and cruising the streets," she said.
Though none of the extended Stallings family work as professional mechanics – Jenny, for example, works as a hair stylist, Max is music director at School of Rock and son Michael, 38, teaches school in Saudi Arabia – they've eagerly learned all aspects of the custom trade from engine rebuilds to engineering and even welding. Jenny started out riding with the rest of the family before purchasing her own Honda CB125 that she was determined to restore, Jan says. "The bike had a few problems, so we decided to completely dismantle it and do some custom work. Jenny is one who doesn't sit back and watch, she jumped in and learned quickly how to bead blast, paint, assemble an engine, and is great with colors and design."
With the wide-open mixture of custom bike genres and styles on display in the Stallings family stable – everything from post-WWII bobbers to choppers and racebikes and cafes are evident in all or some of the machines – their influences are tough to pigeonhole. Jan admits to appreciating "most bikes, but I was never a fan of stretched out, wide tire choppers and I won't install a set of apehangers. I like the limitless creativity and uniqueness that I continually see in the café racer scene, and the classic bikes were just beautiful. The old Triumphs, Nortons, BSAs, Ducatis, and the early Japanese bikes just had a look that stated that someone cared about more than just function. My café 350 is painful for me to ride because I'm old, but I've put 8,600 miles on it because it is so much fun," he says.
The family plan to launch a website soon detailing their custom work and builds they're willing to perform for customers. Asked what advice she'd provide for other women contemplating a custom bike project, Jenny was insightful to say the least. "If the desire is there, then don't let anything stand in your way for men or women. There will be lots of days you feel very accomplished during the build and days you want to throw rocks at it, but don't give up!" she said.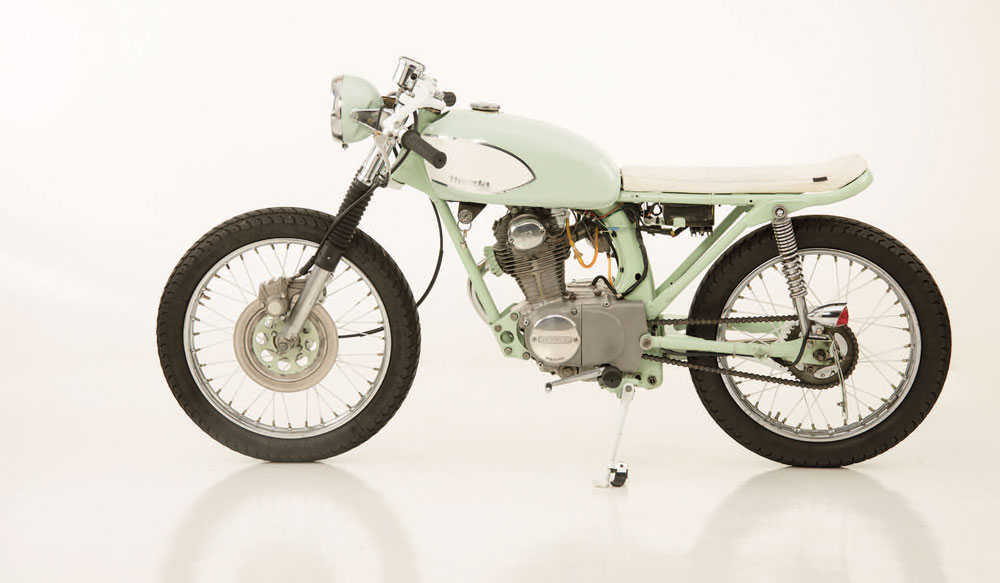 Green Bike
OWNER: Jenny Lawson
BUILDER: Jenny Lawson, Jon Sallings, Jan Sallings
YEAR/MODEL: 1974 Honda CB125
TIME TO BUILD: Approx. 100 hrs.
CHROMER: Whitworx
PAINTER: Jenny Lawson/Jon Sallings/Jan Sallings
ENGINE DISPLACEMENT: 125cc
PISTONS: 1mm oversize
HEADS: Modified for ball bearing and bushing
CAMS: Stock cam, modified for ball bearing and bushing
CARBS: Stock, rebuilt
EXHAUST: Custom stainless open
FINAL DRIVE: #428 roller chain
FRAME: Smoothed, custom rear loop,
powder coated
FRONT SUSPENSION: Stock Honda
REAR SUSPENSION: Stock
FRONT WHEEL: Stock
REAR WHEEL: Stock
FRONT TIRE: Michelin Gazelle 2.75 – 18
REAR TIRE: Michelin Gazelle 3.00 -17
FRONT BRAKE: Stock disc, smoothed and painted
REAR BRAKE: Stock drum
ACCESSORIES: Custom perforated aluminum side covers by Jenny and JMS Customs
HEADLIGHT: Stock Honda, converted to 12v
TAILLIGHT: Custom
FUEL TANK: Stock CB125, Custom paint
HANDLEBARS: Clubman
SEAT: Custom white diamond stitched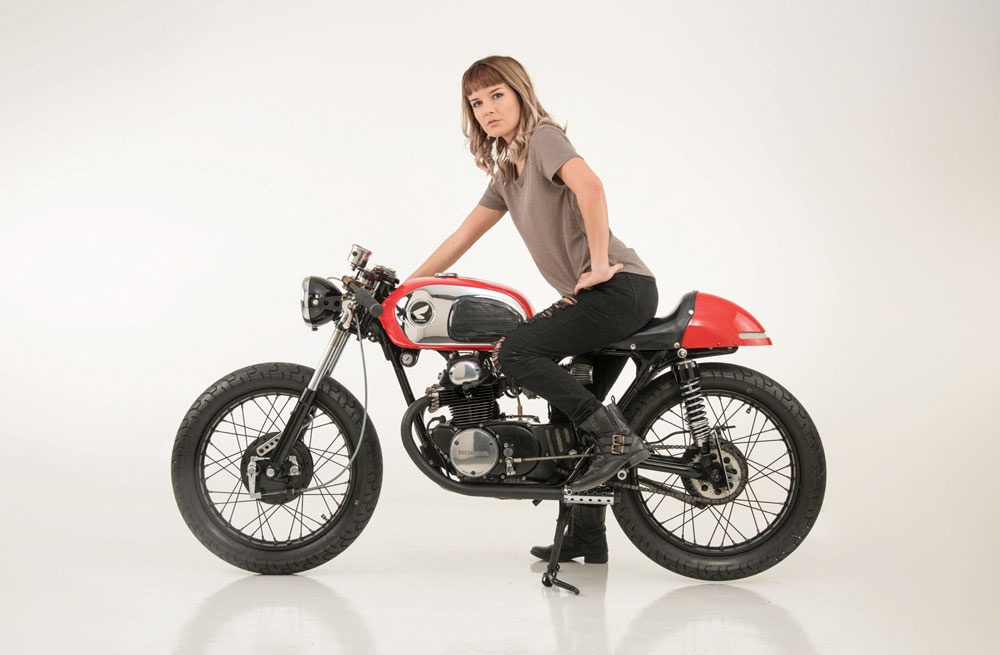 Red Bike
OWNER: Kat Sallings
BUILDER: Kat Sallings/Jan Sallings
YEAR/MODEL: 1974 Honda CB175
TIME TO BUILD: Approx. 400 hrs.
COST TO BUILD: Approx. $2000.00
PAINTER: Chris Comerz/Jan Sallings
ENGINE DISPLACEMENT: 174 cc
PISTONS: .25mm over
HEADS: Stock, powder coated
CAMS: Stock
CARBS: Honda CB200
EXHAUST: Custom machine gun by JMS Customs
FINAL DRIVE: #428 roller chain
FRAME: Smoothed and custom stainless inserts by Kat and JMS Customs
FRONT SUSPENSION: Stock
REAR SUSPENSION: Shocks from Dime City Cycles
FRONT WHEEL: Powder coated rims, spokes and hubs, stainless inserts in machined front hub
REAR WHEEL: Powder coated rims, spokes, and hubs
FRONT TIRE: Bridgestone Spitfire 100/90 – 18
REAR TIRE: Bridgestone Spitfire 100/90 – 18
FRONT BRAKE: Stock
REAR BRAKE: Stock dru
HEADLIGHT: Swap Meet
TAILLIGHT: Custom LED mounted in tail section
FUEL TANK: 1969 CBD 175, modified to fit frame.
HANDLEBARS: Clip – ons .
SEAT: Dime City Cycles, modified to fit taillight.
PEGS: Custom machined aluminum by JMS Customs
HAND CONTROLS: Custom bracket for start button and headlight button
FOOT CONTROLS: Custom rearsets by JMS Customs