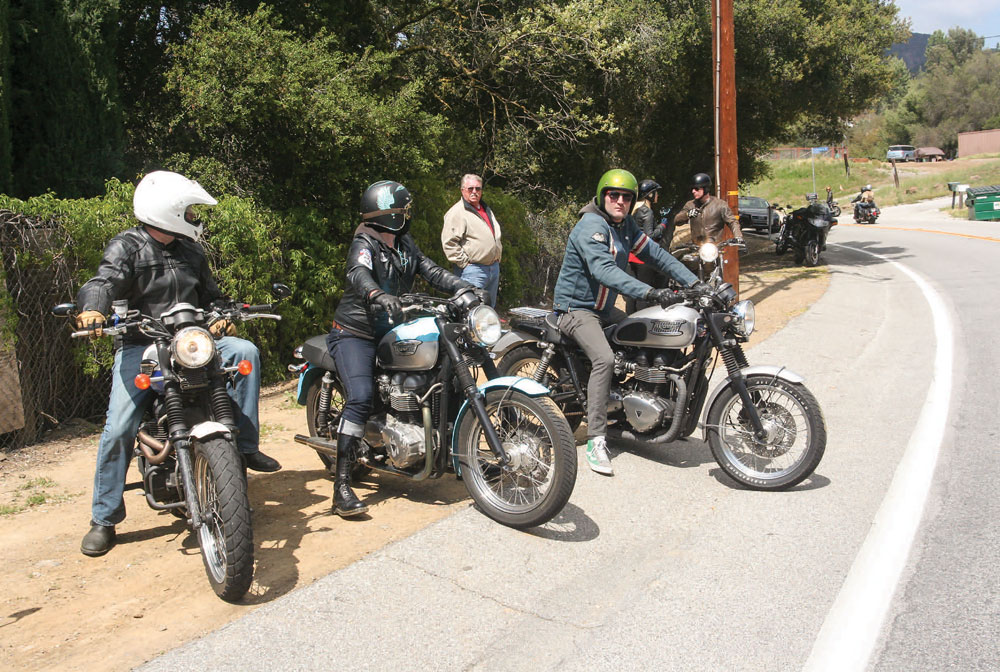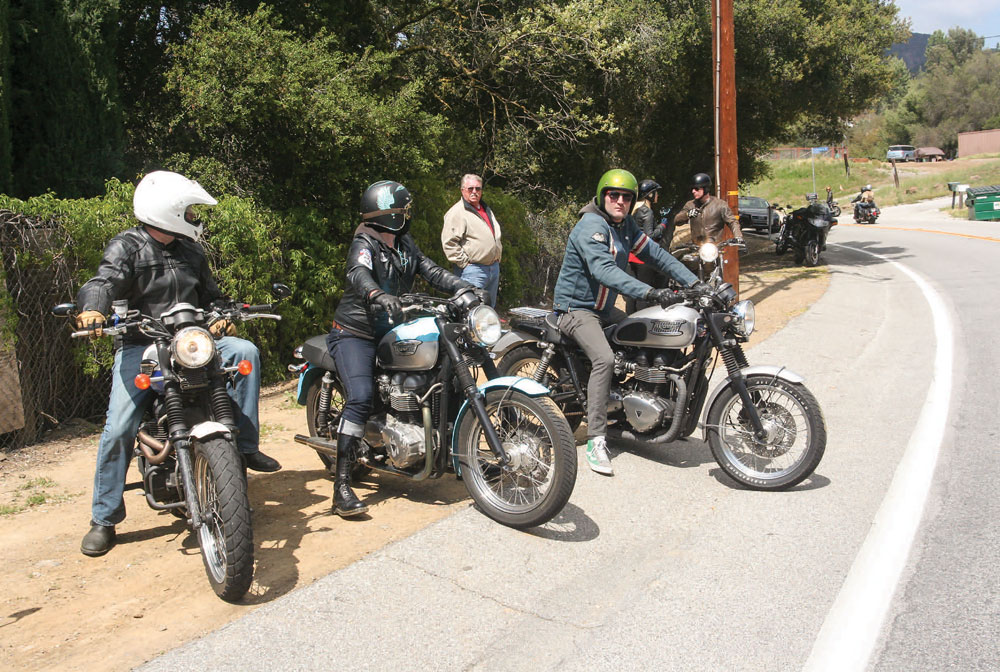 A few years back when Ace Café London's marketing team was considering a Stateside loca.tion, they ended up baffled. "Your country's so bloody big there's no one central location to build an Ace U.S.A.," observed the Ace's Mark Wilsmore. Though the first American outlet of the fabled petrolhead eatery will be open.ing in Orlando, Florida this spring, there actually is a set of map coordinates in this country that's home to an amazing selection of motorcycle-themed cafes, bars and restaurants. Best of all, this un.paralled constellation of speed-friendly establishments all reside in Southern California and are linked together by some of the planet's most exhilarating canyon roads, snaking twists of asphalt that make getting there all part of the fun. Like their British counterpart trans.port cafes, many of California's oldest biker haunts began life hundreds of years back as stagecoach stops, evolv.ing over the years from Conestogas to motorbikes. Over the past few winters, Team CRM has journeyed West to sam.ple the backroads of sunny So Cal, stopping at as many of the region's mo.torcycle cafes as possible. Each is unique in its own inimitable way with different menu items, music and amusements, and it's impossible to pre.dict whether the lots will be occupied by weekend gangsters aboard identical bobbers, sportbike enthusiasts in day glow racing leathers or hoards of retro café racers. Style of bike doesn't matter when a weekend spent traversing these byways will prove that motorcy.cle culture is truly a global phenom. Ride on.

The Café: Neptune's Net
Location: U.S. Highway 1, Malibu
The Vibe: Surfer/biker haunt along breathtaking beachfront
You'll spot the flash of chrome and hear the buzz of motorbike engines well before Neptune's Net appears along Pacific Coast Highway, just North of Malibu. The place is inviting and packed on weekends, with throngs of riders converging here after charging the nearby canyon roads. Try not to step on the bare feet of the many surfers who roll in for a tall can of beer, fresh from shooting the ocean waves, and be sure to take a moment to dig on the amazing scenery in all directions. With this many riders vying for attention, impromptu stunt shows are in.evitable and if there's a fast, exotic motorcycle to be seen it will surely be parked up here. Every type of rider and bike takes turns jockeying for a table due to the incredible fresh (and incredibly affordable) seafood on offer and camaraderie is the rule of thumb as tables are shared with new friends from parts unknown.
The Café: The Old Place
Location: Mulholland Highway, Agoura Hills
The Vibe: More rustic than a Warren Oates film festival with excellent grub
Aptly named thanks to its bare wood interior, Agoura Hills'The Old Place is not a purpose-built motorcycle hangout, but with its location along a bike-friendly stretch of fabled Mulholland Highway, it makes a perfect thirst- and hunger-buster. The ab sence of loud music blaring from the speakers makes the room quiet enough for post-ride bench-racing and kicking back to plan the next ride. Speaking of which, The Old Place is located at a nexus of great canyons; turning left or right from the spa.cious parking lot – and be sure not to startle the peacock who roosts here – will lead your front wheel to café racing paradise. Just watch for CHP speed patrols on Sundays. A ticket here, like the real estate, is far from cheap. Try a burger with one of the local beers on tap, or just chill on the porch and check out the mind-blowing array of motorcycles that buzz by.
The Place: The Rock Store
Location: Mulholland Highway, Agoura Hills
The Vibe: The see and be seen spot for speed junkies
This is the American motorcycle café with a history and legend surround.ing it to rival anything anywhere. Purchased in 1961 by Vern and the late Ed Savko, a pair of Pittsburghers who transformed the former stagecoach stop into a gas station and grocery store. Vern still holds court on Sun.days and will share stories about surviving the days when outlaw bikers forced their stretch choppers through the impossibly tight mountain passes, and, in ensuing years, serving packs of adrenaline-crazed sport-bike riders who risk all to beat the clock through Mulholland's challeng.ing Serpentine. The Rock Store is clearly So Cal's most popular motorcycle café despite being open only on weekends. The well-worn in.terior is a mash-up of walls covered by autographed celebrity 8x10s, yel.lowing beer posters and cozy booths. Best of all, the food is cheap, tasty and plentiful. After a run up the canyon, there's cold beer, good conversa.tion and lots of Hollywood star-gazing (if that's your thing). Note to the wise: resist the urge to grab too much throttle in view of the photo booth at the end of the Serpentine as embarrassing high-sides are common and both tow trucks and ambulances are expensive.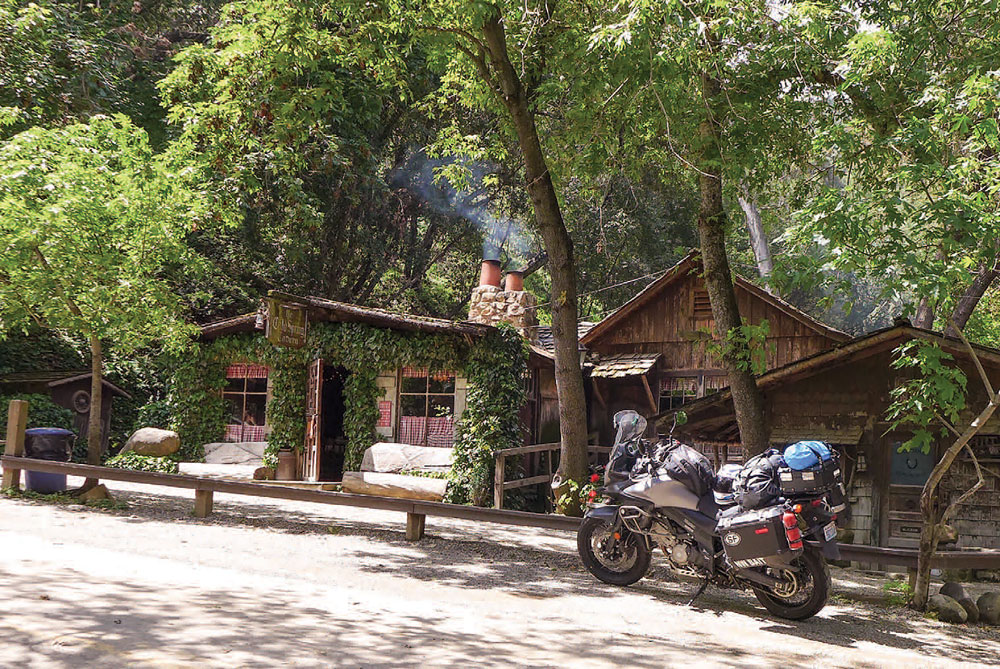 The Place: Cold Spring Tavern
The Location: Stagecoach Road, Santa Barbara
The Vibe: A cowboy movie set with motorcycles, not horses
A ride to the Cold Spring Tavern from just about any direction involves awesome desert scenery, twisty, unmarred asphalt canyons and enough thrills to make reaching this place feel like a genuine reward. As the buzz subsides, the look and patina of the 155-year-old Tavern is equally inspiring, resembling nothing if not the set of a vintage "Gun-smoke" episode. Dining on smoky barbecue in the elevated outdoor patio area is a must, as is snapping photos in front of the impossibly tiny jail cell built into one of the stone patio walls. Said to have been used to incarcerate Chinese railroad laborers and local drunks in the 19th cen.tury, it's an amazing piece of California history. The bike riders and the well-dressed locals in their sports cars blend together well, testament to Cali's no-judgment, kicked-back ethos. There's live music on weekends, mostly of the breezy, Steely Dan type, and parking along the steep, off-camber roadway can take some getting used to. Nevertheless, the roads, rides and atmosphere combine for a can't-miss experience.

The Place: Big Oaks Lodge
The Location: Bouquet Canyon Road, Santa Clarita
The Vibe: Woodsy, slightly rowdy old-school biker bar
Bouquet Canyon Road is accessible through the sleepy town of Newhall, and ascends through miles of horse ranches and farms into some of the tightest switchbacks in the state. Many riders have been scorching apexes here for years and the unsettling sound of a faster rider overtaking you in a corner made for one bike is one of the unique experiences of riding here. Push on into higher elevations and you'll notice rows of two-wheelers parked up in front of the Big Oaks Lodge, an indoor-outdoor restaurant with a fabled past. On the day we arrived, there was an un.deniable buzz in the air, as several dozen local riders, aboard a vast array of cruisers and sportbikes, were anxiously awaiting arrival of the road's newest super.star. "This kid is another Marc Marquez. He's unbeliev.able," we were warned, just before the pop and whine of a Honda CBR600RR emerged from a long, uphill bend. The rider, easily pushing a 120-plus, zoomed by, elbow on the pavement, to frenzied applause from the crowd. After a good dozen passes, things calmed down enough for us to enjoy the Lodge, which offers a surprisingly elegant take on the time.less western stagecoach stop décor and food to match. The place does maintain some of its previous allure as a hardcore bike club haunt some 30 years ago, when beer-soaked punks would challenge each other in the regulation boxing ring located just be.hind the patio tables. Today, you're more likely to fight off post-meal sleepiness with a strong cup of coffee before riding on into the adjacent canyons.

The Place: Rustic Canyon General Store and Grill
The Location: Sierra Creek Road, Santa Monica Mountains (near Agoura Hills)
The Vibe: Laid-back outdoor village bar/restaurant
Though most imagine So Cal to be a dazzling show biz Mecca, just 40 miles north of L.A. the scene is hot, dusty and decidedly agricultural. You're more likely to spot a burro than a Bentley at Rustic Canyon General Store, which serves the local horse ranchers and canyon riders. This place is far less busy and the wait for food is shorter than at the nearby Rock Store, which is good because the aroma of the homemade barbecue and . pound chili burgers can drive grown men to tears. Open 365 days a year, this joint is popular with both grizzled, gray.ing Harley dudes, dust-caked off-road riders, café cus.tomizers and the knee-down set. It's a rush to check out local families enjoying the endless motorcycle show, while others shop for groceries or chill around one of the outdoor fireplaces. After refueling, take a thrash towards Malibu along Kanan Road for some jaw-dropping scenery and endless, high-speed sweepers.